Looking for Family Life Cruise Discount Packages? I'm excited to announce I have a limited time promo code on some Family Life Cruise discount packages!
If you've ever attended a Family Life Weekend to Remember event, then you know the impact it can have on your marriage. How would you like to expand that impact while taking a cruise vacation with your spouse???
Well that's exactly what the Family Life "Love Like You Mean It" Marriage Cruise is all about. 
We first attended the Family Life Weekend to Remember event years ago in Florida after I won a contest not too long after we were married (obviously they knew we were bringing a lot of baggage into our marriage and needed some help! 😉 We were so impressed by the amount of encouragement, inspiration and even challenge we received that we've been volunteering with them ever since.
Now if you know me at all or have read some of the marriage struggles we've been going through this year, it may surprise you to hear that my husband and I are planning to go on this FamilyLife Cruise together. But that is EXACTLY why we need to be on this cruise!!!
Nowhere in the Bible does it say that marriage would be easy, but I believe in God's covenant and the covenant of marriage. And while it may not be easy, I guarantee it is worthwhile!
In fact, I'm proud to say that my husband and I reached our 13th anniversary this past August and while we both have issues to work through (notice I said 'we' not just 'he'), the important thing is that we are working on them and moving forward TOGEHTER.
The FamilyLife Weekend to Remember is still the best conference we've found and if the FamilyLife Cruise is anything like it, I cannot imagine the restoration and transformation (not to mention relaxation) that can take place in those 6 days at sea.
Won't you join us February 13-18, 2017?
We've been volunteering with Family Life ever since our first Weekend to Remember to help encourage others to experience this life changing event. Now we'll be attending the Family Life Cruise to take our own marriage to the next level and join with other married couples looking to do the same.
I know the cost can be prohibitive to many couples, so you know I wouldn't tell you about this if I didn't have an AMAZING deal to offer you as well…
I always love to point out this thought: when you consider how much money people spend on the actual wedding, isn't your marriage worth spending just a fraction of this amount on to keep it strong?
Here are all the details you need…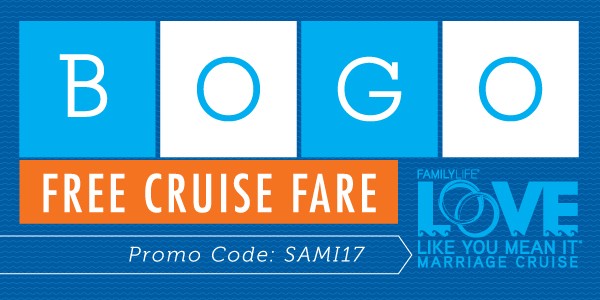 FamilyLife Cruise Discount Code
What: Family Life "Love Like You Mean It Cruise"
When: February 13-18, 2017
Discount: BOGO – over $1000 savings!
– – – Buy One Get One FREE (50% off) on the cruise fare for Preferred Interior and Standard Interior Staterooms on the Love Like You Mean It Marriage Cruise 2017, February 13-18 2017.
Code to Use: SAMI17
Where to Find Out More: http://LoveLikeYouMeanItCruise.com/Sami
Number to Call for More Info: 1-800-889-5265 
Details of Offer: This offer gives you one free cruise fare for an Interior Stateroom when you purchase one. That is a savings of $1,100 – $1,200 depending on the stateroom chosen. Each person is still required to pay taxes, port fees, booking fee, and gratuities of $235. For example, a couple can book a Standard Interior stateroom for as low as $1,569 (ONE cruise fare of $1,099 plus TWO tax/fees/gratuities of $235 = $1,569) a savings of $1,099!!
This is a limited time offer and only while supplies last.
Exotic ports of call, exemplary Christian speakers & entertainment, and a boost for your marriage…why wouldn't you call now? Don't forge to mention "SAMI17" to receive more than $1000 off – now THAT'S a DEAL!
 Looking to attend a Family Life Weekend to Remember getaway?
Make sure you use my Family Life Weekend to Remember discount code to book it!