This post may contain affiliate links, which means we may receive a small commission when you make a purchase at NO additional cost to you. Thank you for supporting our site in this way!
One of our family's most anticipated Disney DVDs releases today! That's right, you can now buy the Walt Disney Animated Short Films Collection. You know – those short films that appear before the main event of your favorite Disney animated feature? I'm not lying when those are LITERALLY what I most look forward to when a new Disney film comes out.
From Walt Disney Animation Studios comes an extraordinary new collection of award-winning and beloved short films featuring Disney's Frozen Fever, starring Anna, Elsa, Olaf, Sven and Kristoff, and the Oscar®-nominated Lorenzo (Best Animated Short, 2004).
My absolute favorite is Paperman, but there are SO many great shorts on this DVD, including Frozen Fever. My only complaint is that Lava wasn't included, the short that appeared before Inside Out.
Buy on Amazon now: http://amzn.to/1NCN0aQ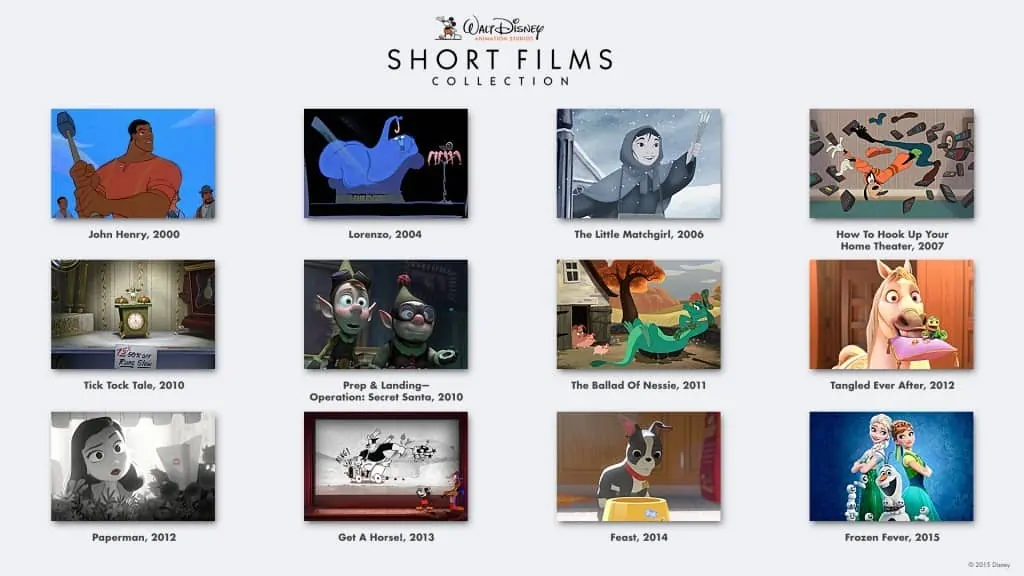 The Short Films Collection includes contemporary shorts starring classic characters, such as the groundbreaking 2013 Mickey Mouse cartoon, Get A Horse! And the holiday treat Prep & Landing: Operation: Secret Santa, as well as celebrated Oscar winners Paperman (2012) and Feast (2014). Enjoy them together for the first time in this must-own collection with all-new extras including an inside look at the Disney Animation shorts, featuring introductions and interviews with the acclaimed filmmakers themselves.
Here are the Disney Shorts included on the DVD (and filmmakers appearing in each Shorts Introduction), along with my kids' reviews:
(P.S. You'll notice as they kept watching (from the oldest to the newest, the kids kept saying, "now that was my favorite!")
Frozen Fever (2015) – Chris Buck, Jennifer Lee, Peter Del Vecho, Aimee Scribner
* I love the a cappella section at the end
Feast (2014) – Academy Award® Winner, Patrick Osborne, Kristina Reed
* This was the kids' favorite.
Get A Horse! (2013) – Academy Award® Nominated, Dorothy McKim, Eric Goldberg, Adam Green
* Clever blend of old school and new school
Paperman (2012) – Academy Award® Winner, Kristina Reed, John Kahr
* (In my words) "still my favorite – no words, but pure emotion"
B- "I thought that was more boring than it was"
Tangled Ever After (2012) – Nathan Greno, Aimee Scribner, Mark Kennedy
* learned Give the audience the wedding they weren't able to give us in the movie
-happened to be during the same time as the real Royal wedding of William & Kate
I didn't even remember seeing this one.
B- "Now that's my favorite"
The Ballad of Nessie (2011) – Kevin Deters, Stevie Wermers-Skelton, Dorothy McKim
* "I Love that One!"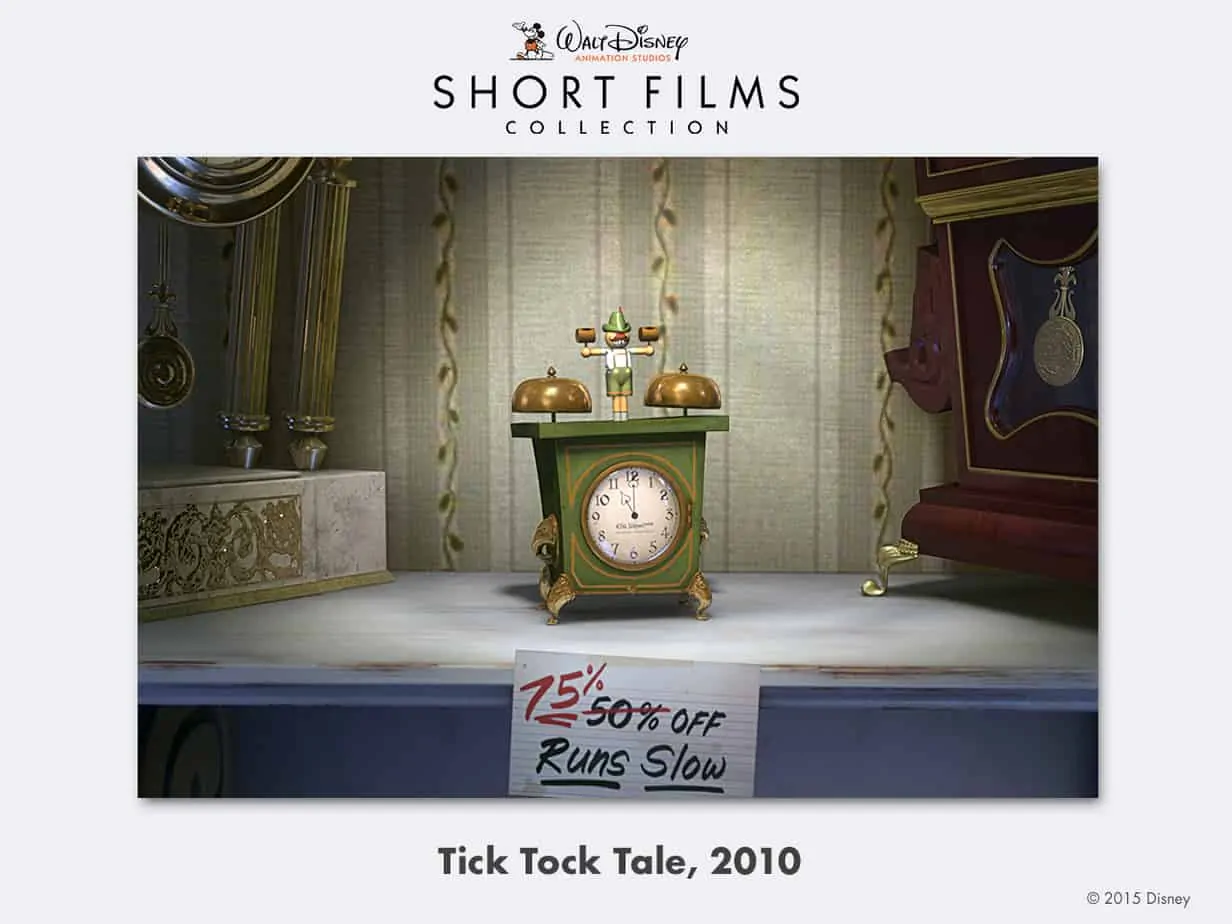 Tick Tock Tale (2010) – Dean Wellins
* In the middle, the kids asked, "Why does everyone have to die in these things?"
"No repair is too small"
K – I liked that one, it was cute
B- That was probably my favorite so far
Prep & Landing: Operation Secret Santa (2010) – Kevin Deters, Stevie Wermers-Skelton, Dorothy McKim
* learned "Most characters are modeled after someone we know or someone that's on the team"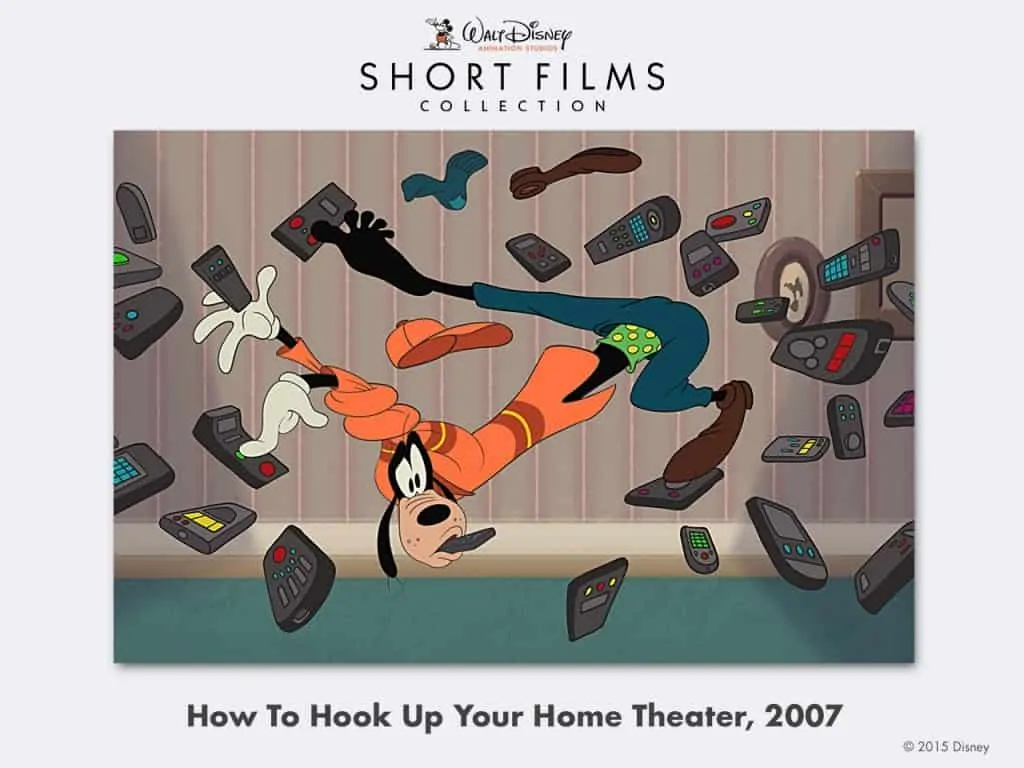 How to Hook Up Your Home Theater (2007) – Kevin Deters, Stevie Wermers-Skelton, Ian Gooding
The Little Matchgirl (2006) – Academy Award® Nominated, Dave Bossert, Tom MacDougall
* "Worst ending ever" – Kariss
Lorenzo (2004) – Academy Award® Nominated, Mike Gabriel
* And the unanimous sentiment: "Tango cat was our least favorite"
John Henry (2000) – Mark Henn
* What a touching tribute – it moved me to tears
You need to make this DVD a part of your collection today!
Disclosure: If you purchase the DVD through the Amazon link above, I will make a small percentage of the sale at NO additional cost to you. Thank you for supporting me, my family and this site in this way.