This post may contain affiliate links, which means we may receive a small commission when you make a purchase at NO additional cost to you. Thank you for supporting our site in this way!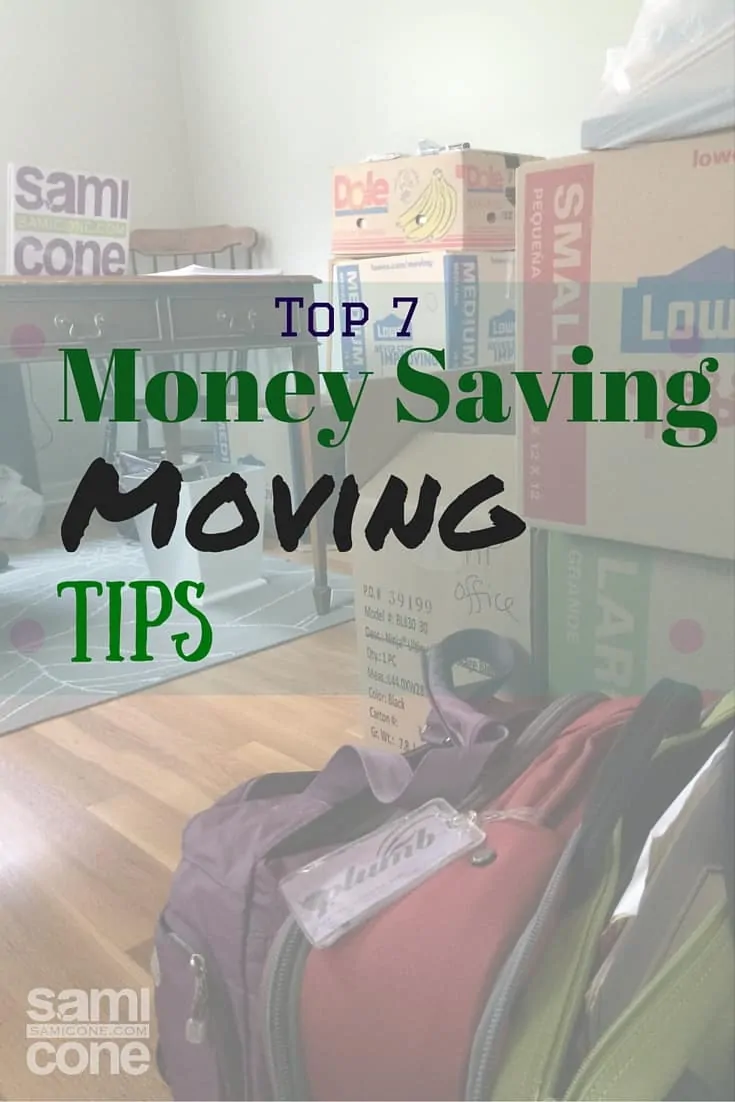 Moving costs money.
But moving expenses don't have to overtake your budget if you follow my top 7 money saving moving tips. What you may be surprised to find is that many of these tips have to do with saving you TIME – and as we all know, time is money!
After a recent move, I discovered a lot of new information when it comes to saving money on a move, so of course I wanted to pass that along to you.
Top 7 Money Saving Moving Tips
1.

Declutter

…as much and as early as possible
If you know me, you know I'm a fan of a garage sale. Not only do you get to rid your house of unnecessary items, but someone actually pays YOU to take it away! If you don't have time for a garage sale, consider Craig's List to sell off some of your bigger items. I made $230 in just three hours on the day we moved by listing some of the bigger items like a fridge, end tables and a bed frame on their mobile site and told people they had to be gone that day. Ideally, you'll want to start decluttering 6-8 weeks in advance and have your garage sale about two weeks before your actual move.
Read my popular post on How to Organize a Successful Garage Sale and search for Free Online Garage Sale Listings.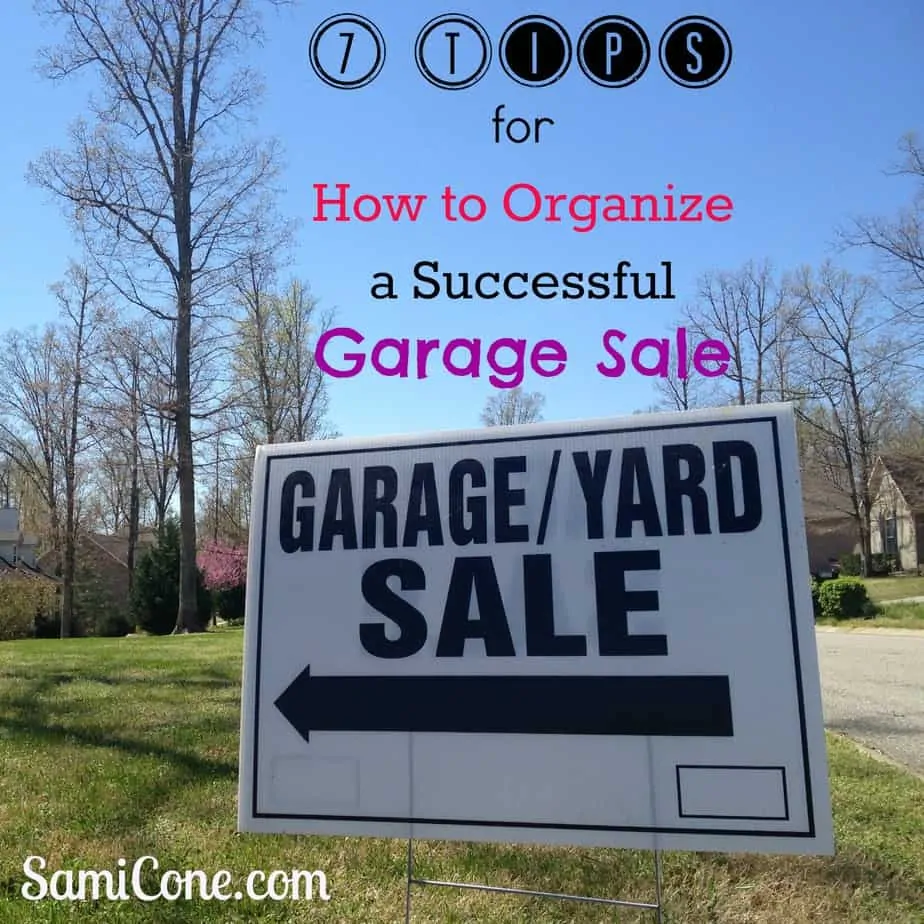 2.

Take pictures

of your rooms before disassembling. 
Not only will this help for insurance purposes and tracking during a move, but it will ensure that all the components and wires make it from your old home to your new home. When taking detailed photos of things like the backside of your entertainment unit and bed frames also means that you'll be able to put it back together yourself instead of relying on the movers to do so, saving you even more money.
3.

Search BBB
The internet is a fount of information, yet one of the most helpful things I did on our recent move was search the tried & true industry standard, the Better Business Bureau. Not only will you discover if a business is in fact listed with the BBB (you shouldn't work with them if they're not), but you'll quickly see the grade they've earned. From there, you'll want to look at if they've had any complaints filed against them in the past 12 months and whether or not they've been resolved.
Once you've narrowed down your list of top 3 businesses you want to work with, pick up the phone and CALL THEM! Not only can you negotiate a better deal this way, but I've found that I can assess a company much better after I see how they respond to me on the phone (or if they even pick up the phone or respond to my messages in the first place).
4. Check local

Daily Deal Sites
While I wouldn't recommend solely choosing your mover based on whether or not they're offering a deal or coupon, it does come in handy when following the piece of advice I just mentioned above. When calling around for quotes, make sure to mention if you've seen deals for other movers on sites like Groupon or Living Social, then use that information to leverage a better price regardless of who you go with.
(I will admit, I was quite excited to find this SAM'S PLUS new membership package on Living Social recently – you save 68%!)

5.

Negotiate

 a flat rate
This was BY FAR the best decision I made and biggest money saver on our move. I had the branch manager come out to the home to conduct a free estimate, but then negotiated a flat rate for the entire move. That way, I wasn't stressing out watching the clock or micro-managing the movers. I simply knew it would get done AND get done within my budget.
6. Pay for movers –

Pack yourself
For years we recruited friends to help us with our moves, but the time comes when A. you get too old to keep asking and B. you collect too much crap to burden your friends with helping move it. So while I'm a big believer in paying for movers at this point, I recommend packing yourself.
Now let me be very clear here: we did pay for movers to help pack us on our last move…and it costs A LOT. You will pay anywhere between their regular hourly moving rate up to several hundreds of dollars for packing services, not to mention paying for the packing materials themselves.
Here's how we cut down on this cost:
1. We bought some moving boxes at a Big Box Store, which cost about a third of the price of what the movers would have charged us.
2. The movers utilized USED boxes for our move – they were their boxes that they'd used for an insurance move previously and were still in perfectly good shape, but didn't require us paying for them.
3. We asked for boxes at local retailers, but I have one warning about this method: it may save you money using uniform boxes. While free boxes are great, you never know exactly what was packed in them previously and how sturdy they are. If you're going to pay for movers, they will be most efficient utilizing their truck space and time when they're moving uniformly sized boxes.
7. Don't make extra trips
When moving within the same city or region, it's tempting to make many small trips in your own vehicle or those of friends, but really, this just wastes time and gas. If you follow the steps I'm laying out, you'll find you're better prepared to make just one trip and save energy and stress in the process.
Here are a few bonus tips I learned from our last moving experience that will also help you immensely:
* Change your address/utility/cable several days BEFORE the actual move so that you don't leave mail behind at your old address and everything you need at your new address will be ready to go once you arrive
* Have each family member pack ONE suitcase with clothes/pajamas/toiletries/personal items they can't live without or want to keep close for the first few days, as well as three boxes you keep with you in your vehicle when you pull out of the driveway: cleaning box, kitchen box, supply box. That way you won't have to spend your first night searching through boxes in the dark for those essentials.
And just because we're trying to be frugal doesn't give you permission to be stingy. I honestly didn't know you should tip movers. But after my mother suggested it, I contacted Jacob from Motivated Movers to ask his advice. He admitted movers fall in the grey area of both the service and labor industries, but if you receive good service, it's customary to tip on average between $20-40 per mover.

One other piece of advice I received (a little too late) from one of my son's teachers was a recommendation for the book, The Life-Changing Magic of Tidying Up: The Japanese Art of Decluttering and Organizing
. I haven't had a chance to read it yet, but apparently it's taken the organizational world by storm. In case you're busy like me and not wanting to read the whole thing, my friend Carrie (who also wrote an AMAZING book called "The Barefoot Executive") summed it up for me in this way on my Facebook post (follow me on Facebook here)
"Read a few a blogs about it. Don't bother with the whole book. It's ok, but kinda flaky with the "thanking your possessions for how they serve you" daily.
It's a neat mindset on purging. "If it doesn't bring you JOY, chunk it".
If you want to watch my TV segment from Talk of the Town, you can do so here:

Before moving, I spoke with representatives from Two Men & a Truck (who we used on a prior move) as well as Motivated Movers (who we used on our latest move) and am happy to share some of their wisdom and experience with you here. I was not compensated to share this information with you, but rather wanted to give you a couple extra resources to draw from.
Some of the links above are affiliate links, which means that at NO extra cost to you, I make a small commission on any sales tracked through such links. It takes me HOURS to compile this information and I appreciate you helping support the site in this way.