The Sami Cone Show would not be what it is without the generous support of our sponsors.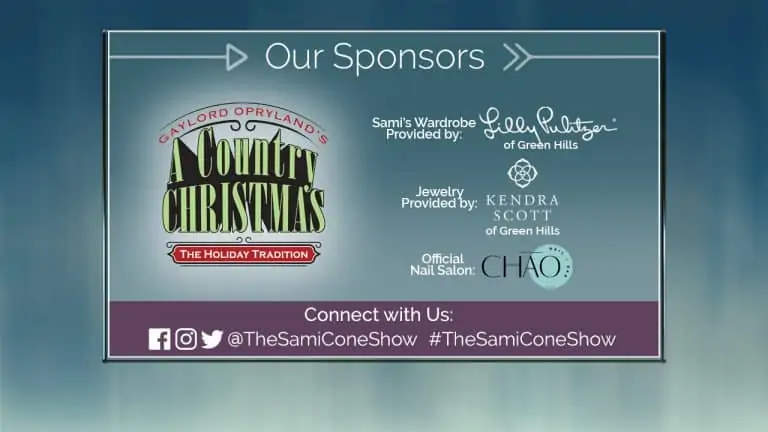 SoundWaves at Gaylord Opryland
We've loved Opryland for years, but with the addition of SoundWaves, there's even more to love. Discover why it was recently named to TIME Magazine's World's Greatest Places!
As the nation's first truly upscale indoor/outdoor resort water attraction, you won't believe everything you'll find under one roof! SoundWaves is the perfect environment for spending quality time with friends and family by the pool, drifting down the lazy river, or catching up over unique food and drinks.
But the fun isn't limited to what you'll find within the four walls of the resort. SoundWaves outdoor area features recreation zones for adults, young children and families include looping drop and body slides, 4-lane mat racer, multi-level kids play structure, wave pool and more.
SoundWaves Discount Codes include:
* 15% off packages with code P91
* 25% off with code M16 (requires TN proof of address)
* Davidson County residents save up to 40% off with code L9Z
ICE! PROMO CODE
We are so excited about all that's coming to A Country Christmas at Gaylord Opryland Resort this year, including the return of ICE! featuring Rudolph the Red-Nosed Reindeer..
Save 50% off tickets select days this winter with the promo code BONVOY (valid for up to 6 tickets-cannot be combined with other offers).
---
Wardrobe Provided by: Lilly Pulitzer at The Mall at Green Hills
Having lived in Palm Beach County, Florida, it's hard not to develop a love for all things Lilly. Their bright original prints paired with effortless pieces make fashion fun again.
We love the service we receive every time we visit Lilly Pulitzer at The Mall at Green Hills. If you don't live in Nashville – or have a Lilly Pulitzer store near you – you can fall in love with Lilly online.
Jewelry Provided by: Kendra Scott of Green Hills
Kendra Scott of Green Hills provides jewelry perfectly paired to my outfit each month. I first started shopping at Kendra Scott because of their wide variety of metals and stones. As someone that loves gold jewelry, it can be difficult to find that perfect gold that exists between cheap/cheesy and fine jewelry.
While Kendra Scott does carry fine jewelry, they also offer affordable style for every occasion, from outdoor gatherings to game day! The other thing I appreciate about Kendra Scott Nashville are their stylists. They always help me combine jewelry in ways I wouldn't think of on my own. And they are experts at helping me layer necklaces too.
I also love how Kendra gives back. They do many give-back events where a portion of your purchase goes to help a non-profit. They also have specialty pieces and charms that benefit different causes.
And don't forget: anyone can get 50% off one item the month of their birthday with ID!
Official Nail Salon: Chao Nail + Bar
I couldn't be happier to have Chao Nail + Bar as the official nail salon of The Sami Cone Show. After visiting dozens of nail salons in Nashville and its surrounding communities over the past decade, Chao is my favorite for many reasons. Bottom line, I appreciate their health/safety protocols and I always leave happy.
With the mission to provide innovative and health-conscious services, Chào Nail + Bar offers an eco-friendly atmosphere that delights the senses and brings joy to the body, mind, and spirit. Plus, the salon is uniquely engineered with a state-of-the-art ventilation system.
Chào Nail + Bar is located in Hillsboro Village adjacent to the Moxy Vanderbilt Nashville building. You will also receive free validated self-parking for up to 2 hours when you park in the Moxy Hotel garage.
For a limited time, Chao is giving you a very special discount as well. Use code SAMICONE for a free add-on, including: Collagen glove/sock, Paraffin wax or Designer polishes. Just purchase a service of $38 or more and use the code when booking online or through the Chao Nail Bar App.
---
Segment Sponsors
Want to protect your children online without stalking them? Bark is an app that monitors your child's texts, chats, emails, and 24+ social media platforms for serious issues like cyberbullying, adult content, sexual predators, profanity, suicidal ideation, and more.
Bark stands apart from other products that claim to help keep children safe online by alerting parents to not only serious issues but also potentially life-threatening situations. Not only does Bark save me time as a parent, but it helps me build trust with my kids because they know Bark is installed on their iOS and devices.
They also know I'm not going to monitor every text, post or email. Instead, it opens a dialogue between parent and child.
Bark is offering The Sami Cone Show viewers a 7-Day Free Trial + 20% off.
Use code: SAMICONE20
---
Medi-Share
Medi-Share is a health care sharing ministry where members share each other's medical bills and pray for each other's medical challenges. With Medi-Share, there's an option for every budget.
Learn how you can save up to 50% off your current health care and see pricing options now!