This post may contain affiliate links, which means we may receive a small commission when you make a purchase at NO additional cost to you. Thank you for supporting our site in this way!
I feel honored to write a Soundwaves Opryland review for you. As one of the first people to visit North America's first indoor luxury waterpark, it's my hope that our experience helps you decide whether or not a SoundWaves Nashville Experience package is right for you.
SoundWaves Opryland Review: Indoor Water Attraction
SoundWaves is an upscale, music-themed water resort located in Gaylord Opryland Resort. When I originally wrote this in February 2019, only the SoundWaves indoor water attraction was open. There are 111,000 square feet of indoor attractions, dining and amenities situated amidst three levels.
In May 2019, the 106,000 square feet of Soundwaves outdoor water features opened.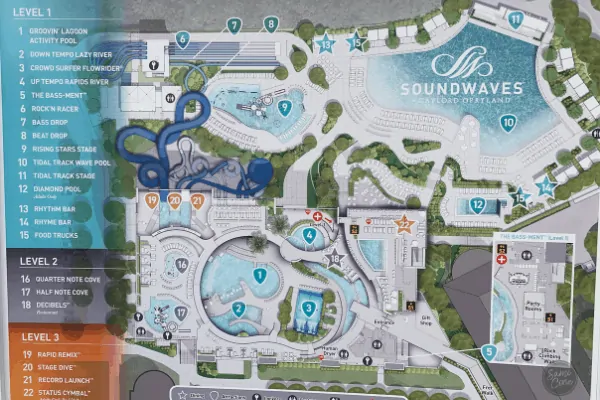 You can watch my recap from the SoundWaves Grand Opening for a video overview of the indoor features.
How to Visit SoundWaves Nashville
Much to the disappointment of many Nashville locals, SoundWaves Opryland isn't open to just anyone. And while this may seem exclusionary, you'll actually appreciate when you hear why…
In order to visit SoundWaves, you must book a SoundWaves Experience Package at Opryland. This means not only can locals not just come in for the day, room-only Opryland guests cannot take advantage of SoundWaves either.
Book your SoundWaves package online now.
As someone who has benefitted from this rule, I appreciate the logic behind it. I can tell you from first-hand experience the limited number of guests allowed in SoundWaves at any given time allows us to maximize our day. Of all the days I visited, we hardly ever had to wait in line.
Truth be told, there are ways to visit SoundWaves without booking a room; I'll get into that more below.
The Music in SoundWaves
If you couldn't figure it out from the name, music plays a large part in SoundWaves. (And it isn't just country music!).
From the lazy river to the tube slides, speakers pump music throughout the water park. (And I'm OK to admit that I took a couple of extra spins around the lazy river to finish listening to Blues Traveler's "Run Around"). While it's far from quiet inside SoundWaves, the noise level is certainly not overbearing.
The Smell of SoundWaves
Yes, it's important we talk about smell here.
If you have been to any indoor waterpark ever, it's safe to say the chlorine fumes force you out before you get to experience all there is to offer. To the contrary, SoundWaves lives up to the rich tradition of lush greenery Opryland is known for, which I can only imagine helps keep things fresh throughout.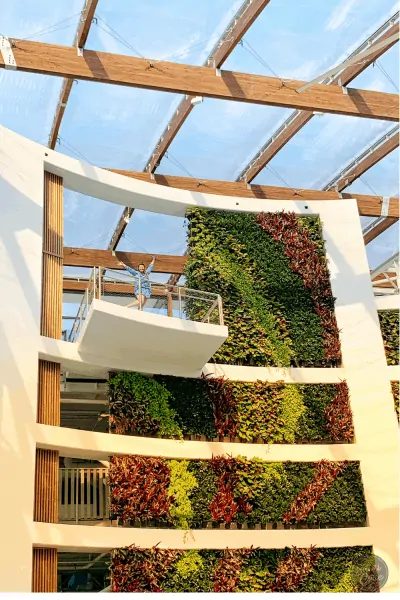 In fact, you may not even notice some of the water slides at first. The rides are intertwined with living walls and plant beds, a natural extension of the resort's 9 acres of garden atriums.
Eating at SoundWaves Opryland
The food at Soundwaves Opryland deserves its own blog post (I'll work on it). That being said, I don't think I'm going too far when I say the price of admission to Soundwaves is worth it for the food alone. You will find unique dining options in SoundWaves you can't get anywhere else in Opryland.
Soundwaves features two restaurants:
Decibels (on the second level) and
Status Cymbal (on the third level in the adult-only area).
The Opryland chefs strive to recreate all your favorite fresh "beach food", from Lobster Rolls to Summer Rolls.
We just learned the Food Trucks have returned to the outdoor SoundWaves area. Who doesn't love a good taco truck?
Don't forget to try their signature drink, the Blue Note. You can find two bars, Rhythm & Rhyme, outside as well.
Tanning in SoundWaves
Adding to the light feel of SoundWaves Opryland is the unique, state-of-the-art "ETFE" atrium. ETFE is an extremely low weight material that offers exceptional light transmission and sustainability, allowing for year-round natural indoor sunbathing in a comfortable 84-degree setting.
Did you catch that? It's always 84 degrees inside. Sign me up.
How to Access SoundWaves Nashville
Opryland guests access SoundWaves Nashville through an interior entrance located just off the Magnolia lobby (which is also where Soundwaves check-in/registration occurs).
Anyone can access the SoundWaves gift shop and arcade, but in order to enter the actual waterpark, you need to scan a waterproof blue wristband you receive when you check-in. Not only do you have to scan the wristband to enter, but you also have to scan to exit.
Shopping at Soundwaves Opryland
Speaking of shopping, I've actually received a lot of questions about the SoundWaves shops via Instagram stories. It all started when I started obsessing over a Carmen Sol bag during my first trip to Soundwaves. Because of time constraints, I never had the opportunity to find out more. That changed on my second trip…
When I was given a gift card to spend in the SoundWaves shops, I knew EXACTLY what I wanted to find. Turns out there are three sizes of these "jelly" bags in three colors, as well as a wallet/clutch and flip-flops. Mind you, they aren't cheap; the clutch costs $95, the smallest tote costs $125 and the largest tote costs $165.
The price threw me initially, and I pondered purchasing something more practical like Sanuk flip-flops or botanical sunscreen. But believe it or not, my husband convinced me to go with my heart. While I initially fell in love with the hot pink tote, I eventually bought the small tote in a periwinkle blue.
If you don't share my same passion for purses, have no fear. The SoundWaves signature shop offers everything from Under Armour backpacks to Vineyard Vines pullovers with the SoundWaves logo. Of course, you can also find all essentials for a day in the water, including goggles, towels, beach bags, sunglasses and waterproof phone pouches.
But are the Water Slides Good?
We've established SoundWaves is beautiful, plays great music, and offers features not found in any other water park in North America…but is it fun?
YES.
The different body slides, tube slides, rivers, rock wall, splash area and FlowRider provide something for everyone in the family. Let's explore these further…
SoundWaves Amenities
Opryland's SoundWaves features the following amenities:
Stage Dive™ Body Slides –There are two, solo body slides to choose from: one with lights and one in the dark. Choose the translucent tube with LED lights, or try the opaque tube with no lights for even more suspense.
Record Launch™ – You have your choice of two tube slides (either single or double, which you have to carry up the stairs yourself). Pick the tubing bowl path for an intense centrifugal experience with 16 LED lights and four music speakers, or push the limits of gravity with the two-person serpentine water ride.
Rapid Remix™ – Grab your entire party to ride this mega raft. It fits four to five people and takes you through a breathtaking series of vortex loops, complete with 21 LED lights and 12 music speakers. After climbing all the flights of stairs to get there, you'll be thankful for the long ride down!
Up Tempo Rapids River – My tween son's favorite, don't call this river lazy! Guests zip through this rapid river without tubes, all while dodging waterfalls and spray features.
Down Tempo Lazy River – Choose a single or double tube and float down this relaxing lazy river through cavernous rock features with LED lighting. My only complaint here is that there were times I couldn't see lifeguards in the back of the cave.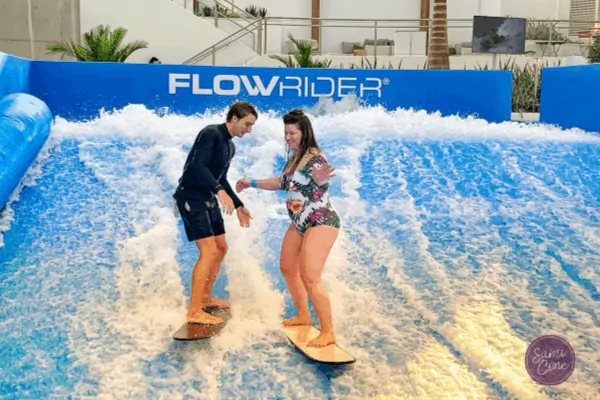 Crowd Surfer – Nashville's only double FlowRider lets two people surf at once. I've done this on my belly, my knees and on my feet (with help :). I recommend everyone give this a try at least once; the staff provides great coaching. That being said, when I fell from the standing position, my neck and legs hurt for about a week afterward.
Groovin' Lagoon Activity Pool – Sitting in the center of SoundWaves, this pool features a rock wall, lily pad walk, basketball hoop and 30-foot water curtain.
Quarter Note Cove – A splash pad and pool designed for young children (I love the mini rocking horses kids can take in the water!).
Half Note Cove – Multi-level play structure for kids of all ages, complete with multiple small and medium slides, shallow water and spray features.
How Much Does SoundWaves Opryland Cost?
Of course, I knew the issue of price would come up. Unfortunately, I don't have an easy answer for you because it varies. I can give you these guidelines:
A base SoundWaves package (room & admission) starts around $299
If availability allows, Opryland hotel guests can add on SoundWaves admission for about $50pp
Prices vary based on season
Cabanas can be added on for your SoundWaves stay and start at $250 for the day
Party rooms are available for non-hotel guests. The smallest room is for 10 people ($50pp) and also requires a $300 food & beverage minimum (which isn't hard with 10 people!)
Please know, these prices can vary, but I wanted to provide you a foundation to go on.
SoundWaves Opryland Review Wrap-Up
I know I've just thrown a lot of information your way. Over the coming weeks, I'll be diving into more detail on each of these categories, so stay tuned. That being said, If you have any specific questions about SoundWaves, PLEASE leave them in the comments below.
I'll be the first to admit, I was skeptical. When I first heard the SoundWaves announcement in 2017, I didn't know if Opryland could create the paradise they promised on paper.
They did.
I've now visited with my family and on my own, and I can't wait to go back for more! Whether you're considering SoundWaves Opryland for a staycation, girlfriends' getaway or kids' birthday party, you're in for a unique treat. If you're ready to learn more about SoundWaves packages, just click the link.
Disclosure: My stays at Gaylord Opryland Resort & Convention Center were hosted. That being said, you should be able to tell everything I wrote above reflects my honest experience. I'm grateful for the opportunity to attend trips like this to be able to help you with your future travel plans. You can read my full disclosure policy if you'd like.