Listen to the Generation Wisdom Podcast and watch our interviews on YouTube.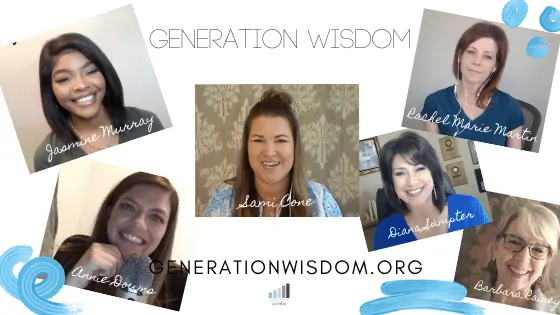 Welcome to Generation Wisdom!
Welcome to the Generation Wisdom podcast: 5 different women from 5 different decades all discussing ONE topic.
Imagine gathering some of your favorite friends, authors, mentors and speakers around a table to discuss a topic important to you. That's exactly what we get to do here on Generation Wisdom. But the amount of time someone has to talk depends on how old they are: women in their 20's get 20 minutes, 30-year-olds get 30 minutes and so on, up to our wisest women getting 60 minutes.
We'll discuss important traits, like being fearless, wise and compassionate. So get ready to listen and share because this is Generation Wisdom!
---
How to Listen to Generation Wisdom
The entire first season of Generation Wisdom is live now wherever you listen to your podcasts:
Watch Generation Wisdom on YouTube
Think listening to Generation Wisdom is fun? Get the FULL experience by watching the video of our interviews and 60-Second Throwdown. Just subscribe to our YouTube Channel!
Generation Wisdom YouTube Playlists:
---
Season 1 Episodes: FEARLESS
Click the link at the bottom of each image to listen to the episode.
This exciting venture wouldn't be possible without your support, whether it's $1 a month or $100, every little bit helps to keep more content coming. Thank you in advance for believing in not only capturing, but sharing the stories of these amazing women!
Interested in advertising on Generation Wisdom? Email us at samijcone at gmail (dot) come for sponsorship opportunities.