One of the main reasons people come to this site is for my Disney World deals. It amazes me that with all the things people are saving money for, a Disney World vacation still tops their list!
Disney World Deals
After living in south Florida for nine years, we know a thing or two about the "happiest place on earth". Once our kids were born, we invested in season passes because we knew we would not live in Florida forever. Since that time, we've traveled to Disney World over 50 times and have done just about all there is to do.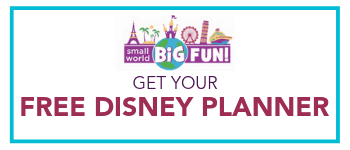 I used to feel like I had to do everything every time we went, but I finally realized that I never felt like I was truly on vacation. Now we pick and choose our itinerary based on the time of year and current deals being offered. Whether we go for one night or five, we always have fun and make a lot of great family memories!
Have you checked out my 31 Days of Disney Deals?
We're here to help you make the most out of your visit for the least amount of money. We've listed our favorites, but please feel free to ask questions and we'll be happy to share what we know!

Check out our insider's look at the best (and most frugal!) places to stay on Disney property with our Disney Hotel Reviews!
We'll tell you all our favorite places to eat (and see characters) in the hotels and around the parks! Read our Disney Dining Reviews & start salivating!
You can also read about our Top 5 Disney Character Dining Experiences here &
discover the free Disney Dining Plan dates!
Hurry to book your trip to get your free Disney dining plan. Last year, in addition to the regular September free Disney Dining Plan dates, Disney extended it to include dates through December.
Essentially what happens is that when you book a 5 night/6 day stay you can get a Free Disney Dining Plan! This is a great way to take advantage of Disney World during some of the best times of year while getting to eat at the best Disney restaurants (especially character dining) for free!
I keep the free Disney Dining Plan dates updated here…
Read my top tips for a free Disney World vacation – learn how to make the most of your Disney experience without ever having to buy a ticket for the theme parks! You won't want to miss the Chip & Dale campfire!
If you're traveling to Disney World with kids (and who isn't!), especially kids 5 & under, then you definitely want to read our Disney Kids Travel Guide!
Wondering when is the best time to go to Disney where there will be less of a crowd?  You will want to check out our Disney Travel Crowd Calendar
Check out the calendar of when is the best days to go when the prices will be the lowest and when to avoid going as they are selling tickets at peak prices.
Disney Cruise Line – Free for Kids!
We went on our third Disney Cruise this year and for select sailings, and believe it or not, you can find great deals on Disney Cruise Line (they've even offered kids sail free dates). I discuss details in my Disney Cruise Kids Sail Free post.
Check out all our great Disney Cruise Line tips to maximize your trip!
Disney Hotel Deals
I used to try to keep all the latest Disney Hotel Deals updated in this section, but that is nearly impossible to do. Disney Parks offer so many different deals and discounts throughout the year, it's become too hard for me to keep up.
Instead, I'd like to recommend my friends (who happen to be sisters) Mary Elizabeth & Martha who are not only as passionate about Disney travel as I am, the live, eat and breathe Disney every day as Disney travel planners.
Not only can Mary Elizabeth & Martha help you with all your Disney planning for FREE, they can help book a variety of vacation options for your family. Between all the hotel and dining options, in addition to booking Fast Passes, you need a Disney expert in your corner. You can read our post on the top 5 reasons to use a FREE Disney vacation planner or just get a free quote from Mary Elizabeth & Martha right now.
Want to save more on your Orlando vacation? Check out all my Disney tips and then consider adding on an  Orlando City Pass.
Disney Florida Resident Discounts
(Proof of Florida Residency required for all FL Resident discounts, however when booking a hotel room at the FL resident rate, only one guest in the room is required to have a Florida ID.) Past Florida Resident Disney discounts have included:
Save 30% most off Disney hotels most nights!
Florida Residents could purchase the popular "Tables in Wonderland" dining card for only $125! This gives you a 20% discount on all food and beverages at 99 participating Resort hotel and Theme Park restaurants (discount is valid for a party of up to 10 Guests) – you could save a lot with this over a week's vacation!
Purchase an after 2pm Annual Water Park pass for only $60
Florida Residents could purchase a 3-day Discover Disney ticket for $159 a person or a 4-day Discovery ticket for just $20 more
In-state residents have saved 25% on prevailing rates as quoted on disneycruise.com
Save 40% on a 4-day Disney theme park ticket.
Create this special keepsake for free by picking your favorite places around the parks to visit, then choose to have Disney send them to you or print them at home. Click HERE to begin.
Walt Disney World Resort is saluting U.S. military personnel by offering 4-Day Military Promotional Tickets for just $156 each plus tax.
For information regarding Military Promotional Tickets or to make room reservations, military personnel may contact participating U.S. military base ticket offices or the link below:
Active and retired U.S. military personnel can take advantage of specially priced Disney Resort rooms. You can also always check out my Disney Military discount post. God bless all our service men & women (including my father!)
Seasonal Pass vs. Annual Pass
If you're a FL resident and don't want to spend the money on an annual pass, you can buy a 3 Day Resident Pass, use those 3 days at any time (like the summer since there are no black-out dates like with the seasonal pass) and then apply the cost of your 3 day pass to a seasonal pass! So even after you use all 3 of your days, you can take that "ticket", apply it to the cost of your Season Pass, and end up paying only an extra $100 or so for the rest of the year! (The Seasonal Pass would then expire one year from the day you first used the 3-Day pass).
First Haircut
Once you walk into the Magic Kingdom, you'll find a working Barbershop just past Town Hall on Main Street. There you can get your child's First Haircut for only $14, which includes Free Mickey Ears (which are normally $10 alone!), a certificate, and the lock of hair wrapped up in Mickey confetti. It is truly an experience to remember!
We help you collect Disney Movie Rewards codes so you can earn free Disney stuff! You can also collect codes from the inside of Disney DVDs. Check out how to find bonus Disney Movie Rewards codes.
Disney Visa
Click HERE to apply – please enter my cardmember ID (10412169) as a referring friend and mention code CPDQ.
The Disney Rewards Visa Card from Chase is a great way to save some extra money at Disney. Some of the Disney Visa benefits include:
A statement credit once you sign up

0% APR Disney Vacation Financing for 6 months

Receive 1 Disney Dollar for every $100 you charge on the card that can be used at the parks, The Disney Store or online.

Cardholders also receive an exclusive Character Meet 'N' Greet photo opportunity with some of the most popular Disney Characters and a complimentary 5×7 photo

Get 10% off your purchase of $50 or more at the World of Disney store in Downtown Disney.
We became charter cardmembers when we were engaged, paid for everything for our wedding on the card, then used the Reward Dollars to pay for our honeymoon there!
Save $50 when you become a Disney Rewards Visa Cardmember at DisneyStore.com