Celebrating what didn't seem possible 4 years ago…

The Daily Dash: August 2, 2017 {Our 14th Wedding Anniversary} 
IN THE NEWS:
* Senate Republicans upset over Trump contradictions
* SW Florida airport worker struck by lighting
* US launched long range missile test from CA
* Duke of Edinburgh final day of service
IN THE WORD:
Carelessness is an insult to the Holy Spirit ~ Oswald Chambers
IN MY LIFE
My husband and I are celebrating our 14 year wedding anniversary today. If you know us or have followed our story at all, then you know we almost lost our marriage 4 years ago, so a marriage anniversary is always quite a milestone for us. We're committed to fighting for not only our marriage, but also our family, and that's a daily commitment, not just something to happen once a year.
That being said, I know that everyone is on their own journey, has their own battle and is fighting their own fight. Once of the best pieces of advice I received in my lowest point was that "my story is my story"; even if it seems that someone has gone through something similar, it doesn't mean they will have the answer for my exact situation. The only thing that is constant and consistent is our Heavenly Father, and He is the one that needs to be leaned on in not just marriage issues, but with every aspect of our lives.
I also wanted to give you a quick review of Disney's The Little Mermaid at TPAC! (that runs through August 6). While this is the Disney show, it's not a Disney on Broadway production. As such, the production and scenery were not the beautiful spectacle I've come to expect from Disney live shows, but the talent was phenomenal and the individual characters (especially Ursula, Sebastian and Chef) stole the show. All that to say, all the little girls in Ariel costumes (and even me and my teenage girl) had a great time.
Stay in the know on the go:
Subscribe to my YouTube Channel: http://bit.ly/1g5VA3T
Join in the conversation on Facebook: http://www.facebook.com/SamiCone
Tweet with me: http://www.twitter.com/TheSamiCone
Watch my story unfold on Instagram: http://instagram.com/TheSamiCone
Follow me on Pinterest: http://www.pinterest.com/SamiCone
Read my book, Raising Uncommon Kids: http://RaisingUncommonKids.com
Share the book on social media: http://bit.ly/RUKShare
Focus on the Family interview: http://bit.ly/RUKfocus
Don't want to miss even one day of the Daily Dash? Catch up on all of my Daily Dash videos and subscribe to my YouTube channel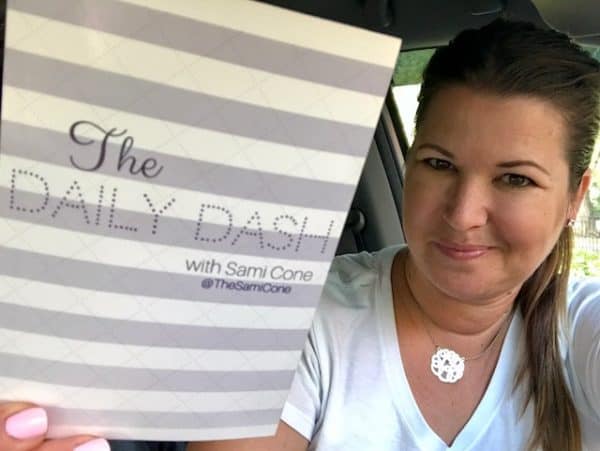 You'll also want to listen to my Family Money Minute radio posts to get any of the savings goodness you may have missed!
Hope you make it a great day!