In today's Daily Dash video, November 18 2015, I got to announce something exciting that YOU can be a part of…
The Daily Dash: November 18 2015 {Book Launch Team #UncommonKids}
IN THE NEWS:
* It was a bomb that took down Russian plane
* 20 Tornadoes in 4 states; strong winds also kill 3 in DC
* Police Raid near Paris goes on for 90 minutes
* David Beckham named People's sexiest man alive
IN MY LIFE:
* I can't believe I get to actually ask this question finally, but it's true: will you join my book launch team?
The message of Uncommon Kids can't be shared to its fullest without YOUR help and so if you have a passion for helping kids and have a platform to shout from, please go to this link to apply for our team: http://bit.lu/RUKTeam
You can also watch my video on the top 5 things to pack:
https://www.samicone.com/top-5-operation-christmas-child-shoebox-items-kids-giving-back/
and the journey of one shoebox from packing to delivery:
https://www.samicone.com/operation-christmas-child-shoebox-journey-ecuador/
Stay in the know on the go:
Subscribe to my YouTube Channel: http://bit.ly/1g5VA3T
Join in the conversation on Facebook: http://www.facebook.com/SamiCone
Tweet with me: http://www.twitter.com/TheSamiCone
Watch my story unfold on Instagram: http://instagram.com/TheSamiCone
Follow me on Pinterest:http://www.pinterest.com/SamiCone
Don't want to miss even one day of the Daily Dash? Catch up on all of my Daily Dash videos and subscribe to my YouTube channel…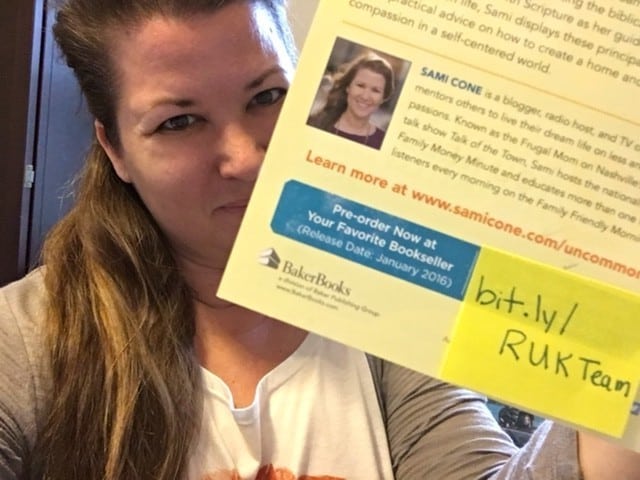 You'll also want to listen to my Family Money Minute radio posts to get any of the savings goodness you may have missed!
Hope you make it a great day!