This post may contain affiliate links, which means we may receive a small commission when you make a purchase at NO additional cost to you. Thank you for supporting our site in this way!
I'm here to walk you through how to get a free haircut with donation.
Wondering what to do with your quarantine hair?
Tired of feeling helpless at home and looking for a way to help those in need?
Short on cash to do either of the above?
Don't worry, I have one answer to solve all three! I'm about to demonstrate how you can get a free haircut at a top salon when you donate your hair to kids in need.
I visited Jon Alan Salon in Nashville, where you can receive a free haircut when you are willing to donate at least 8 inches of hair to "Children With Hair Loss". There are actually two organizations your hair can go to, one for adults and one for kids experiencing medically-induced hair loss.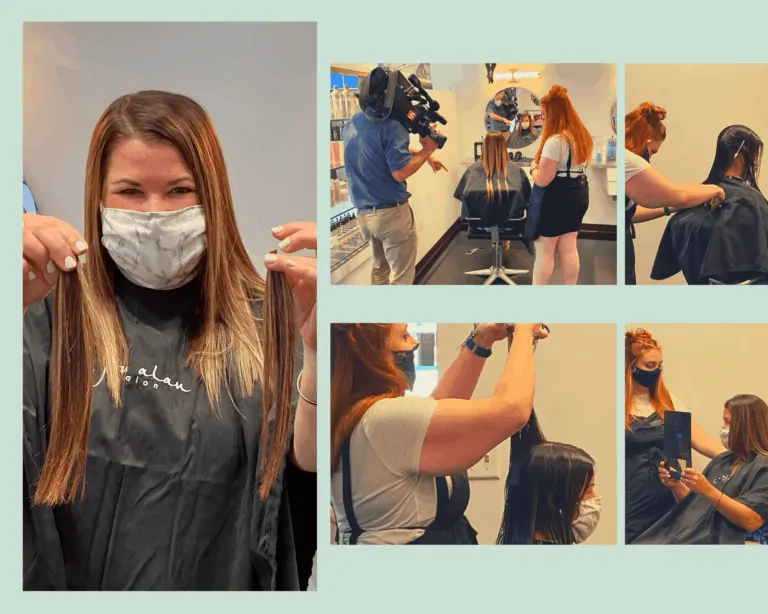 7 Questions to Ask When Donating Hair
When donating your hair, there are several questions to ask the salon before sitting in the chair, including:
Do you take donated hair in. your salon? If not, do you help package it to mail?
Do you offer free consultations before major haircuts?
What organization do you donate hair to?
Do you take color treated hair?
Do you take gray hair?
Is the haircut free when you donate hair?
How much is the actual cost of the haircut? (so you can tip the stylist on the full amount of the cut)
New Safety Standards for Hair Salons
While salons are re-opening, you'll notice some distinct differences in your salon experience, such as:
Everyone must wear a mask during your salon service
Stylists and associates will also be wearing masks
Sanitizing is happening every 30 minutes
You may be asked to wait outside in your car until your stylist is ready for you
Extra services are currently being omitted, such as hand massages and makeup touch-ups after your service
And you know I love a freebie as much as anyone, but I'm also an advocate of showing appreciation to our service industry. So while your cut may be free when you donate your hair, don't forget to tip your stylist on the full value of the haircut (and cash is always appreciated).