This post may contain affiliate links, which means we receive a small commission when you make a purchase at NO additional cost to you. Thank you for supporting our site in this way!
Why just buy a gift when you can buy gifts that give back? While I'm always looking to stretch my dollar, I love when I can buy a meaningful gift that will also give back to charity too. Allow me to share some of my favorite holiday gifts that do just that…
Keep reading to discover how you can win a collection of the gifts I featured on-air!
Gifts that Give Back Directory
While many of the organizations I highlight below could easily fit into multiple categories, I've tried to segment them into who they benefit. Since each of you have different causes close to your heart, I thought this could help you find the best match of cause and product.
The Shop Forward
Each item on The Shop Forward gives back to a cause, so you know you are making a difference when you shop.
The 'Queen of Christmas'  + THANKFUL sweatshirts both support our TSF Military Fund, helping military families in need around the holidays.
Each '4 Things' item is part of thir 'espwa' line – Espwa means 'hope' in Haitian Creole, and each purchase supports myLIFEspeaks in Neply, Haiti. The Shop Forward have raised over $4 million in the last few years for various causes and are so thankful for such a strong, supportive community who wants to give back while they shop!
ITEMS:
Kendra Scott
Kendra Scott's heart to help is evidenced in everything she does, including her You Do Good Charms. Each time a customer purchases one of these charms, 50% of the proceeds benefit one of nine causes that are making an important difference in the world, from children's education to women empowerment.
In addition to the national causes, local Kendra Scott boutiques host Give Back Events. When you shop within these windows, 20% of your purchase will benefit the cause of the event. Kendra Scott is also hosting an in-store and online benefit event in honor of World Kindness Day.
Click the link to see all of the Kendra Scott You Do Good Charms & their beneficiaries.
Featured Kendra Scott products:
Gifts that Help Women
Thistle Farms
Thistle Farms is a nonprofit based in Nashville, TN, dedicated to helping women survivors recover and heal from prostitution, trafficking, and addiction. They provide a safe place to live, a meaningful job, and a lifelong sisterhood of support because they believe love is the most powerful force for change in the world.
Featured Thistle Farms products:
Healing Collection Candles: Calm, Balance, Focus – $60 

Healing Collection Roll On Oils: Calm, Balance, Focus, Immunity, Comfort – $15

Healing Collection Concentrated Oils: Calm, Balance, Focus, Immunity, Comfort $20-24

Use with Essential Oil Diffiuser Bracelets by Thistle Farms Global Partner in Haiti – $18 

Serenity Set – Lavender Candle, Linen Spray and Long Matches – $45 

The Gift of Hospitality – Thistle Farms Candle and Hand Soap with a handmade kitchen towel from Thistle Farms Global partner in India, employing

survivors of domestic violence. –

$60

Hand Sanitizer – the perfect stocking stuffer – $4 or $8 (2 oz / 4 oz) 

Made with glycerine, so it doesn't dry out your hands and scented with Thistle Farms Immunity Essential Oil Blend
ABLE
ABLE is a lifestyle brand focused on ending generational poverty by working with women who have often overcome extraordinary circumstances. ABLE empowers women by creating jobs in communities where they're often most desperately needed, many of whom have overcome circumstances of homelessness, addiction, or prostitution.
ABLE is a Nashville-based lifestyle brand on a mission to end generational poverty by providing economic opportunity for women.
Recently, ABLE became the first fashion brand to publish its lowest wages because they believe complete transparency is the only way to protect and empower the women who make fashion.
Plus, right now you can use the code SAMI20 for 20% off all month long!
Rahab's Rope
Rahab's Rope exists to empower women and children in the fight against human trafficking. Profits from our artisan-made products fund the mission.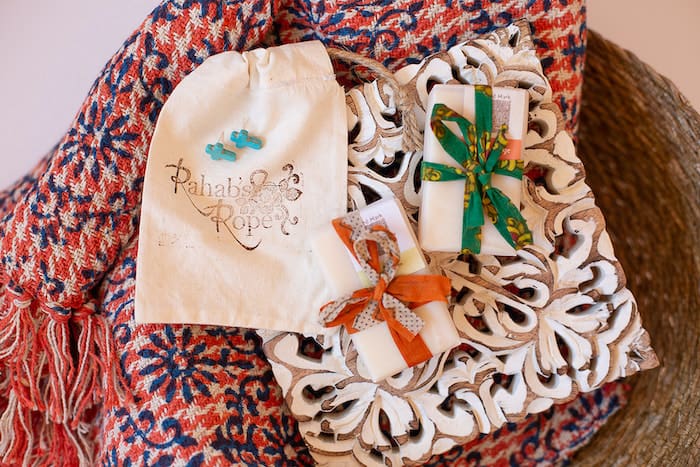 Featured Items:
Hogla Basket: This Hogla Bowl is handwoven by women in Bangladesh. These women are provided with not only steady, fair wages and a safe workplace, but also training in new techniques to help them expand their skills.
Natural Stone Cross Post Earring: Handmade by the women of Rahab's Rope, these turquoise stone post earrings are simple and classic. The purchase of these earrings provides a life of hope and sustainability away from trafficking and poverty.
White Wash Mango Wood Trivet: This ornate trivet is beautifully carved from mango wood. Mango wood is know for its water resistance and durability. It can be used as a trivet or as a decorative touch to your home décor.
Ashika Throw: This super-soft hand-loomed throw is reversible and made from recycled cotton. Measure 72"x48". This throw provides jobs to impoverished families and women at risk of human trafficking.
Sacred Mark Soap: This bar of natural soap is handcrafted by women in the red-light district on Bangladesh who have made a clean break from their previous lifestyle and have chosen soapmaking as an alternative source of income. Soap making provides them with a dignified job and provides a life of hope.
Bright Endeavors
Bright Endeavors features soy candles made by young moms in Chicago. My friends over at Fountain of 30 also featured these fabulous candles in their Holiday Gift Guide.
Gifts that Help Children
FEED Projects
FEED is an impact-driven lifestyle brand, making products that help feed the children of the world. Founded by Lauren Bush Lauren, their bags and accessories truly epitomize the "Gifts that Give Twice" mentality.
This year FEED has announced a holiday meal goal for the first time ever. We're aiming to provide 300,000 school meals, more meals than we've ever provided from a single holiday season. Check out the new Holiday-specific meal counter on our homepage, keeping track of our progress! 
Now more than ever, the fight against hunger needs to be prioritized. As a result of the pandemic, rates of food insecurity have doubled and for families with children, the rates have tripled. 
For a limited time, I have a unique FEED Projects promo code SAMI15 to save 15% off throughout November.
St. Jude
St. Jude exists to find cures & save children. Danny Thomas opened the doors to St. Jude in 1962 with the dream that "no child should die in the dawn of life." In line with that vision, no child is denied treatment based on race, religion or a family's ability to pay. Thanks to generous donors and partnerships like I'm about to share, families never receive a bill from St. Jude. Just as important, St. Jude freely shares its research and findings.
Partner Merchandise:
JOANN: St. Jude patient artwork fabric
 From St. Jude Gift Shop :
St. Jude Won't Stop Shirt: #StJudeWontStop until no child dies from cancer. I'm proud to wear my shirt and share my support of the mission. Join the @stjude family and get your shirt at WeWontStop.org
Christian Gifts that Give Back
World Vision
World Vision is a Christian humanitarian organization that provides long-term solutions to poverty, emergency humanitarian assistance and advocates on behalf of the poor. World Vision works in nearly 100 countries including the U.S.
85% of World Vision's total operating expenses were used for programs that benefit children, families, and communities in need. For every dollar you donate, it's $1.30 in impact.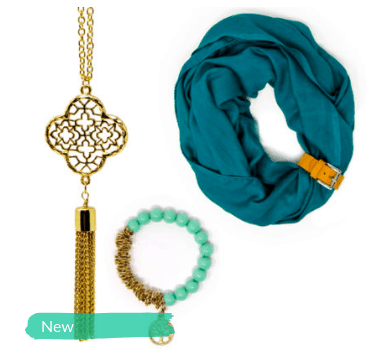 Featured World Vision products:
Organic Coffee Blend ($85) – features a peat flavor with dark chocolate and berry notes. Comes with a handcrafted, wooden coffee scoop.
Coasters ($85) – set of four wooden coasters handmade by fair-trade artisans in India.
The Grace Collection Necklace by Patricia Heaton ($75) – tassel necklace handmade by fair-trade artisans in India from gold-tone alloy metal that does not tarnish.
 Grace Collection Scarf by Patricia Heaton ($100) – woven by master weavers in Bihar, India, with a leather buckle cuff made by artisans in Uttar Pradesh who are famous for their leather craft.
The Grace Collection Charm Bracelet by Patricia Heaton ($85) – featuring turquoise-colored glass beads and a gold-tone iron ring and tree charm.
Gifts that Help the Homeless
Project 615
Project 615's focus is to celebrate Nashville's people, teams, organizations, artists, and places through products that locals are proud to wear. Since its inception, Project 615 has donated nearly $1,000,000 to world-changing causes and local non-profits, and will continue the mission to "Spreading Love The Nashville Way."
Featured Project 615 Products:
Gifts that Give Back Giveaway
I'm thrilled to be able to give away two prizes from my Gifts that Give Back segment:
A selection of items from all the companies I highlighted in my Gifts that Give back segment
A gift basket from Rahab's Rope (see below)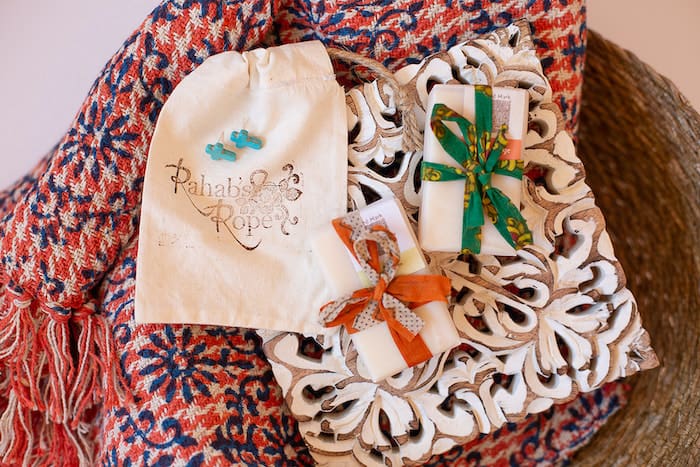 Must be a US citizen 18+ to enter. This giveaway is not affiliated with any other entities or social media platforms. Winner must be able to pick up in Nashville or pay for shipping.
Gifts that Give Back TV Segment
There are so many other incredible organizations whose gifts give back to charity as well, but these are some of my favorites.
Watch my 2020 Gifts that Give Back TV segments from both Talk of the Town & The Sami Cone Show at the bottom of this post.
Watch my 2019 Products with a Purpose segment from The Sami Cone Show.
To watch my 2018 Gifts that Give Back Talk of the Town TV segment, click the link or watch in the viewer below. You can catch up on my past gifts that give back features.
Thank you for helping me support these great organizations!