This post may contain affiliate links, which means we receive a small commission when you make a purchase at NO additional cost to you. Thank you for supporting our site in this way!
Why just buy a gift when you can buy gifts that give back? While I'm always looking to stretch my dollar, I love when I can buy a meaningful gift that will also give back to charity too. Allow me to share some of my favorite holiday gifts that do just that…
Gifts that Give Back Directory
While many of the organizations I highlight below could easily fit into multiple categories, I've tried to segment them into who they benefit. Since each of you have different causes close to your heart, I thought this could help you find the best match of cause and product.
Kendra Scott
Kendra Scott's heart to help is evidenced in everything she does, including her You Do Good Charms. Each time a customer purchases one of these charms, 50% of the proceeds benefit one of nine causes that are making an important difference in the world, from children's education to women empowerment.
In addition to the national causes, local Kendra Scott boutiques host Give Back Events. When you shop within these windows, 20% of your purchase will benefit the cause of the event.
Click the link to see all of the Kendra Scott You Do Good Charms & their beneficiaries.
Gifts that Help Women
Thistle Farms
Thistle Farms is a nonprofit based in Nashville, TN, dedicated to helping women survivors recover and heal from prostitution, trafficking, and addiction. We provide a safe place to live, a meaningful job, and a lifelong sisterhood of support because we believe love is the most powerful force for change in the world.
Featured Thistle Farms products:
Bath & Body Gift Set – $48.00, This custom gift box features a variety of our best-selling body products—all blended with 100% pure essential oils. The Body Gift Box collection includes our Calm Healing Oil, Enriching Body Lotion, Eucalyptus Mint Soak, and our soothing Tea Tree Mint Lip Balm, all formulated to provide healing benefits for the body and mind.
Candle & Room Spray, Three Trees – $40.00, Our exclusive holiday scent, Three Trees, features a crispy woodsy aroma with invigorating herbal notes and resinous hints of nature, and is derived from natural essential oils. (Priced separately: Candle, $30.00; Room Spray, $14.00.)
– Additional holiday scent, Cinnamon Cedar, is also available
Healing Oil, Focus – $14.00, Formulated with powerful oils that enhance clarity, Focus is a grounding oil blended with lavender, grapefruit, and peppermint. Infused with a carrier oil, this roll-on is safe for most skin types and and ideal go-to when feeling scattered.
Essential Oil Bracelet, Buffy – $17.00, Hand strung in Haiti, the Buffy Lava Bracelet allows users to reap the benefits of their pure essential oils both topically and aromatically. Adding a few drops of essential oil to the lava stones helps support mental, physical, and spiritual well-being throughout your day.
ABLE
ABLE is a lifestyle brand focused on ending generational poverty by working with women who have often overcome extraordinary circumstances. ABLE empowers women by creating jobs in communities where they're often most desperately needed, many of whom have overcome circumstances of homelessness, addiction, or prostitution.
ABOUT ABLE
ABLE is a Nashville-based lifestyle brand on a mission to end generational poverty by providing economic opportunity for women.
Recently, ABLE became the first fashion brand to publish its lowest wages because they believe complete transparency is the only way to protect and empower the women who make fashion.
collaboration with Thistle Farms
Regal Hoops ($48) – 14k gold-fill
Pharaoh Earrings ($64) (from their Tortoise Collection – they're a fun statement piece!)
Saint Lariat ($58) – 14k gold-fill
Perez Bootie in cherry suede
Bright Endeavors
Bright Endeavors features soy candles made by young moms in Chicago. My friends over at Fountain of 30 also featured these fabulous candles in their Holiday Gift Guide.
Gifts that Help Children
FEED Projects
FEED is an impact-driven lifestyle brand, making products that help feed the children of the world. Founded by Lauren Bush Lauren, their bags and accessories truly epitomize the "Gifts that Give Twice" mentality.
For a limited time, I have a unique FEED Projects promo code to share with you all! Follow the link to uncover it and discover my favorite FEED bags:
Christian Gifts that Give Back
World Vision
World Vision is a Christian humanitarian organization that provides long-term solutions to poverty, emergency humanitarian assistance and advocates on behalf of the poor. World Vision works in nearly 100 countries including the U.S.
85% of World Vision's total operating expenses were used for programs that benefit children, families, and communities in need. For every dollar you donate, it's $1.30 in impact.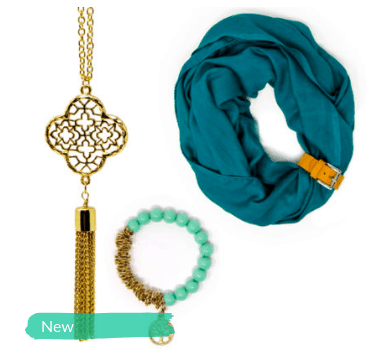 Featured World Vision products:
Organic Coffee Blend ($85) – features a peat flavor with dark chocolate and berry notes. Comes with a handcrafted, wooden coffee scoop.
Coasters ($85) – set of four wooden coasters handmade by fair-trade artisans in India.
The Grace Collection Necklace by Patricia Heaton ($75) – tassel necklace handmade by fair-trade artisans in India from gold-tone alloy metal that does not tarnish.
 Grace Collection Scarf by Patricia Heaton ($100) – woven by master weavers in Bihar, India, with a leather buckle cuff made by artisans in Uttar Pradesh who are famous for their leather craft.
The Grace Collection Charm Bracelet by Patricia Heaton ($85) – featuring turquoise-colored glass beads and a gold-tone iron ring and tree charm.
Gifts that Help the Homeless
Project 615
Project 615 is a company focused on serving others by selling high-quality products that advocate for world-changing causes.
With their current "Love People & Do Good" campaign, one purchase equals 20 meals provided for homeless famlies in Nashville.
Get FREE domestic shipping this weekend only with code CHRISTMASTIME.
Featured Project 615 Products:
Love People Do Good sweatshirt
Nashville Predators Beanie & T-shirt
Grateful sweatshirt
Nashville two-tone sweatshirt
Flat-bill Nashville hat
Gifts that Give Back TV Segment
There are so many other incredible organizations whose gifts give back to charity as well, but these are some of my favorites. You can also see my past gifts that give back feature.
To watch my 2018 Gifts that Give Back Talk of the Town TV segment, click the link or watch in the viewer below.
Thank you for helping me support these great organizations!