This post may contain affiliate links, which means we may receive a small commission when you make a purchase at NO additional cost to you. Thank you for supporting our site in this way!
Why just buy a gift when you can buy gifts that give back? While I'm always looking to stretch my dollar, I love when I can buy a meaningful gift that will also give back to charity too. Allow me to share some of my favorite holiday gifts that do just that…
Gifts that Give Back Guide
While many of the organizations I highlight below could easily fit into multiple categories, I've tried to segment them into who they benefit. Since each of you have different causes close to your heart, I thought this could help you find the best match of cause and product.
Sticker & Co. (Name Bubbles)
I love these customizable and repositionable sticker tiles, greeting cards & more!
Save 20% off the entire site with code SAMI20
Benefits nonprofits that support children's health, happiness, and education. Name Bubbles has committed a minimum of $10,000 to Toys for Tots through the holiday season. A dollar will be given to the organization for every name label pack sold during the last quarter of the year.
Their Discounts for Donations program will continue through the holidays and other special promotions will support our Toys for Tots giving program.
St. Jude
No patient ever pays a penny at St. Jude!
I featured their oversized jingle bell candles & plaid holiday icon mugs that you can find at Pottery Barn.
PaddyWax also created 3 candles: they are local to Nashville, inspired by St. Jude patients
Rainbow Inspired by St. Jude patient Clayton 9-years-old from TN: POSSIBILITIES CACTUS FLOWER CANDLE
Sparkles inspired by Yamila (15yo from Puerto Rico): INSPIRE MIST + MINT CANDLE
Smiley Faces inspired by Chase (17 yo): CELEBRATE BLACK FIG + OLIVE CANDLE
They're committed to donating 5% of each St. Jude candle purchase to help their lifesaving mission: Finding cures. Saving children.
The Shop Forward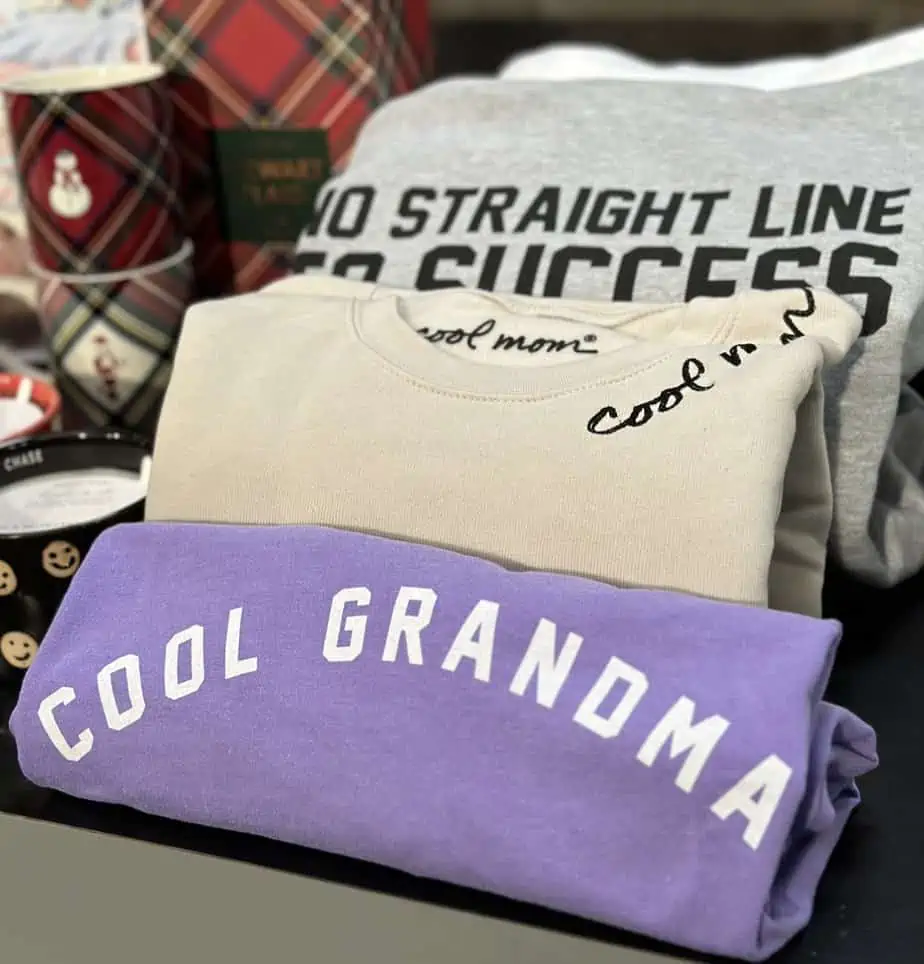 Each item on the site gives back to a cause, so you know you are making a difference when you shop.
They have raised over $5 million in the last few years for various causes and are so thankful for such a strong, supportive community who wants to give back while they shop!
Featured Items:
PAST ITEMS:
Believe sweatshirt
Ted Lasso 4 things unisex tee
Affirmation note card set
4 Things FRIENDS tee
Gifts that Help Women
Thistle Farms
Thistle Farms provides housing, healing, and employment to women survivors of trafficking, prostitution, and addiction. They are based here in Nashville, but have a network of over 500 beds for women around the country through sister organizations.
Survivors live completely free, with custom healthcare and trauma therapy, so that they can focus on healing.
While in the program, women learn job and leadership skills, by working in the social enterprise making candles and awesome bath products. The money from the sale of the products helps cover the cost of the program, while the women build savings to restart their lives.
The money from the sale of the products helps cover the cost of the program, while the women build savings to restart their lives.
Featured Thistle Farms products:
Candles
Room Mist
Seaside Serenity Gift Set
Bring the calm of the seaside into your home with this gift set specially designed with serenity in mind. Experience the calming aroma of Sea Salt Driftwood anywhere in your home and enhance your space with these hand-picked home decor pieces.
* Includes: Sea Salt Driftwood Candle, 7.5 oz., Sea Salt Driftwood Room Mist, 3 oz., Wick Trimmer, Kitchen Towels (Set of 2)
CBD Balm & Soak
Thistle Farms' work with women recovering not just from trauma but also drug addiction makes the organization's move to produce a CBD line a meaningful step forward in providing alternatives for those in the often difficult intersection of addiction and pain management.
– Providing relief options found in nature has an important connection to our missional roots in recovery and sobriety.
– CBD is a natural plant extract that studies have shown may reduce inflammation and stress while easing aching muscles and joints.
– Studies have shown that CBD is a non-addictive substance offering therapeutic, anti-inflammatory benefits that could provide relief for those with chronic pain but who are in recovery and concerned with the risk of dependency on pain medications.
– The new collection features full-spectrum CBD distillate with only a trace amount of THC. In short, it's effective, but doesn't create a psychoactive effect and avoids the risk of dependency.
Past featured products:
Celebration Collection – $20

Love, Courage, Hope, Gratitude, Courage

Love Heals Candles – $32

Lavender, Eucalyptus Mint
New: Santal Amber, Guava Honey, Sea Salt Violet

Gift Sets

Self Care Spa Set – $65
Hope Gift Set – $50

Practically Divine Book
Hand Sanitizer – Starting at $5
Bug Spray – Starting at $8
ABLE
ABLE is a lifestyle brand focused on ending generational poverty by working with women who have often overcome extraordinary circumstances. ABLE empowers women by creating jobs in communities where they're often most desperately needed, many of whom have overcome circumstances of homelessness, addiction, or prostitution.
ABLE is a Nashville-based lifestyle brand on a mission to end generational poverty by providing economic opportunities for women.
Recently, ABLE became the first fashion brand to publish its lowest wages because they believe complete transparency is the only way to protect and empower the women who make fashion.
Liliana Everyday Backpack
The Merly Jacket
Nera Sneaker in Spruce
Diane Loafer in Pony Haircalf
Thin Hoop Earrings
Mod Dome Ring
Past ABLE Items I Featured:
Stride Hoops

Astrology Constellation Necklace

Emerson Scarf

Martha Crossbody

Rachel Wristlet

Letter Necklace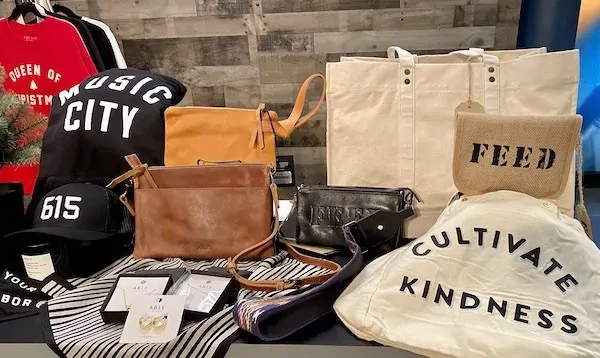 Kendra Scott
Kendra Scott's heart to help is evidenced in everything she does, including her You Do Good Charms. Each time a customer purchases one of these charms, 50% of the proceeds benefit one of nine causes that are making an important difference in the world, from children's education to women empowerment.
In addition to the national causes, local Kendra Scott boutiques host Give Back Events. When you shop within these windows, 20% of your purchase will benefit the cause of the event. Kendra Scott is also hosting an in-store and online benefit event in honor of World Kindness Day.
Click the link to see all of the Kendra Scott You Do Good Charms & their beneficiaries.
This year's featured products from Kendra Scott include:
Rahab's Rope
Rahab's Rope exists to empower women and children in the fight against human trafficking. Profits from our artisan-made products fund the mission.
Rahab's Rope Items You Saw On-Air:
Bread Basket: This bread warmer features a whitewashed terracotta stone, deeply incised with a nature-inspired design and sits within a handwoven kaisa grass basket with palm wrap. The baskets are crafted by women in Bangladesh. The women are provided steady, fair wages and safe workplaces as well as training in new techniques to expand their skills.
Hand-loomed Recycled Cotton Throw

:

The ultimate in sustainable comfort, this throw is made from recycled cotton, which is separated and spun into new threads. The threads are then dyed and re-woven into this cozy throw and is finished with knotted fringe ends. Measures: 72"x 48"
Bright Endeavors
Bright Endeavors features soy candles made by young moms in Chicago. My friends over at Fountain of 30 also featured these fabulous candles in their Holiday Gift Guide.
Gifts that Help Children
FEED Projects
FEED is an impact-driven lifestyle brand, making products that help feed the children of the world. Founded by Lauren Bush Lauren, their bags and accessories truly epitomize the "Gifts that Give Twice" mentality.
This year FEED has announced a holiday meal goal for the first time ever. We're aiming to provide 300,000 school meals, more meals than we've ever provided from a single holiday season. Check out the new Holiday-specific meal counter on our homepage, keeping track of our progress!
Now more than ever, the fight against hunger needs to be prioritized. As a result of the pandemic, rates of food insecurity have doubled and for families with children, the rates have tripled.
Featured FEED Products:
Home Collection – Kinto Travel Tumbler
Travel Collection – Dopp Kit
Heritage – Mini Beaded Artisan Crossbody
Market – Oversized Market Tote
Get free ground shipping over $150 and 15% off for all first-time customers with email sign-up.
Previously featured FEED Bags:
More from St. Jude
St. Jude exists to find cures & save children. Danny Thomas opened the doors to St. Jude in 1962 with the dream that "no child should die in the dawn of life." In line with that vision, no child is denied treatment based on race, religion or a family's ability to pay. Thanks to generous donors and partnerships like I'm about to share, families never receive a bill from St. Jude. Just as important, St. Jude freely shares its research and findings.
Previously featured Items:
JOANN: St. Jude patient artwork fabric
From St. Jude Gift Shop :
Trucker Hat

St. Jude Bracelet
Christian Gifts that Give Back
World Vision
World Vision is a Christian humanitarian organization that provides long-term solutions to poverty, emergency humanitarian assistance, and advocates on behalf of the poor. World Vision works in nearly 100 countries including the U.S.
85% of World Vision's total operating expenses were used for programs that benefit children, families, and communities in need. For every dollar you donate, it's $1.30 in impact.
Featured World Vision products:
Organic Coffee Blend ($85) – features a peat flavor with dark chocolate and berry notes. Comes with a handcrafted, wooden coffee scoop.
Coasters ($85) – set of four wooden coasters handmade by fair-trade artisans in India.
The Grace Collection Necklace by Patricia Heaton ($75) – tassel necklace handmade by fair-trade artisans in India from gold-tone alloy metal that does not tarnish.
Grace Collection Scarf by Patricia Heaton ($100) – woven by master weavers in Bihar, India, with a leather buckle cuff made by artisans in Uttar Pradesh who are famous for their leather craft.
The Grace Collection Charm Bracelet by Patricia Heaton ($85) – featuring turquoise-colored glass beads and a gold-tone iron ring and tree charm.
Gifts that Help the Homeless
Project 615
Project 615's focus is to celebrate Nashville's people, teams, organizations, artists, and places through products that locals are proud to wear. Since its inception, Project 615 has donated nearly $1,000,000 to world-changing causes and local non-profits, and will continue the mission to "Spreading Love The Nashville Way."
Featured Project 615 Products:
Gifts that Give Back TV Segment
There are so many other incredible organizations whose gifts give back to charity as well, but these are some of my favorites.
Watch my 2021 segment:
Watch my 2020 Gifts that Give Back TV segments from both Talk of the Town & The Sami Cone Show at the bottom of this post.
Watch my 2019 Products with a Purpose segment from The Sami Cone Show.
To watch my 2018 Gifts that Give Back Talk of the Town TV segment, click the link or watch in the viewer below. You can catch up on my past gifts that give back features.
Thank you for helping me support these great organizations!
2020 Gifts that Give Back TV Segment: