This post may contain affiliate links, which means we may receive a small commission when you make a purchase at NO additional cost to you. Thank you for supporting our site in this way!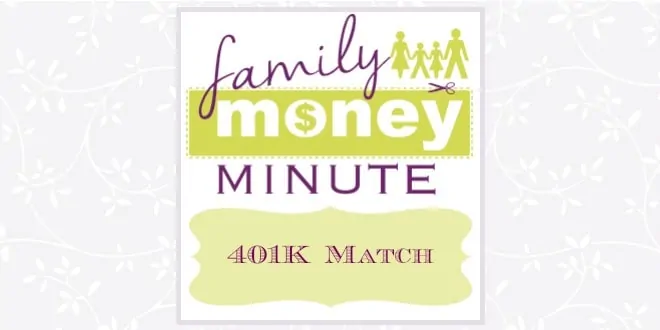 [powerpress]
January 26, 2015: 401K Match
You may not make as much money as you'd like right now, but there is a simple way to get more money out of your employer…

One of the easiest ways to make your money stretch further without spending any extra cast out of pocket is by participating in your company's 401K match program.
The way this typically works is when you automatically contribute part of your paycheck to your 401K, your company will match that percentage (which is usually around 4%).
While the percentage may vary, I recommend contributing the maximum amount they will allow. You won't even miss the extra percent or two from your paycheck and you cannot guarantee a better return on your investment anywhere else than this 100% match!
***
The Family Money Minute is made possible by Operation Christmas Child, who reminds us that by saving money, we can make a bigger impact on the lives of needy children around the world.
If you'd like to hear the Family Money Minute on the radio in your area, leave the call letters of your favorite station and your hometown in the comments below!
Click for more information on the Family Money Minute Radio Program
Click for Family Money Minute Posts you may have missed!