This post may contain affiliate links, which means we may receive a small commission when you make a purchase at NO additional cost to you. Thank you for supporting our site in this way!
I sat down with CeCe Winans on the show for an interview her first live album, her new book and the Nashville conference she's hosting this weekend.
I didn't know what to expect when I sat down to talk with CeCe, but her fearlessness, humility, and faithfulness captivated me.
CeCe Winans Interview
How do you talk to the best-selling female gospel artist of all time for just 5 minutes and glean everything you want to know? It's impossible.
But what I could do was allow the Holy Spirit to guide our time together and I'm so grateful for the nuggets of truth she shared with us all.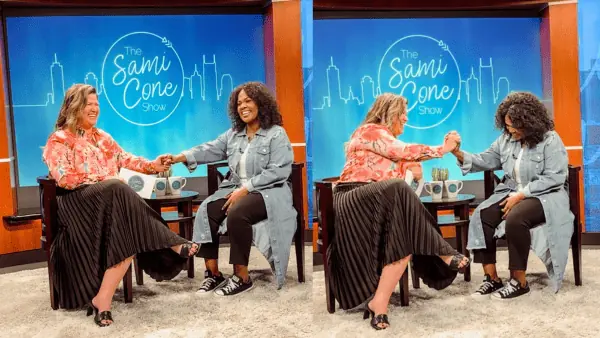 Key Moments with CeCe
2:35 "I wouldn't be here today if it wasn't for those who went before me. I thank God for my mom, the mothers of the church, the teachers and the counselors…everyone who was a part of my journey. I'm here because of their encouragement and their love."
2:59 "One day you look up and it's like 'Wait a minute, I'm the older generation now. It's my turn to pour into those who are coming after me now'. I feel that awesome responsibility, but als the privilege…to be a part of their journey to become all God has called them to become."
3:59 A lot of times we walk in fear and don't see the blessing behind the awkwardness. But when you know the life that comes out of it, it encourages you to have hard conversation after hard conversation.
4:41 I'm not afraid to talk about different topics because life is life and it happens to all of us. And every area of your life is a part of the whole.
Generations Conference Live in Nashville
If you want to hear CeCe in person this weekend, it's not too late to sign up for her Generations Live conference livestream.