This post may contain affiliate links, which means we may receive a small commission when you make a purchase at NO additional cost to you. Thank you for supporting our site in this way!
Friends, it's finally come to this. Mayor John Cooper has officially issued a Nashville Stay at Home Order. Technically called the "Safer-at-Home Order', Mayor Cooper made the announcement today and it goes into effect Monday, March 23, 2020.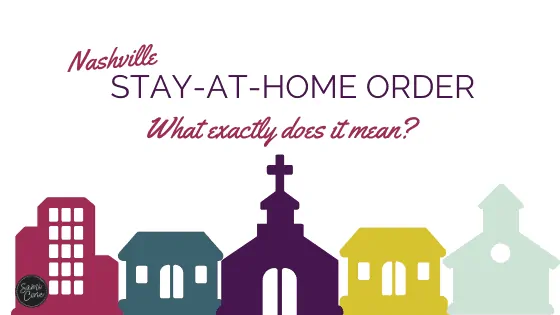 Nashville Stay-At-Home Order
While many of us have been under self-quarantine all week, today's Nashville news conference made it official. We've watched as major cities like New York, San Francisco and Los Angeles impose a stay-at-home order. So it should really come as no surprise that Nashville followed suit.
While we like to think of Music City as a big, small town, the truth is we have grown immensely in recent years. As such, tourism dollars have become a major source of revenue for our city. With the spread of the virus, many of those industries have had to shut down. We're talking everything from hotels and restaurants to honky tonks and bars.
So what exactly does the Nashville Stay at Home Order mean for you and me? Here are the details from ASaferNashville.org:
Safer-At-Home: What You Should NOT Do
Here is the list of what you should not do under the Nashville safer-at-home order:
Go to work unless you are providing essential services as defined by the Order
Maintain less than 6 feet of distance from others when you go out
Visit friends and family if there is no urgent need
Visit loved ones in the hospital, nursing home, skilled nursing facility or other residential care facility, except for limited exceptions as provided on the facility websites.
What Can You Do Under Shelter In Place?
Now that we got the bad news out of the way, what CAN you do under shelter in place? I'm glad you asked because you may have more freedoms than you realize:
Go to the pharmacy to pick up medications and other healthcare necessities
Go to the grocery, convenience or warehouse store
Go to a restaurant for take-out, delivery or drive-thru
Go to medical appointments (check with your doctor or provider first)
GET OUTSIDE: Take a walk, ride your bike, hike, jog and be in nature for exercise (just keep at least six feet between you and others. )
Care for or support a friend or family member
Help someone to get necessary supplies
Walk your pets and take them to the veterinarian if necessary
Receive deliveries from any business which delivers
Support Local Businesses
While you cannot sit down/eat at a local restaurant anymore, the mayor is encouraging take out and delivery. This will help support local businesses in the midst of what is a trying time economically.
I know many people are concerned about receiving packages or even meal delivery because of the potential spread of the virus. According to the CDC, "It may be possible that a person can get COVID-19 by touching a surface or object that has the virus on it and then touching their own mouth, nose, or possibly their eyes, but this is not thought to be the main way the virus spreads."
Protect Yourself from Contaminated Objects
If you are planning to do some online shopping (and who isn't right now?) or have packages or groceries delivered, there are some recommendations in place from the World Health Organization to protect yourself:
Practice basic hygiene: wash hands frequently, cover your mouth with your arm/elbow when you sneeze or cough and maintain social distancing
Wear gloves whenever receiving a package
After. you touch packaging, wash your hands again
Transfer any food/meals received from delivery into your own containers as soon as you receive them
Put food in the microwave for 30 seconds to kill bacteria
What to Do While at Home
I'm continuing to gather resources for while we need to stay home. I compiled a list of 70 things for teens to do while stuck at home already and will work on more.
Most importantly, we need to maintain a positive attitude. When I think of what my parents had to go through during WWII, we are so profoundly fortunate: we can still leave our homes for essentials, we have the internet to help keep us connected and there is hope.
As I reflect on this time, I'm reminded of 1 Corinthians 13 that reminds us that above all else, three things remain: faith, hope and love…and the greatest of these is love. Stay safe my friends!
PLEASE SHARE THIS INFORMATION FOR ALL WHO NEED IT: