This post may contain affiliate links, which means we may receive a small commission when you make a purchase at NO additional cost to you. Thank you for supporting our site in this way!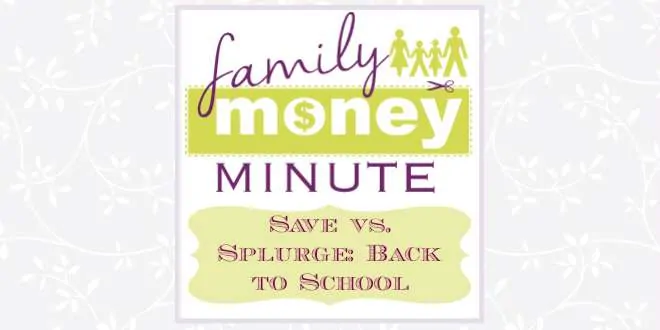 August 10, 2015: Save vs Splurge: Back to School
Going back to school can break the bank, but I have some quick tips on where to save and where to splurge this school year…

Let's face it, we all have a limited budget when it comes to buying back to school gear, so where should we save and where should we splurge?
Don't waste too much money on items that are disposable, ones kids move through quickly or tend to get lost like water bottles, school shirts or even electronics like calculators for younger kids.
However, you'll want to splurge on things your kids will spend a lot of time in like shoes, or things they'll be using a lot like backpacks or computers.
And it never hurts to ask friends or classmates for any hand-me-downs, especially when it comes to things like uniforms and textbooks.
***
The Family Money Minute is made possible by Operation Christmas Child, who reminds us that by saving money, we can make a bigger impact on the lives of needy children around the world.
If you'd like to hear the Family Money Minute on the radio in your area, leave the call letters of your favorite station and your hometown in the comments below!
Click for more information on the Family Money Minute Radio Program
Click for Family Money Minute Posts you may have missed!