This post may contain affiliate links, which means we may receive a small commission when you make a purchase at NO additional cost to you. Thank you for supporting our site in this way!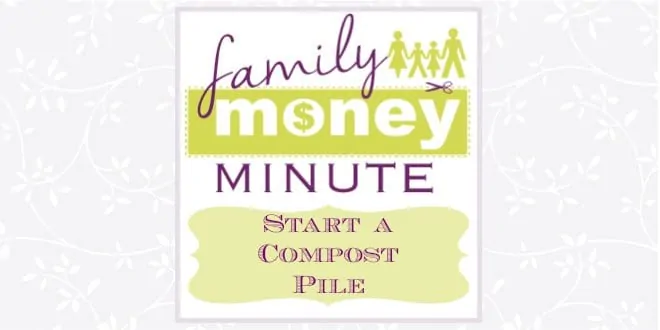 [smart_track_player url="https://traffic.libsyn.com/familymoneyminute/03_18_2015_FMoneyM.mp3″ artist="Family Money Minute | Sami Cone" social="true" social_twitter="true" social_facebook="true" social_gplus="true" social_linkedin="true" ]
March 18, 2015: Start a Compost Pile
Can something good for the environment also be good for our wallets?

At the University where I teach, I recently asked my students to give informative speeches. One student surprised me by coming in and demonstrating just how easy it was to make a compost pile. So easy in fact, that she was able to make a mini version with in her dorm room.
While I'm not suggesting you create a garbage pile with in your house, I was surprised to discover not only all the benefits of composting, but how easy it is to start.
The beauty of it is that not only are you reducing the waste that goes in your trash bags, which reduces the amount you spend on that item each month, but it eventually turns into fertilizer which you can use to grow those gardens I know you all are working on this time of year.
***
The Family Money Minute is made possible by Operation Christmas Child, who reminds us that by saving money, we can make a bigger impact on the lives of needy children around the world.
If you'd like to hear the Family Money Minute on the radio in your area, leave the call letters of your favorite station and your hometown in the comments below!
Click for more information on the Family Money Minute Radio Program
Click for Family Money Minute Posts you may have missed!