This post may contain affiliate links, which means we may receive a small commission when you make a purchase at NO additional cost to you. Thank you for supporting our site in this way!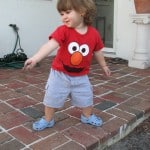 Tomorrow we'll be having a memorial service for Stephen at 2pm at the Grace Place in Stuart (there will be a viewing from 1-2pm). This has been a long week for many of us, though I cannot even begin to put myself in the shoes of Stephen's mom, dad & brother. May we never have to experience the level of grief they are currently going through, though I know God uses all things for good according to His higher purposes.
Obviously we've had the kids up in Hobe Sound quite a bit, and Britton has taken advantage of the time with Nanita by doing some good digging in the dirt! Kariss, unfortunately, has once again been experiencing some extreme stomach pain the past 3 afternoons and even vomitted at Aunt Diane's house yesterday afternoon (that really cleared the room!), so we're still searching to see what could be causing the pain. I've also included a picture of the Jupiter Lighthouse that my husband took to be included in Stephen's memorial service because he loved the water so much. Just thought those of you from outside of Florida would like the peek into our scenery around here.