The Daily Dash has a new purpose starting today…
The Daily Dash: July 1 2016 {@Project615 #BeTheChange and #TheBFG}
IN THE NEWS:
* Mega Million jackpot climbs to $415 million- 10th largest in US history
* Trump said to be vetting Gingrich & Christie for VP
* Phelps makes his 5th Olympic team
* Disney Star Debby Ryan arrested for DUI
IN THE WORD:
This Week's Verse: Ephesians 5:8-9
For you were once darkness, but now you are light in the Lord. Live as children of light 9 (for the fruit of the light consists in all goodness, righteousness and truth)
Inspiration: If you will receive yourself in the fires of sorrow, God will make you nourishment for other people ~ Oswald Chambers
IN MY LIFE:
* Starting this month, you'll notice a bit of a change in The Daily Dash. I'll still bring you what you need to know from around the world and in my life, but it will be less about me and more about what I want to be known for, mainly loving God and loving others.
In that effort, in addition to everything you've come to expect here, I'll also be sharing the Bible verse I'm memorizing each week, along with daily inspiration from my all-time favorite devotion, My Utmost for His Highest by Oswald Chambers.
I'll also be partnering with organizations whose mission and ministry I believe in and want to shed light on by wearing their shirts on camera every day…and I knew exactly who I wanted to highlight in this inaugural effort: Project 615.
WHAT IS PROJECT 615? They are a philanthropic t-shirt & apparel company based in Nashville, TN. They operate by the bible verse Matthew 25:40. Jesus says, "Truly I tell you, whatever you did for one of the least of these brothers and sisters of mine, you did for Me." One of their main objectives is to help restore those who are on the path of recovery from homelessness, addiction and mental illness.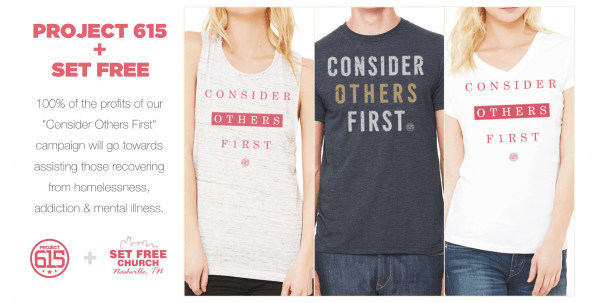 For the whole month of July, Project 615 is going to be doing a campaign called "Consider Others First" to raise money for their partner ministry called Set Free right here in Nashville. Set Free is not only a ministry that brings individuals to the love of Jesus Christ, but helps them get back on their feet by housing 40+ men who have faced homelessness, struggled with drug/alcohol addiction, and battled mental illnesses. To buy a "Consider Others First" Campaign shirt where 100% of the proceeds will benefit Set Free, visit http://www.project615.org/campaign-1/
***
I also promised I would share my thoughts on Disney's BFG, out in theaters today. I won't lie, it wasn't my favorite film. I didn't start out excited about it, but then had high expectations because Steven Spielberg directed it.
It's an inspirational story characteristic of Roald Dahl, but I hate to say, it was so characteristic that it was almost predictable. Not to mention, the film moved incredibly slowly AND was longer than typical Disney films (nearly two hours). We actually considered leaving at one point during the movie. The kids said they liked it, but couldn't put any words to why afterwards, which is rare and told me they weren't really thrilled about it.
I know a lot of you will love it, but it just wasn't my cup of tea. Still, I wanted to give you some free BFG goodies if you wanted to get your family ready to see the movie this weekend:
RAISING UNCOMMON KIDS
Remember, you can visit http://RaisingUncommonKids.com for links on where to purchase my new book
(And if you purchase the book and love it, it would mean the world to me if you would leave a review on those sites as well.)
Another way you can help is by helping to spread the word (by word of mouth and social media). I have several sample tweets, FB messages and images like the one below for you to share at http://bit.ly/RUKShare
Stay in the know on the go:
Subscribe to my YouTube Channel: http://bit.ly/1g5VA3T
Join in the conversation on Facebook: http://www.facebook.com/SamiCone
Tweet with me: http://www.twitter.com/TheSamiCone
Watch my story unfold on Instagram: http://instagram.com/TheSamiCone
Follow me on Pinterest:http://www.pinterest.com/SamiCone
Don't want to miss even one day of the Daily Dash? Catch up on all of my Daily Dash videos and subscribe to my YouTube channel…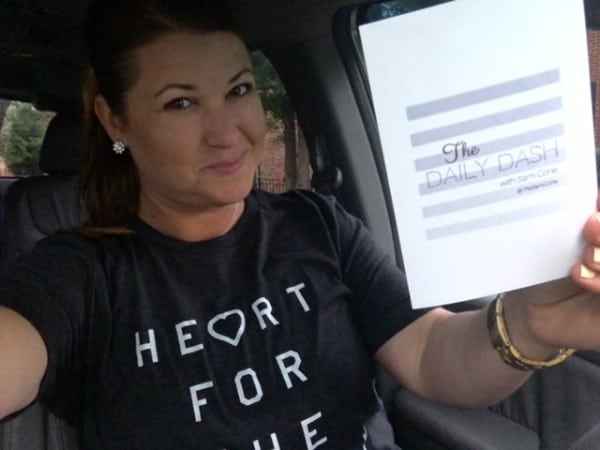 You'll also want to listen to my Family Money Minute radio posts to get any of the savings goodness you may have missed!
Hope you make it a great day!