This post may contain affiliate links, which means we may receive a small commission when you make a purchase at NO additional cost to you. Thank you for supporting our site in this way!
Remember when I told you that my son has never played soccer before, but we signed him up for a British Soccer Camp? We've now been there, done that, got the t-shirt (literally) and wanted to share our thoughts with you in a British Soccer Camp review.
I feel I need to first preface our review with a dose of reality: my son only went one day.
I know, I know, I get it. But you have to remember a few things: we were offered this camp for free and when we originally signed up months ago, we didn't realize he would also be doing swim team and tennis (two sports he's truly vested in and that we are paying for). It was also almost 100 degrees in Nashville that week and the camp ended up being about 45 minutes away from our home. So all that to say, it wasn't worth the effort it was going to take as a family for us to get him there for 3 hours each day. That being said, it was still a worthwhile experience.
First and foremost, the coaches actually were from Great Britain! I was going to be very put out (as my British mum would say) if in fact the coaches hailed from Nashville. But these young men were in fact from the UK and were well versed in soccer practice and knowledge.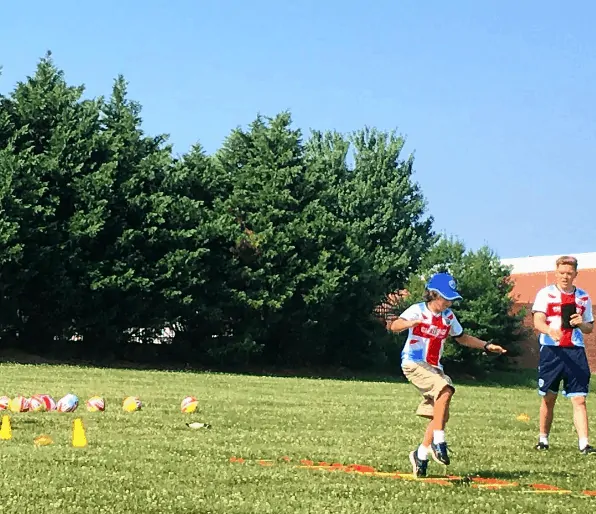 Second, they separated the campers into two age groups, which I appreciated. However, There were about a dozen campers with one coach and therefore they were not truly able to separate based on skill level within the age group.
Third, they worked those kids hard, but at the same time were extremely encouraging and instructional…a hard balance to pull off. The coaches didn't just sit in a corner and tell the kids to run back and forth on the field with the ball. Even from the one hour I stayed to watch, I saw a lot of light bulbs go off in the kids' heads as they performed unique skills and learned new drills.
Take a look at just one of the drills on this British Soccer Camp skill video:
All in all, both my son and I were pleased with the quality of the camp, just overwhelmed by the heat and the distance from our house. And if you ask my son, he'd say it was worth it for all the freebies he got (ball, water bottle, jersey and t-shirt).
If you're looking for a British Soccer camp for your child this summer, click on the banner below.
British Soccer Camp is the most popular camp in North America – 150,000 campers! With an innovative curriculum that develops skills, speed and confidence in players ages 3-18, British Soccer Camps provide boys and girls with the rare opportunity to receive high-level soccer coaching from a team of international expert's right in the heart of their own community.
My son was offered a free registration for British Soccer Camps in exchange for me sharing this information with you. I hope your child enjoys the freebies as much as I know my son will!