The conference is underway and I'm hoping to meet a tennis icon today…
The Daily Dash: June 23, 2017 {#BlogHer17 & @SerenaWilliams}
IN THE NEWS:
* Flash Floods & tornadoes in South as Tropical Storm Cindy works its way inland
* Cosby Juror speaks out
* Ron Howard named as new director on new Star Wars film featuring Han Solo
IN THE WORD:
It is not on what we spend the greatest amount of time that molds us, but whatever exerts the most power over us ~ ~ Oswald Chambers
IN MY LIFE
Today is the first full day of BlogHer. Yesterday I spent good bit of time working in the Waldorf Astoria spa and then got to reconnect with some friends and colleagues in the expo last night.
Today I am excited to do the same, in addition to hearing one of the greats, Serena Williams, speak at lunch. Serena, I'm here if you want to chat 😉 otherwise, you can all follow along at #BlogHer17 to find out whether or not I rush the stage when she's on…
Stay in the know on the go:
Subscribe to my YouTube Channel: http://bit.ly/1g5VA3T
Join in the conversation on Facebook: http://www.facebook.com/SamiCone
Tweet with me: http://www.twitter.com/TheSamiCone
Watch my story unfold on Instagram: http://instagram.com/TheSamiCone
Follow me on Pinterest: http://www.pinterest.com/SamiCone
Read my book, Raising Uncommon Kids: http://RaisingUncommonKids.com
Share the book on social media: http://bit.ly/RUKShare
Focus on the Family interview: http://bit.ly/RUKfocus
Don't want to miss even one day of the Daily Dash? Catch up on all of my Daily Dash videos and subscribe to my YouTube channel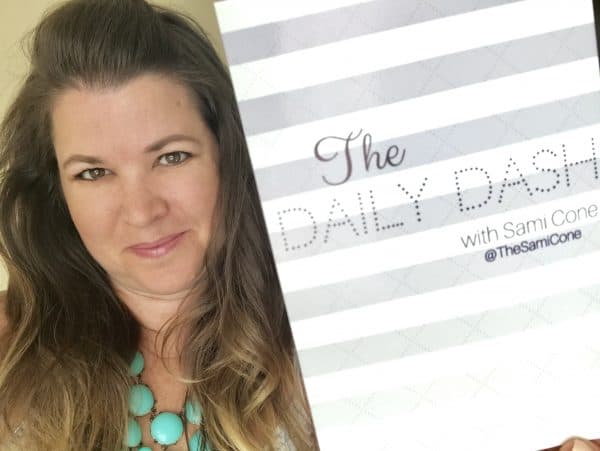 You'll also want to listen to my Family Money Minute radio posts to get any of the savings goodness you may have missed!
Hope you make it a great day!