This post may contain affiliate links, which means we may receive a small commission when you make a purchase at NO additional cost to you. Thank you for supporting our site in this way!
This month on The Sami Cone Show, I had the distinct honor of interviewing Joe Troiano, Creator & Author of Spookley the Square Pumpkin series. He provided incredible insights into how we're all celebrating Halloween differently this year while also celebrating our differences.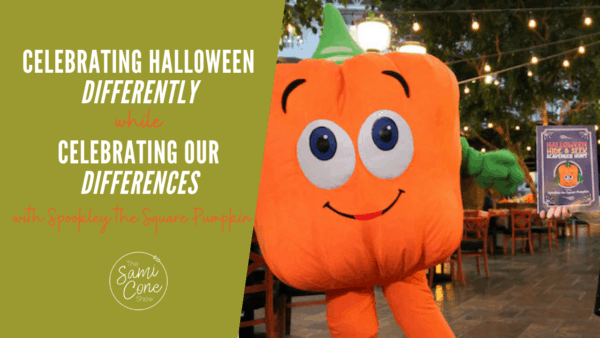 Come back to watch my full video interview with Joe Troiano…In the meantime, allow me to recap highlights from our time together.
How Did Spookley the Square Pumpkin Get His Start & What Does He Stand For?
SC: For almost 20 years, we have been reading aloud and rallying around a little pumpkin who doesn't look like his friends. I'd love for you to tell us a little more about who Spookley is and how he came to be.
JT: Spookley developed classically as a bedtime story I made up for my son after he was ditched by his friends on Halloween night in 1991. After we got home, he asked for a bedtime story that wasn't scary. When I asked my son what wasn't scary, he said, "Pumpkins". As a lyricist, I told the story in verse and immediately afterward knew I had just come up with something special.
Spookley the Square Pumpkin is friendly, sweet, and kindhearted. He always looks for, and finds, the best in others. He tries to help anyone in need. Even though he is little, Spookley accepts every challenge placed before him and can always be counted on to do his best.
Spookley the Official Spokes-Pumpkin for National Bullying Prevention Month.
October is National Bullying Prevention Month and Spookley is the Official Spokes-Pumpkin!
The overarching message Spookley communicates is it's ok to be different. In fact, Spookley helps early learners discover it's the things that make us different are the things that make us special. We don't all have to be square in a round world.
Spookley has partnered with PACER's National Bullying Prevention Center to provide innovative resources for students, parents, educators, and others. Spookley and PACER recognize bullying as a serious community issue that impacts education, physical and emotional health, and the safety and well-being of students.
Bullying Prevention Resources
Pacer's Spookley the Square Pumpkin Digital Toolkit provides educators and caregivers with resources to help promote kindness, acceptance, and inclusion in their classrooms, homes, and communities. It includes video readings of the books The Legend of Spookley the Square Pumpkin and Spookley the Square Pumpkin, A Family to be Thankful For, along with the downloadable discussion and activity guides.
"The End of Bullying Begins with You"
Spookley wants to send everyone a clear anti-bullying message: "The end of bullying begins with YOU."
What does that mean in practical terms? I heard long ago that there is a third group involved in bullying we often forget: the bystanders and observers. There is often a parent, child or someone at school who sees something. Even if we aren't the bully or the one being bullied, many times we witness the injustice and don't know what to do about it.
Thanks to Spookley the Square Pumpkin, we are empowered to "Speak Up. Reach Out. Be a Friend."It's all about speaking up and saying something and not just saying it's OK."
Remember, just one person could make a difference and that difference-maker could be YOU.
Celebrating Halloween Differently This Year
This year looks different all around, which means we'll be celebrating Halloween differently this year as well. Thankfully, one of our family's favorite getaways is offering a unique event so we can still celebrate the season safely with friends and family.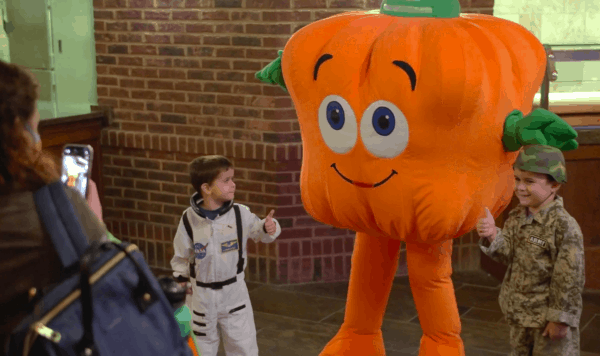 Goblins & Giggles at Gaylord Opryland
Guests are invited to Gaylord Opryland Resort, the sponsor of this segment, to experience a Goblins & Giggles celebration. Running through October 31, Goblins & Giggles offers a wide array of family-friendly activities ranging from a jack o'lantern walk, spooky animal encounters and a Spookley the Square Pumpkin-themed scavenger hunt to trick-or-treating and cruising along one of the resort's flatboat rides.
Special Family Package
The resort is offering a special family package through October 31 that is ideal for a fun staycation during school's fall break or during a weekend getaway.
Starting at $245 per room, the package includes a one-night stay at Gaylord Opryland Resort, two Hide and Seek Scavenger Hunt feat. Spookley the Square Pumpkin booklets per room and four passes for a ride on a Delta River flatboat inside the resort.
Guests may also choose a Goblins & Giggles package option that includes SoundWaves, the resort's indoor/outdoor upscale water experience that fuses music and water to create a unique experience exclusive to Nashville.
Goblins & Giggles Activities Details
Opryland's Goblins & Giggles activities running through October 31 include:
Hide and Seek Scavenger Hunt featuring Spookley the Square Pumpkin: Solve puzzles to find
each clue's missing word and then use the clues to find Spookley, hidden in eight different spots
around the resort.
Trick-or-Treat Expedition: Explore various stops throughout the resort for some deliciously
spooky treats.
Jack o'Lantern Walk: An imaginative walk experience featuring dozens of intricately carved
and illuminated jack o'lanterns.
SpookEasy: Guests 21 and over will enjoy cocktails and screams at the resort's most haunted
spirits spot, which comes to life with the Ghost Brothers and terrifying portraits.
Delta Riverboat: Travel down a scenic river on a flatboat ride winding through the resort's 4.5-
acre Delta Atrium.
Wildlife Rescue: An augmented reality experience guiding guests throughout the resort to track
down endangered species and help ensure that they are monitored for their protection.
Spooky Animal Encounters: Interact and learn about a variety of incredible live creatures.
Family Movie Time: Enjoy family-friendly movies on the resort's big screen including Spookley
the Square Pumpkin
Delta Fountain Shows: Choreographed water, music and lights shows.
Color Between the Wines: Unwind with colored pencils, coloring pages and wines from
Jackson Wine Estates.
Additional themed activities include Bedtimes Stories with Morgana, Halloween-inspired arts and crafts,
trivia, bingo and more.