This post may contain affiliate links, which means we may receive a small commission when you make a purchase at NO additional cost to you. Thank you for supporting our site in this way!
Recently, I was on the hunt for the best seafood restaurants in North Myrtle Beach. It was my first trip to Myrtle Beach with teenagers and my son was set on finding the freshest seafood for dinner. Not only did I do a lot of web research, I consulted friends and locals before driving to check out the top suggestions ourselves.
This compilation is meant to simply your search if you find yourself traveling in North Myrtle Beach with a seafood craving too!
The Best Seafood Restaurants in North Myrtle Beach
The last thing you want to do after a beautiful day on the beach is to scour the web for restaurant reviews, especially when your family is already hungry.
Don't worry, I already did all that so you don't have to!
While this list may not be the most comprehensive you'll find, you can consider it your essential guide to the best seafood restaurants in North Myrtle Beach.
Rated #1 on Trip Advisor for seafood restaurants in Myrtle Beach, we couldn't agree more. My son was set on finding fresh fish for dinner our first night in North Myrtle Beach. After a little internet research, we decided to drive and inspect some of my findings in person. As soon as we walked inside Flying Fish, we knew we wanted to stay.
With a bright, open concept building (as well as an open kitchen and multi-level floor plan), we felt welcomed immediately. That atmosphere continued through the service. We sat in a booth on the outskirts of the bar area; even though there were large TVs where we could watch a variety of sporting events (which we love!), it still felt warm and elevated and never like a sports bar.
Flying Fish Free Appetizer for All + Our Selections
In keeping with safety standards, guests will find a menu QR code on each table. Flying Fish offers each table a complimentary smoked Mahi-Mahi dip with crackers after sitting at your table. I was skeptical since I wouldn't consider myself a 'fish person', but it was light and flavorful.
Because my daughter is vegetarian, we ordered edamame to start (yes, they have a sushi menu too!). I also ordered a cup of the She Crab Soup. While they forgot to bring this to me (and I couldn't even finish my entree), I simply had to try a taste before leaving. They were gracious enough to bring me a sample and it was absolutely luscious and delicious.
Fresh Fish Market
We found five different fresh catch options at Flying Fish the night we visited. My son decided on salmon with a cajun preparation right away. I, however, had a harder time deciding.
I initially debated between Mahi Mahi & Grouper. But after I told our server I don't love all fish and wanted something mild, she convinced me to try the tilefish. It sounded terrifying, but she confessed it was a favorite amongst the servers.
In the end, I went with the tilefish with the Flying Fish signature preparation and Chimichurri sauce on the side, along with their Gouda mashed potatoes and sweet potato fries. I could not have been happier, but allow me to elaborate a little more on my decision process…
When ordering from the Fresh Fish Market at the Flying Fish, there are 3 steps:
Check the board or ask your server for the fresh fish selections of the day. We learned every "fresh catch" goes from water to your table within 48 hours. Incredible.
Choose your preparation. You can choose from three fish preparations: Cajun Style, Signature Preparation or Fire-Grilled. More on that below…
Choose your signature topping. You can see the image above for all the toppings (which you can also request on the side.
NOTE: my son ordered his salmon "hooked", thinking he was getting fried popcorn shrimp, but they were sauteed. After sharing that with our server, she happily brought him out a side of fried cajun popcorn shrimp that he devoured.
Flying Fish Signature Preparation
I mentioned our waitress thoughtfully convinced me to try the Tilefish with their Signature Preparation, which consists of a crust of Goldfish and jalapeño breading. As someone who doesn't love cheddar Goldfish crackers or spicy things, this was the least appealing preparation to me.
She affirmed my worries, saying most first-time diners shared my concern. However, she asked me to trust her, explaining it was a finely ground crust that brought out the fish's most natural flavor and worked well with the toppings.
Because I was already throwing all reason out the window and trusting her with my fish selection, I went with the Signature Preparation…and I'm so glad I did! I couldn't discern cheddar or jalepeño, but it did deliver in taste and the promised crust, making it a great receptacle for the chimichurri sauce. She also brought me a side of the Honey Lime Butter, which she said is a house favorite, but I couldn't get enough of the chimichurri.
While the menu says the fresh catch comes with Chef's Rice & Green Beans (which my son went with and both were tasty), I had to try the Gouda mashed potatoes and Sweet Potato Fries. I don't normally eat that many potatoes, but we saw the fries on so many tables before we sat down, we knew we had to order them. I love Gouda and the flavor shone through the creamy mashed potatoes.
Five Stars for Flying Fish
I didn't go into Flying Fish expecting to review it, hence why you aren't seeing more food photos. But after such an incredible meal, I hoped that sharing our experience would help those of you looking for a great seafood dinner in North Myrtle Beach.
If I had been able to drag my teens away from the ocean, we would definitely have visited Snooky's on the Water for lunch. We didn't discover it in enough time to try it on this trip, but Snooky's also gets consistent high reviews from local, visitors and my friends alike.
Snooky's by far had the widest variety of fresh seafood offerings – including a raw bar – while situated in one of the most beautiful settings. I'll be honest, one of the reasons I didn't go out of my way to get to Snooky's is because I wanted to try so many different things! Their combination of classic offerings with creative flavors worried me that I might break the bank eating one of everything.
I also heard their burgers are a favorite amongst regulars. So if you happen to be traveling with a non-seafood lover, rest assured they offer an eclectic selection of appetizers, salads, main dishes and even classic seaside desserts like key lime pie (plus a key lime and white chocolate cheesecake).
Another confession: Snooky's is actually located in Little River, SC which is just a short drive from North Myrtle Beach.
Preston's Seafood & Country Restaurant has received rave reviews on multiple sites for their buffet. While that aspect of the restaurant is currently shut down due to COVID, diners still enjoy specials like their steam pot, hot crab legs and fresh hushpuppies delivered to your table as you order. Family-owned for over 30 years, reviewers mention they make it a priority to enjoy Preston's seafood and southern menu on every trip to N. Myrtle Beach.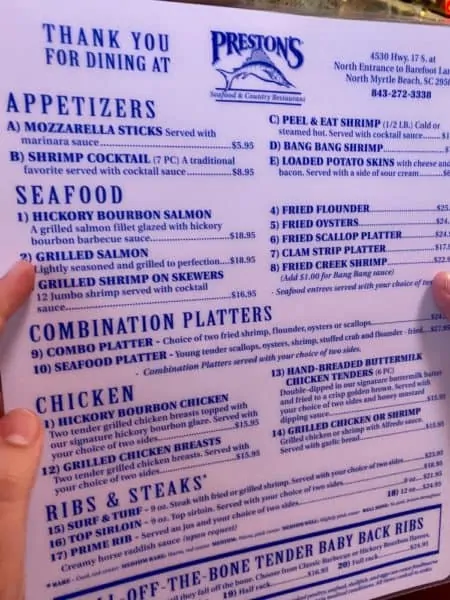 While located just north of North Myrtle Beach in Calabash, The Boundary House came very highly recommended by my best friend. It was a bit more time and money than we wanted to spend on our last weekend trip to Myrtle Beach.
Most appetizers and salads are around the $10 range, fish dishes are $20 and up and most of the beef dishes range from $27-33. They offer lunch and dinner seven days a week and also offer a kids' menu. I didn't get the sense that this was a restaurant you could just walk into from the beach, but I also didn't see a stated dress code.
While we didn't get to make it there ourselves, we look forward to planning better to include it next time. You can review their dinner menu here.
---
There you have it: my humble list of the best seafood restaurants in North Myrtle Beach. These opinions are entirely my own and we paid for all our own meals.
What would you add to this list? I'd love to hear your Myrtle Beach restaurant recommendations in the comments below!