This post may contain affiliate links, which means we may receive a small commission when you make a purchase at NO additional cost to you. Thank you for supporting our site in this way!
Whether you're needing help feeling festive or simply want to expand on your already robust list of holiday destinations, we're sharing where to go to get in the holiday spirit! And keep in mind, all these destinations are within driving distance of Nashville.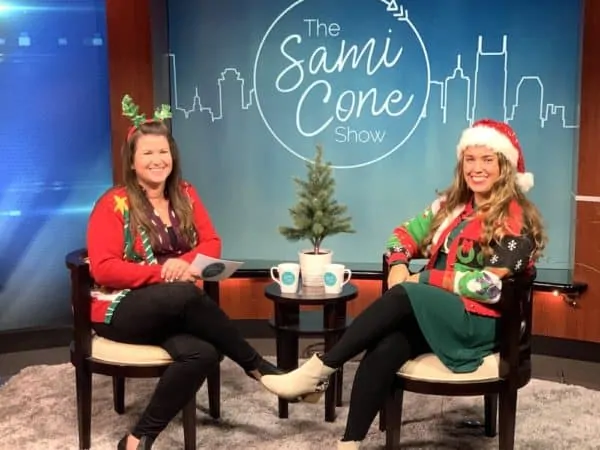 Christmas Experiences & Destinations
I'm joined by my friend, fellow influencer and all-around travel expert, Kristin Luna of Camels & Chocolate. Kristin doesn't just know where to go, she knows what to do once you're there.
In this segment, we break down our list of the most Christmassy destinations and experiences into 3 categories: the big trip, the day trip and the local experience.
The Big Christmas Vacation Trip
We love Disney World any time of year, but it's especially magical during the holidays. Here are just a few of the can't-miss activities:
Disney's Animal Kingdom is now open at night with the beautiful Tree of Life Awakenings and Rivers of Light shows.
Rise of the Resistance just opened in Galaxy's Edge
Magic Kingdom/ Mickey's Very Merry Christmas Party: with new fireworks – Minnie's Wonderful Christmastime Fireworks
Epcot International Festival of the Holidays: with celebrity Candlelight Processional Narrators & even a holiday cookie stroll
And you don't even have to pay to go into a theme park to experience the Christmas Tree Trail or Santa's Chalet at Disney Springs.
Mid South Christmas Day Trip
Discover millions of lights, award-winning shows and a 50-ft Christmas tree amidst their winter wonderland. 2019 also marks the first year guests can celebrate Christmas inside Wildwood Grove, the new expansion. And if you want a sneak peak of all there is to see and do at Dollywood during Christmas, watch the new Hallmark movie, Christmas at Dollywood!
I would never have thought about "Huntsville" and "Christmas" in the same sentence before talking to Kristin, but she raves about the following activities: Galaxy of Lights at Huntsville Botanical Garden, Skating in the Park, Tinsel Trail in Downtown Huntsville and Santa's Village at the Historic Huntsville Depot.
Shelby Farms Starry Nights is already in full swing and this year they've installed a Glice Rink. And the Peabody now has Afternoon Tea with Santa, which is DARLING.
Nashville Christmas Experiences
If you live in Nashville, you don't have to travel far to get in the Christmas spirit. These local Christmas experiences range from something you can do in a couple of hours to overnight adventures.
Camels and Chocolate
The name won't be the only thing you'll love about Kristin's blog, Camels and Chocolate. Follow Kristin on Instagram at @LunaticAtLarge to keep up with her travel adventures and amazing mural projects.
Watch the full segment below: