This post may contain affiliate links, which means we may receive a small commission when you make a purchase at NO additional cost to you. Thank you for supporting our site in this way!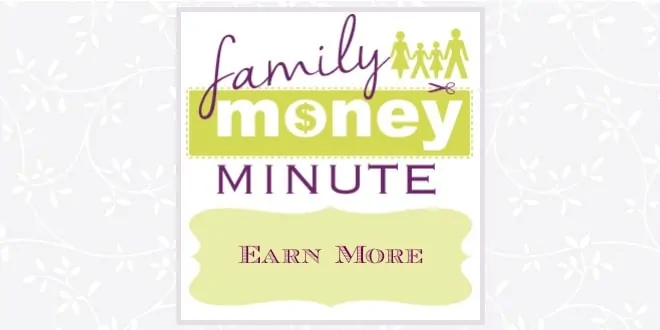 [powerpress]
January 29, 2015: Earn More
We've looked at a lot of ways to save money this month, but at some point, there's only so much money you can save out of your budget and you have to earn more!

If you currently have a job, look into ways to increase your paycheck, whether it's by asking your boss for a raise, taking on more responsibility, or finding somewhere that will pay you more for the work you do.
Of course, there's always the possibility of taking on a second job for a pre-determined amount of time to help pay down a certain bill or save for a big event.
I'm also a big believer in pursuing your passion, so why not consider using your skills to earn some extra cash on the side, perhaps by consulting, starting a side business or even opening an etsy shop. That way, you can keep the security of your current job while testing the waters of your entrepreneurial spirit!
***
The Family Money Minute is made possible by Operation Christmas Child, who reminds us that by saving money, we can make a bigger impact on the lives of needy children around the world.
If you'd like to hear the Family Money Minute on the radio in your area, leave the call letters of your favorite station and your hometown in the comments below!
Click for more information on the Family Money Minute Radio Program
Click for Family Money Minute Posts you may have missed!