This post may contain affiliate links, which means we may receive a small commission when you make a purchase at NO additional cost to you. Thank you for supporting our site in this way!
This post is sponsored by Mizuno and one that came at a perfect time for my little man!
As spring has tried to creep its way out of winter's shadows, my son and I have picked back up at a tradition we started this fall.
There's about 30 minutes between when I pick him up and when I pick my daughter up at school, so rather than go home, we get in her car line and then play some sort of sport on the junior high football field while we wait for school to get out.
Our sport of choice for fall was football, but something about spring SCREAMS baseball, and so that's what we've been practicing whenever the weather has been above 50 degrees or so.
The kicker is that he hasn't played baseball since he was five, so the only glove he owns is a tiny one from tee-ball. So when Mizuno asked if they could provide my son with a new glove so he could try out their free baseball glove steaming at Dick's this week, I couldn't believe the timing!
Not to mention the fact his birthday was last week, so it was just the thing to do before his party.
Major League players agree, the best way to break in a glove is a combination of heat and pressure. Developed in Japan, the Mizuno Glove Steamer applies both steam heat and pressure without the at-home risk of melting the rawhide or burning yourself (like in the microwave!).
The glove is game ready in a matter of minutes, which we know is important with kids' lack of patience 🙂 As baseball/softball season starts, Mizuno want kids to be ready to go as soon as they step onto the field without the fear of a too stiff glove for those first tryouts and practices.
So off we went on Saturday with his new, blue Prospect glove in the right size for an infielder (did you know you can get different baseball gloves for different positions?) to get it steamed for free at Dick's.
You'll find the glove steamer conveniently located right next to Dick's wide selection of baseball gloves:
The finished product (thanks to our specialist, Andrew). I couldn't believe the difference it made in his glove!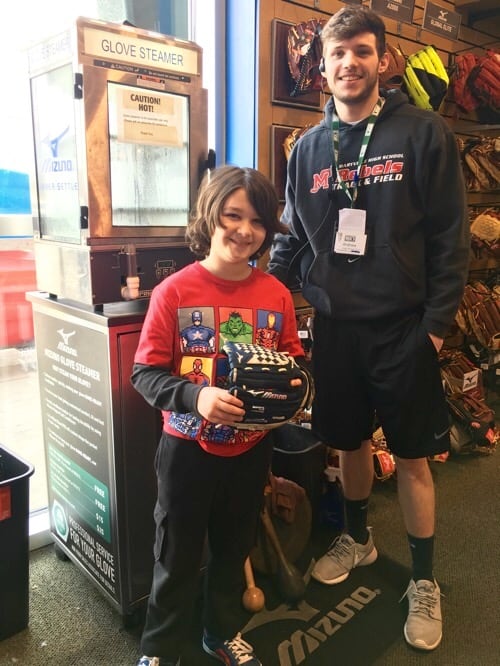 You can also get your glove steamed anytime at Dick's. Here's the typical price breakdown: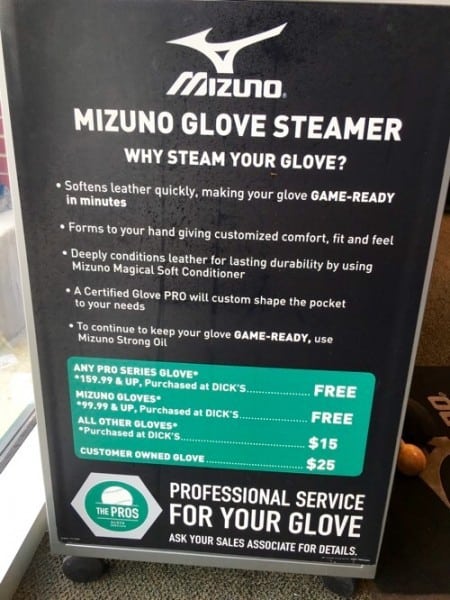 If you want to watch the entire process, you can see our Periscope video here:

Glove Steaming Week is March 4-13 at Dick's Sporting Goods in Nashville. The Mizuno Glove Steamer is a free service for customers purchasing a Mizuno glove.