This post may contain affiliate links, which means we may receive a small commission when you make a purchase at NO additional cost to you. Thank you for supporting our site in this way!
The full Home Depot free kids workshop schedule for 2023 is here! We're not only sharing what the next Home Depot free kids workshops for 2023 are, but we also have details on how to take the Home Depot kids' workshop fun home with you all year long! You'll find the full 2023 workshop schedule below…
The Home Depot Free Kids Workshop 2023 Schedule
The Home Depot free Kids workshops are such a big hit, not only in our family, but for everyone looking to get the kids out for some hands-on, free fun! These workshops typically occur on the first Saturday of every month from 9a-12p.
Things have definitely changed with the current state of our world. Home Depot also offers free live-streaming and digital workshops for you to enjoy without leaving your home.
While I have not seen free kids' workshops via livestream yet, I'm hoping Home Depot will add content like this soon.
Kids' Workshops Crafts
Typically, the Home Depot FREE Kids' Workshops usually center around whatever holidays are happening that month. Kids can build (and often paint) things like cars, napkin holders, games & more. Every participant in the kids' workshops also gets a certificate, orange apron, pin and treats when they complete the project!
As I discover what the projects will be for the Home Depot workshops, I'll list them below so you know what you're getting into before you head out with the kiddos.
Home Depot Free Kids Workshop Schedule for 2023:
The April kids' workshop just passed. The NEXT Home Depot Workshop for kids is happening on June 3, 2023. Little ones can learn how to build a Putting Green.
While most Home Depots are once again holding the kids' workshops in person, you can also ask the customer service desk for a free kit to take home.
You can even check out the Livestream workshops on Home Depot's website. And don't forget to keep in touch with your local Home Depot near you to see if they have any updates.
Register for Home Depot Kids' Workshops
The Home Depot free kids workshops have been known to run out of supplies…so while you don't need to make reservations for the workshops, you can register here.
I definitely wouldn't recommend waiting until the last hour to arrive, otherwise, you may have some disappointed kids! You used to be able to register for the Home Depot Free kids workshops in advance, but that does not guarantee kits will be available once you arrive.
What Kids Get at the Free Home Depot Workshops
Children must be present to receive a kit (stands to reason, but I suppose The Home Depot is trying to prevent people from taking extras home). All kids get to keep their project, receive a FREE certificate of achievement, a Workshop Apron, and a commemorative pin while supplies last. Children must be present at the store to participate in the workshop and receive the kit, apron, and pin.
Home Depot Free Kids Workshop 2023 Schedule Details:
Where to go: Your local Home Depot
What you'll build: See craft schedule below
When is it: the first Saturday of each month from 9 AM – 12 PM

2023 Home Depot Kids' Workshop Crafts
January 7- Snowball Game
February 4 – Valentine's Vase
March 4 – Pinball
April 1 – Poolside Birdhouse
May 6 – Flower Planter
June 3 – Putting Green
July 1 – Fireworks Bean Bag Toss
August 5
September 2
October 7
November 4
December 2
2022 Home Depot Kids' Workshop Crafts
January 1 – Toss Game (You can still click to order for under $5!)
February 5 – Valentine's Photo Box
March 5 – Airship
April 2 – Bird Feeder
May 7 – Picket Fence Planter
June 4 – Fish Tank
July 2 – Constellation Viewer
August 6 – Summer Camper
September 3 – Pencil Desk Organizer
October 1 – Fire Rescue Boat
November 5 – Scarecrow Napkin Holder
November 26 – Train Ornament
December 3- Santa Letters Mailbox
With any free in-store event, it's always best to call and confirm participation before going.
2021 Home Depot Kids' Workshop Crafts
Even though these dates have passed, you can still click the links to order each craft for under $5!
2020 Home Depot Free Kids' Crafts
Feb 1- Heart String Art
Mar 7- Binoculars
April 4 – Recycling Truck
May 2 – Mirrored Vanity
June 6 – Tool Bench
July 4 – Soccer Game
August 1 – Locker
September 5 – Crane
October 3 – Ladder Truck
November 7 – Battleship
November 28 – Elf Ornament
December 5 – Santa's Treat Tray
2019 Home Depot Kids' Workshop Crafts
They don't always repeat the same kids' workshop projects each year, but here are the 2019 Home Depot workshop crafts that happened if you want to look at the trend:
Feb 2 – Heart candy box
Mar 2 – Clock with tray
Apr 6 – Birdhouse
May 4 – Blooming art (wooden flowers on a hanging frame)
Jun 1 – Putting green
Jul 6 – Tow truck
Aug 3 – Rocket pencil box
Sep 7 – Scarecrow planter
Oct 5 – Fire plane
Nov 2 & 30 – American Eagle & Reindeer picture ornament
Dec 7 – Christmas countdown calendar
* Keep in mind, these crafts can change without notice.
Home Depot Kids Workshop Kits
Can't make it to your local Home Depot for the kids' workshops? Why not bring the party home! Here are just a few of the ready to assemble kids workshop kits you can buy and build at home: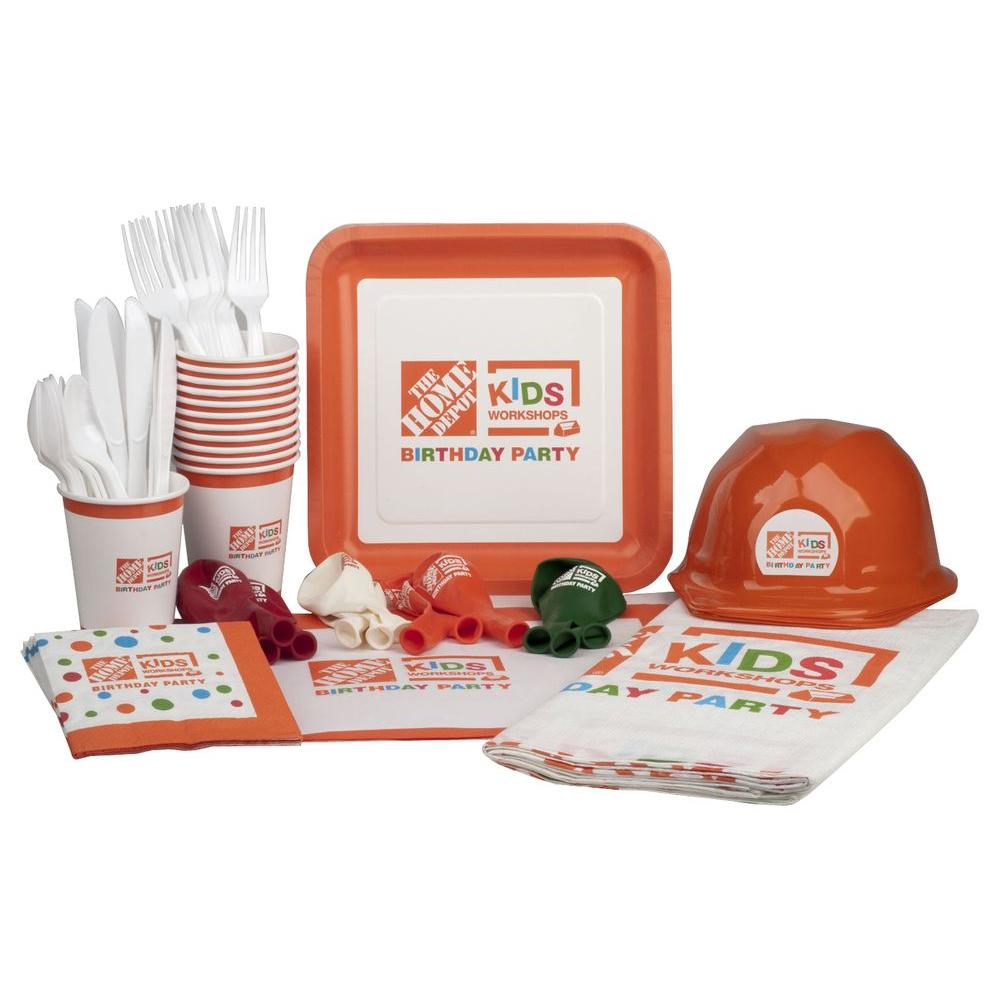 Or why not consider having your workshop at home with these Home Depot Kids Workshop party supplies: While you're at it, why not check out the other current Home Depot Specials they're running?
Home Depot Kids Activities
Even if you cannot make it to the Free Kids' Workshops, HomeDepot.com offers great kids' activities videos and how-to's right on their website.

Make sure to check out Home Depot Decor Days to save an extra 15% off home decor.
If you're looking to find simple ways to update your home on a budget, check out these other Home Depot inspired sales: