This post may contain affiliate links, which means we may receive a small commission when you make a purchase at NO additional cost to you. Thank you for supporting our site in this way!
The Lowes Build and Grow Workshops are now known as the DIY Kids' Workshops. I have the free Lowes DIY Kids Workshops 2023 schedule and how the program has changed.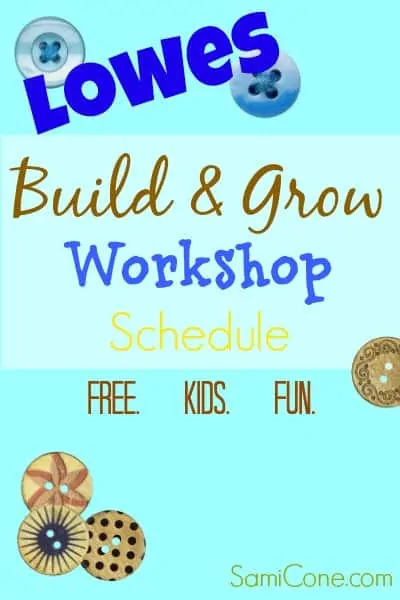 Lowes DIY Kids Workshops
The free Lowes DIY kids' workshops are back! Lowes kids' kits are available at stores and online.
I also know that Home Depot kids workshop kits are available too.
Lowes Build & Grow Workshop Update
When we went to look for the latest Lowes Build and Grow details we found out they decided to start offering the in-person kids' workshops again. Now they are known as the Lowes DIY Kids' workshop.
Even though they have started having the workshops again, you can also reserve a kit and pick it up for your child to create at home.
Reserved kits can be picked up in-store at our customer service desk on Saturday or Sunday. If your kit is not picked up by 8 p.m. on Sunday, it may be given to a non-registered customer.
Buy Lowes Kids' Workshop Kits
Miss a free kids' workshop weekend? No worries! Now you can also buy the DIY kids' workshop kits to complete at home.
Here is a sampling of the kits I found in my local store. They cost just under $7:
These stand-alone displays were located just to the right after walking in. You may find it by some of the seasonal merchandise.
Current Lowes DIY Kids' Workshop Project
NEXT WORKSHOP: Free Bunny Planter on April 1, 2023 at 10 AM
Get ready to build this month's Free Kit with your mini DIYer.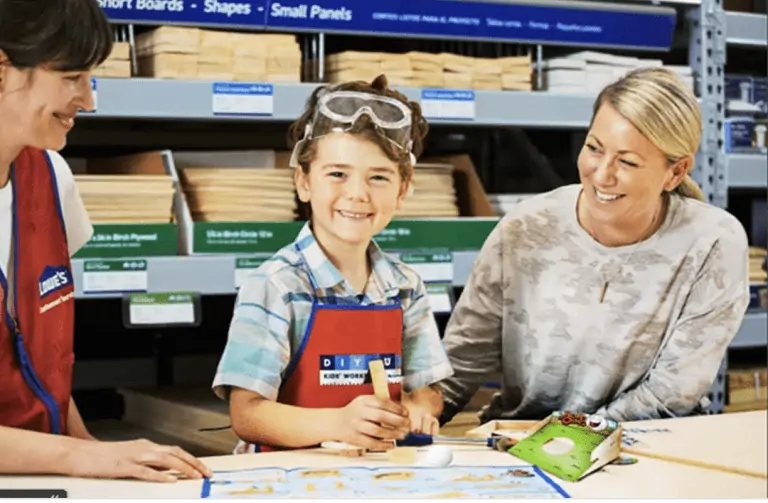 2023 Lowes DIY Kids Workshop Schedule
Here is the most up-to-date Lowes DIY Kids' Workshop Schedule:
January 21, 2023: Snowman Picture Frame
February 11, 2023: Sweetheart Swan Note Holder
March 18, 2023: Cardinal Garden Ornament
April 1, 2023: Bunny Planter (Register Here)
May 20, 2023: Spring Pop-Up Flower Box (Register in Advance for free)
June
July
August
September
October
November
December
Past Lowes Build and Grow Workshop Schedule
The past Lowes Build and Grow Workshop schedule included:
January: Police Car
February: Love Note Holder
March 19: Blast-Off Table Top Game
April 16: Little Gardener
May 7: Birdhouse Kit
June 18: Putting Green Kit
July 16: ARRR! Treasure Chest
August: Muscle Car
September: Football Goal Post Kit
October: Fire Rescuer Kit
November: Dancing Turkey Toy
December: Jolly Holiday Ornament
I will update with future dates and projects as they become available.
Every month, kids of all ages were able to build a free project at Lowe's on select Saturdays from 10a-11a (local time) during the Build & Grow workshop.
Their website says that the "clinics are free, but online registration is required". We typically don't register in advance, but even if you do register, you need to get there early because once they run out of kits, they're done!
For more free kids workshops, check out my 2023 Home Depot Kids Workshop post for their schedule.
While you're waiting for the Build and Grow workshop schedule to be posted, you can check out many other Lowes How-To's and Ideas here.
If you're simply looking to shop at Lowes, make sure you shop through Rakuten to earn extra cashback on your ENTIRE purchase (at no additional cost to you!)