This post may contain affiliate links, which means we receive a small commission when you make a purchase at NO additional cost to you. Thank you for supporting our site in this way!
The free museum weekend from Bank of America is back for 2020 thanks to the "Museums on Us" program. Museums on Us offers Bank of America members free access to more than 200 cultural institutions nationwide during the first weekend of every month.
Bank of America Museums on Us Weekends
This weekend, November 7-8, 2020, is supposed to be a free museum weekend. If you bank with Bank of America, just bring your Bank of America card and ID and you will get into one of hundreds of museums for FREE.
* Due to COVID-19 many museums are closed or have shortened hours, so check with your local museum. Plus, the holiday weekend may also affect this program. I will update as soon as I find out more.
Museums on Us Schedule 2020
Here is the full Museums on Us schedule for 2020 if you want to plan ahead:
January 4-5
February 1-2
March 7-8
April 4-5
May 2-3
June 6-7
July 4-5
August 1-2
September 5-6
October 3-4
November 7-8
December 5-6
Where to Find Participating Museums on Us Locations
Currently, there are over 220 participating arts institutions in the Bank of America Museums on Us program. You can find them on the official Bank of America Museums on Us site.
In Nashville, it seems this year the offer is only valid at the Frist Center for the Visual Arts. (kids are free!).
I almost wish I lived back in Chicago when I saw all the FABULOUS institutions you can get in for free:
*Shedd Aquarium
*Art Institute of Chicago
*Chicago History Museum
*Museum of Contemporary Art
*Adler Planetarium
Here are some of the other popular destinations they offer free admittance to during free museum weekend:
Dallas: Perot Museum of Nature & Science
Memphis: Dixon Gallery & Gardens
Orlando: Orlando Science Center & Orlando Museum of Art
The first weekend of every month, Bank of America customers get in free to the 150 cultural institutions that participate in 94 cities in 31 states simply by showing their Bank of America card and photo ID…so hopefully you can find a participating museum by you!
Visit Museums on Us for more info and to find participating museums in your area. You can also check out the other First Saturday Freebies that happen every month!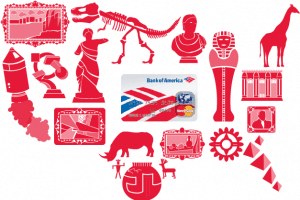 Free Museum Weekend November 2020 Details
What: Get into 150+ museums nationwide for free!
When: November 7-8, 2020 (*Many museums closed due to COVID-19) Find the updated list of Bank of America Museums on Us site
How: Show your Bank of America ATM card
Where is your favorite museum to visit? What museum would you like to see added on to the free museum list?