This post may contain affiliate links, which means we may receive a small commission when you make a purchase at NO additional cost to you. Thank you for supporting our site in this way!
We love coming to Chattanooga for family fun…not to mention it's a great place to meet friends in between Nashville and Atlanta.
We're already fans of the Chattanooga Aquarium and the Children's Discovery Museum, but when a colleague from the aquarium suggested we try the new High Point Climbing center, I was a bit hesitant.
While my obsession with American Ninja Warrior is no secret, I'm far from an experienced climber. In fact, I've never scaled a rock wall in my life (other than those pint size ones at playgrounds when chasing after my kids).
But I'm always up for trying new things, especially with my kids.
In fact, the thing that hooked we was the fact that it was not only just a block away from the Tennessee Aquarium on Broad Street, but it also boasts an outdoor climbing wall overlooking the center of town.
Who could resist that?
To be honest, the originally just wanted to stay at the hotel and swim, but the promise of American Ninja Warrior training for my son's 2024 audition for the show seemed to win them over…
Right away, we were greeted and educated by employees that were both proficient in the sport AND passionate about it…
Before doing any climbing, we were given a tour of the facility (which in addition to room after room of climbing walls, also has a gym & yoga studio) and instructed on how to properly use the pulley system.
Even after our orientation, the kids and I still got great instruction, attention and encouragement from the High Point Climbing staff.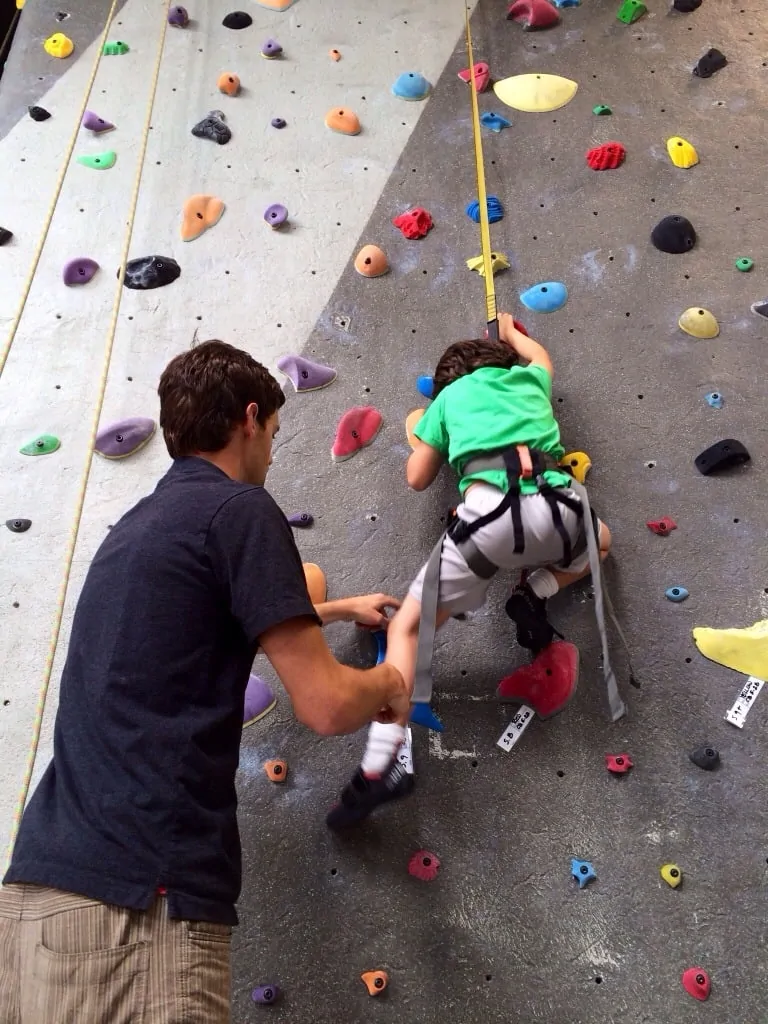 Some walls have the auto-belay (I'm sure I'm not spelling that right – sorry!) where you can just hook in yourself without someone pulling you on the ground (though children under 13 need to be supervised at all times), and that's where we spend our time. Each route also has a difficulty rating so you can gauge your climb before you start (as noted by the white strips in the picture below).
After a few practice climbs, I couldn't wait to get outside. This is the tallest wall in the place:
Needless to say, we didn't scale that one 😉 The kids didn't want to climb outside at all, but they eventually hooked in and did a great job!
I even managed to make a run myself…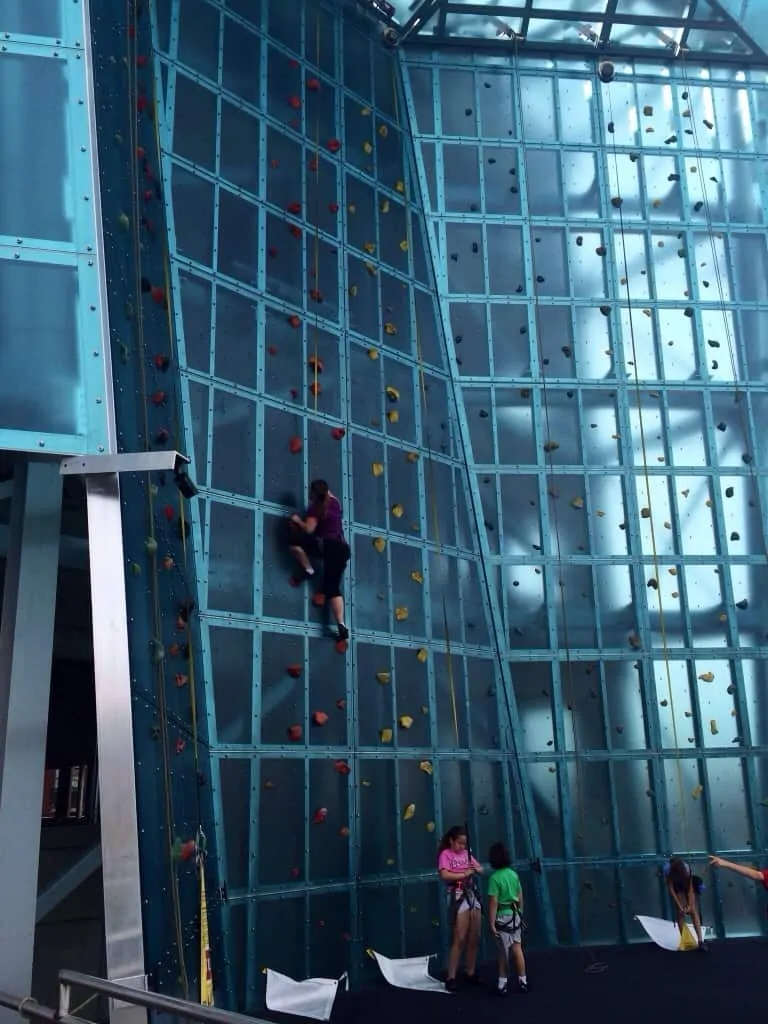 I couldn't have been prouder of my kids. They each reached the top of several walls and never gave up (though they did admit they almost enjoyed repelling down as much if not more than climbing up). They even found a spot to catch their breath in the midst of one climb…
Going in to High Point Climbing Chattanooga, I can't say I would have thought it would be somewhere I'd ever frequent again, but before we left, I was asking about how to get more involved and take climbing to the next level.
What I appreciated most was the fact that it was a fun way to promote fitness for our whole family – without even noticing that we were working out!
On your next trip to Chattanooga, be sure to add time into your itinerary for a stop at High Point Climbing Chattanooga and you'll make memories you won't soon forget as a family.