This post may contain affiliate links, which means we may receive a small commission when you make a purchase at NO additional cost to you. Thank you for supporting our site in this way!
Back to School season is here. Let's face it: school supplies are not cheap. If you want to make sure your kids return home with everything you send with them to school, I have a solution for you.
If there's one thing I've learned after my daughter's first year at college, it's that if you don't label something and you lose it, chances are you aren't going to see it again. And if you know anything about Kariss, she doesn't go ANYWHERE without her water bottle.
So this year, before she returns to campus, I'm labeling everything important to her (especially the things I don't want to have to pay to replace!).
How to Label Things for College (especially for first-year students)
I've used a number of methods in the past for labeling my kids' clothes and school items, including:
Writing on items/tags with a Sharpie
Pressing iron-on labels into clothes
Using a label maker
Printing labels with my printer
Each of these have inherent issues, but the biggest of them all is that not one of them have worked on everything I need to label.
Don't fret! I found the perfect solution for our family: labels from Name Bubbles. Name Bubbles labels are a must-have for back-to-school prep and organization.
What Should I Label in College?
If you're wondering what you should label in college, I created a quick list for you. Before I share that, my biggest advice would be to label anything you don't want to lose or replace.
Sometimes kids take things by accident. Unfortunately, others have no qualms about stealing something that isn't theirs. Because Name Bubbles labels last, they leave no double about ownership. On top of that, these labels are printed with non-toxic ink on premium vinyl material that is waterproof and made to last the entire school year and beyond.
Here is my don't-miss label list for college:
Electronics (especially scientific calculators, computers, and headphones)
Water Bottles & Workout Gear
Hair Appliances (like hair dryers, straighteners & curling irons)
Shower Caddy
Refillable Bins and Kitchen Gear
Any furniture that can be removed from a room (like an office chair or lamp)
Those expensive college hoodies and game-day gear!
Remember, the labels don't necessarily need to be visible immediately. You can always put the label on the base or bottom of an item. This proves it's yours without changing the aesthetic.
At first my daughter felt funny when I told her I bought school labels for her. But as soon as she saw the two-tone school labels with so many size options, she was sold.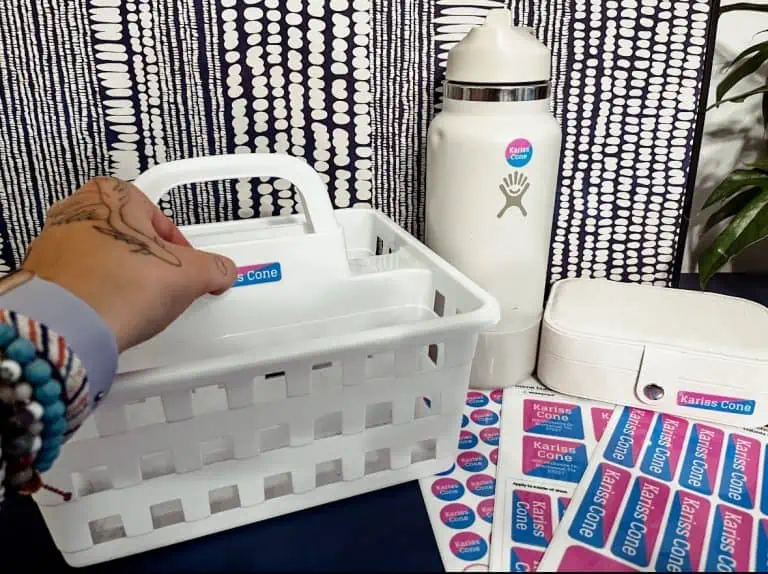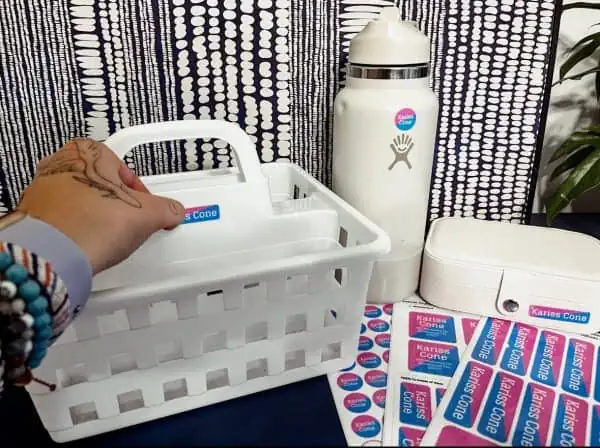 Waterproof Name Labels
This particular pack of labels for school supplies includes:
26 Waterproof Small Rectangle Name Labels (1.8″ x 0.5″)
10 Rectangle Waterproof Name Labels (2.8″ x 0.7″)
4 Square Waterproof Contact Information Labels with address (1.5″ x 1.5″)
1 Waterproof Large Rectangle Name Label (3.9″ x 1.2″)
8 Waterproof Shoe Labels (0.8″ x 1.6″)
40 Circle Stick-On Clothing Labels (0.7″)
As you can see, there are labels for every clothing, shoe, and school supply you can think of.
Personalized College Label Color Choices
The Name Bubbles Personalized School Label Packs contain around 90 stickers of varying sizes. You can also choose from dozens of designs.
Kariss chose the Two-Tone School Labels pack from Name Bubbles in pink and bright blue. But that's just one of eight color combinations to choose from! Frankly, I was surprised she didn't choose the Navy Blue and Bright Blue combo because it would have matched great with all of her UNC blue.
If it were me, I probably would have gone for either the Pink-Lavender or Red Violet-Turqoise combos.
I also love the Raspberry Pink & Orange option (it's everywhere in fashion right now too!). I also appreciate the uniqueness of the Soft Red & Bright Blue option.
It's a winning solution if your child tends to lose those expensive school supplies!
Honestly, It's been a challenge to find school labels for my older children that aren't just the gender stereotypical pink and blue, or overly juvenile with things like balls and princesses.
Name Bubbles Discount Code
Buying personalized labels can really add up quickly from other retailers. While this school label pack is already a great value, I have a unique Name Bubbles discount code you can use to save even more money.
Enter code SAMI20 to save an additional 20% off your personalized label order for this back-to-school season.
What Sets Name Bubbles Apart
Name Bubbles labels are a must-have for back to school prep and organization. These labels are designed to stay put on backpacks, lunch boxes, baby bottles, and more. But not just that, Name Bubbles labels are dishwasher safe, microwave safe, freezer safe, laundry safe, and waterproof.
That means they don't just stay in place, you can actually read and recognize them after they've been put to the thest!
And even if your kids aren't in college, their School Label and Daycare Label Packs will help keep germs at bay and ensure every child's school supplies and clothing return home at pick-up.
As I alluded to above, there are dozens of designs, sizes, and colors to choose from to appeal to every kid, from Kindergarten to college!