This post may contain affiliate links, which means we may receive a small commission when you make a purchase at NO additional cost to you. Thank you for supporting our site in this way!
I just realized I never posted our Cone Family pictures from our first day in New York!
It's hard to believe that we've already been back for over a week, but the memories are still fresh in my mind. We traveled there for Ricky's sister's wedding and it was the first time we'd been there in six years (Kariss was 1 and I had just found out I was pregnant with Britton the last time we were there) – needless to say, our kids don't remember being there and I was not feeling my best!
Would you mind if I share a few of our favorite moments with you from this last trip?
We had to wake up at 3am for our flight, but that didn't stop the kids from playing at the Nashville Airport playground before our flight:
Low and behold, it turns out Quaver himself was on the first leg of our trip! Too bad he didn't provide the in-flight entertainment…
…however on our second flight we got delayed after pushing back from the gate, so the stewardess on Southwest got creative and started celebrating special occasions, which included bringing Britton to the front of the plane, having everyone sing Happy Birthday and letting him "blow out the candles" (the illuminated flight attendant call buttons!):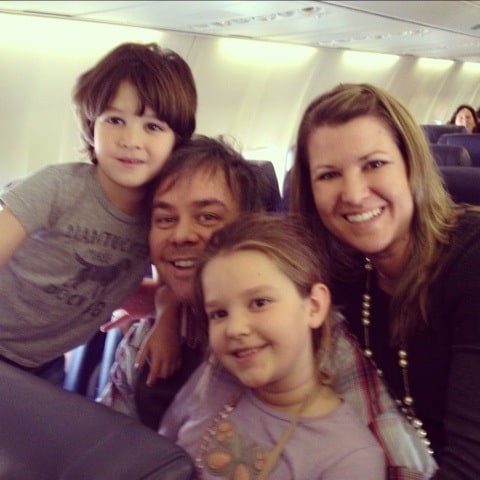 We arrived at our hotel (and the wedding location) the New York Palace around lunchtime and couldn't believe the review of St. Patrick's cathedral from our room!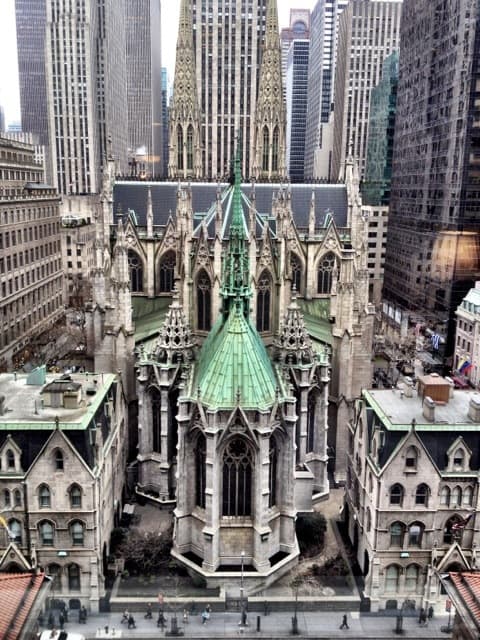 After visiting the bride-to-be in her suite, we got ready for the rehearsal dinner and headed out into the brisk New York air:
Our kids were the only ones there and I was so proud of how they behaved…
…Of course, Britton fell asleep on the ride over and looked like this most of the night:
And I couldn't help but share a pic of me in the (Size 6) dress my husband picked out for me and the jewelry my friend Jacqueline helped me find:

A pic with my brother-in-law, mother-in-law and my sweet hubby:

This also happened to be the day that horrible storms hit the Southeast and we were genuinely afraid we might not have a home to come back to. Perhaps Kariss summed up our New York day 1 experience in her hotel 'journal' 🙂
Thankfully, Nashville was spared from the destruction and we all made it  home in one piece. More fun to come!