This post may contain affiliate links, which means we may receive a small commission when you make a purchase at NO additional cost to you. Thank you for supporting our site in this way!
Before our most recent cruise on the Disney Dream, I searched for the top picture spots on a Disney Cruise. Strange enough, I couldn't find one post that gave me what I wanted. Even as a Gold Castaway Club member, I'm always looking for new photography tips and photo ideas.
A Disney cruise is a magical vacation that will create memories that will last a lifetime. Whether you are a first-time cruiser or a seasoned veteran, there are some pictures that you simply must take while on your cruise.
Between the ship, Disney's private island, and all the Disney characters, the photo options are endless. But I narrowed it down to my list of the top 10 best pictures to take on a Disney Cruise. Here are my favorite ideas:
Outside The Ship
There are several pictures you will want to take with the beautiful Disney ship. Here are the can't miss photo ops:
1. Leaning over your veranda looking out to see at sunrise
I would sleep in any room on a Disney Cruise. But having a verandah makes every cruise better.
I realize a cruise is for relaxing, but try to wake up early at least one morning to watch the sunrise. And if you have a verandah, make sure you snap a shot of yourself looking at it over the ocean.
If you don't have a verandah, head up to the ship's top deck. Bonus points if you take the picture wearing a spirit jersey with the ship's name on the back like this one:
2. The Name on the Back of the Ship
The Disney cruise ships are some of the most beautiful afloat. Be sure to take a picture of the ship from all angles, including the bow, stern, and side.
When you dock at port, make sure to take a picture with the back of the ship in the background. Known as the aft, you will always find the name of your ship on the back with iconic Disney characters doing some touch-ups.
An especially beautiful place to capture the ship name is at Castaway Cay. You can find a Disney photographer stationed on the walkway to capture this iconic view. If the line is too long, you can just ask someone waiting to snap your picture for you.
3. Disney's Private Island, Castaway Cay
Speaking of Disney's Private Island, Castaway Cay is one of my favorite places in the entire world. Literally.
I especially love finding my favorite Disney characters in their best Islandwear.
Obviously, Castaway Cay boasts many more photo opps. Snag a shot on one of the water bikes with the ship in the background. Or with the airplane in the sand on the outskirts of the adult beach at Serenity Bay. And my favorite, the perfect swirl of strawberry ice cream with the beautiful blue ocean behind you.
4. Making a heart around the ship
I also like taking this picture on Castaway Cay, but it could be taken at any port. Hold your hands in the shape of a heart and make sure you can see the ship through it.
Inside the Ship
Sure, the sunsets and sunrises help lead to great lighting on a Disney Cruise. But you'll also find magical photo opportunities inside the ship as well.
5. The Grand Staircase
The Midship where you enter the ship of every Disney Cruise is magnificent. Most notable is the Grand Staircase.
Each Disney Cruise vessel has a unique name. With the name comes a unique magical theme.
At the base of the staircase sits a special golden Disney statue that embodies the ship.
6. The Circle Windows
The large circle windows serve as the perfect spot to escape and stare out into the sea. They also become a beautiful backdrop during all times of day.
During themed Disney Cruises, these windows also get dressed up. During our Halloween on the High Seas cruise, we found different Jack-o-Lantern faces. Some windows even had sparkly spider web decals.
7. The Smokestacks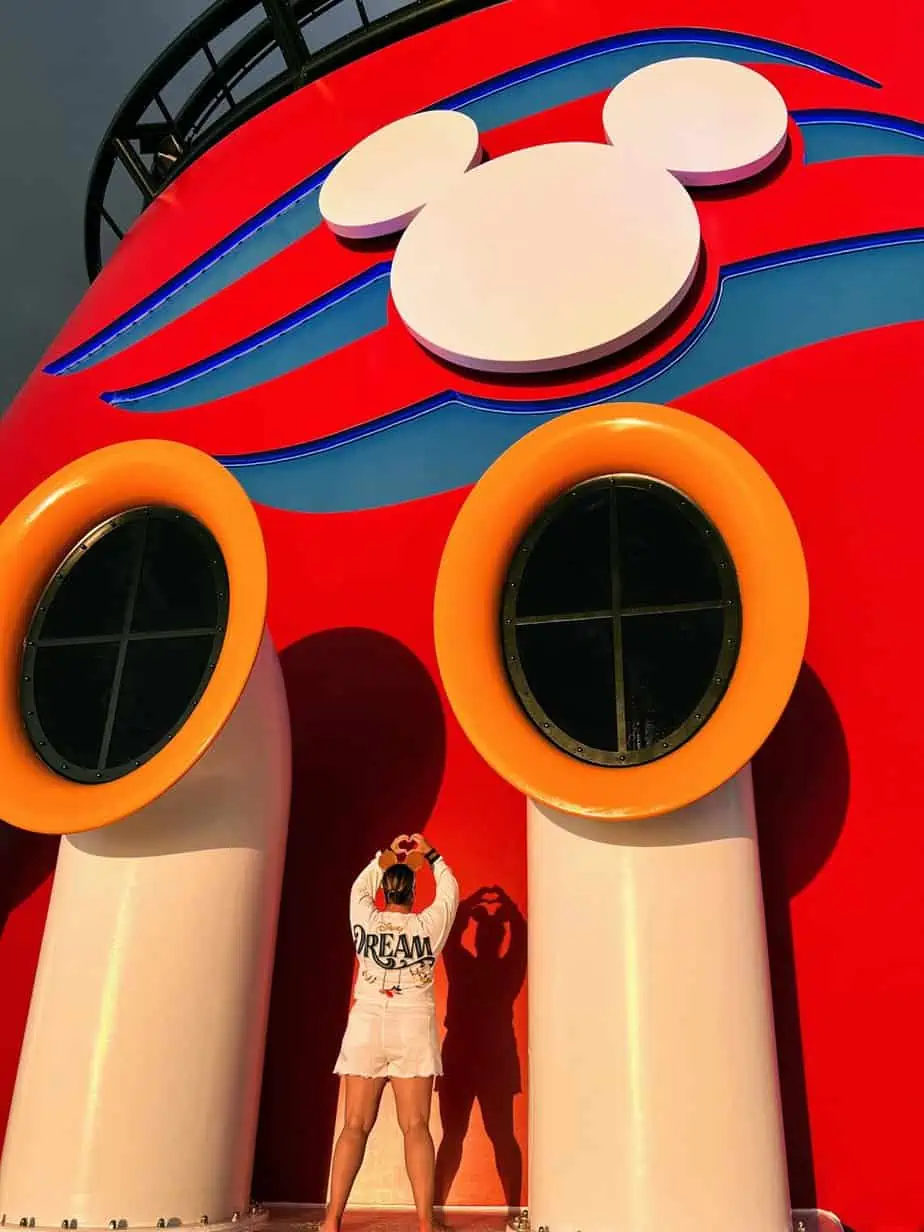 This may be one of my favorite places to capture Disney Cruise pictures. On the Disney Dream, these are located on Deck 12 just above the Pool Deck and next to the Family Zone.
These stacks make the perfect backdrop to show off your favorite food or Disney merchandise. (Think Mickey Ears or a Spirit Jersey with the ship's name).
You'll also find guests jumping for joy in front of them. And because this deck is exposed to the wind, it's also a great spot to let your cover up fly!
8. Top Deck Ship's Rail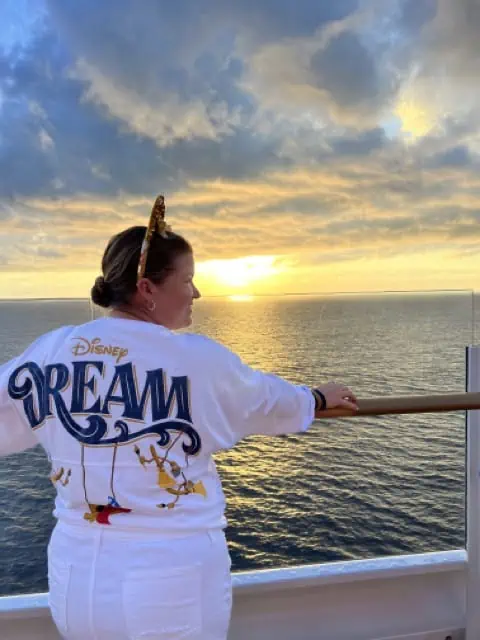 Turn 180 degrees from the smokestacks and head over to the ship's rail at sunset. Not only will you find beautiful sunset views over the ocean, you'll want to take two sets of pictures:
Using the beautiful light of the golden hour shining on your face
Shooting straight into the light with yourselves (& ideally your Mickey ears) in the shadows.
More Disney Cruise Photo Must-Do's
I know I said this is a top 10 list of Disney Cruise photo must-do's, but there are more that I had to add. From characters and snacks to ports of call and pool pictures, here are a few more spots to add to your list:
9. Disney Characters
I almost didn't add this to the list because it seemed like a given. What would a Disney Cruise be without Disney character photos?
No Disney cruise would be complete without a picture with Mickey and his friends. You can find them all over the ship, so be sure to snap a pic with them whenever you see them.
The Disney Cruise Line Navigator App offers a character greetings tab. Characters make appearances throughout the day all over the ship. Sometimes you'll even get lucky enough to catch them just wandering around the different decks, especially if it's a rainy day outside.
Some ships also have character encounters as part of your dinner dining, such as Tiana's where I finally got to meet Louis!
10. Favorite Disney Drinks & Snacks
Perhaps you're one of the many Disney fans who have bought the now iconic Disney t-shirt that reads, "I'm just here for the snacks".
The food on Disney cruises is simply delicious. It's no surprise that many of us travel to Disney Parks and sail on Disney Cruises for the unique food and drink you can only find there.
What better way to show your love for your favorites than to take a picture for other Disney fans to enjoy? Hold up your drink in front of the pool, take a bite out of that Premium Mickey ice cream bar in the restaurant, or show off the perfect soft serve twist on Castaway Cay.
Finally, be sure to take pictures of your favorite meals, so you can remember them later.
11. Port Canaveral
Another iconic cruise show is of the Mickey portal at Port Canaveral that leads you out of the terminal and onto the walkway of the ship. Our last cruise left from Miami, so we missed this opportunity.
12. The AquaDuck
The AquaDuck is not just any waterslide. Built by Donald's nephews, this water coaster shoots guests above and around the pools on. You cannot bring a phone or camera onto the AquaDuck, but friends and family can capture you riding it through the clear chutes or getting off at the bottom.
On the upper pool deck with the pool behind you
13. Fireworks on Pirate Night
Every Disney Cruise I've been on featured a Pirate Night complete with fireworks at sea. (Did you know that Disney Cruise line is the only cruise line in the world allowed to shoot off fireworks?).
As such, you'll definitely want to capture pictures of you and your fellow guests in the Disney pirate bandanas on deck. (They provide the bandanas for free in your stateroom before dinner.)
What's the Best Camera to Take on a Cruise?
Chances are you'll have your cell phone on you anyway, so I say just use your cell phone camera! Plus, you're going to want to keep your phone close by to use the Disney Cruise Line Navigator App too.
I use the latest version of the iPhone. The triple camera lenses are incredible and allow me to edit photos in real-time as well.
---
Finally, the best part of a Disney cruise is spending time with your loved ones. Be sure to take plenty of pictures of your family and friends, so you can remember all the good times you had together.
These are just a few ideas for pictures to take on a Disney cruise. The possibilities are endless, so be sure to get creative and capture all the magic of your vacation.
For even more Disney Cruise info, check out my top tips:
Finally, you'll want to choose your outfits carefully for your Disney Cruise. In addition to bringing your favorite Disney tees and costumes, you may want to try Disney Bounding.
Disney Bounding is a great way to dress like your favorite Disney character without a costume, especially as an adult. This is where you wear 'regular' clothes that give a nod to what characters wear.
Save on Your Next Vacation
My friends at Get Away Today can not only save you money on your next Disney Cruise (or ANY vacation!), they offer their vacation planning services for free!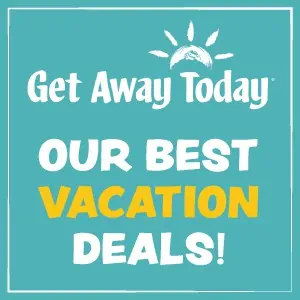 I'm proud to be an affiliate an you can save even more money when you use the code SAMICONE10 when booking.