Our nation (& our son) is hurting today…

The Daily Dash: August 15, 2017 {Another Hospital Visit & Fighting for Love}
IN THE NEWS:
* White supremacist rally in Charlottesville, VA turns deadly
* Taylor Swift wins sexual assault case
* North Korea puts "hold" on potential Guam attack
IN THE WORD:
God can accomplish nothing with the person who thinks that he is of use to God ~ Oswald Chambers
IN MY LIFE
Sorry I never made it to you yesterday. Not only did my daughter have more social plans than typical this weekend, we celebrated my son's "promotion" from children's ministry to youth group. But after coming back from the "promotion party", I got quite sick. I don't know about you, but when I throw up, I'm down for the count for awhile (hope that's not TMI, just facts of my life).
While I felt better yesterday, I got a call from school around noon saying my son got hurt playing basketball at recess and the nurse thought we should take him to the doctor, who thought he might have broken his growth plate, so she sent us to the hospital. Luckily, it's just a sprain, but obviously we were still in nurse mode bringing him home since he can't put any weight on his foot still.
Needless to say, it was about 5pm when I realized I never came to you live yesterday! So not only does my heart hurt for my boy, but I'm sad that there are still people in this world that believe they are better than others. God created us all in His image and I challenge all of us to reach out to a 'neighbor' that might look different than you, but, as I'm sure you'll discover, really isn't that different after all.
Stay in the know on the go:
Subscribe to my YouTube Channel: http://bit.ly/1g5VA3T
Join in the conversation on Facebook: http://www.facebook.com/SamiCone
Tweet with me: http://www.twitter.com/TheSamiCone
Watch my story unfold on Instagram: http://instagram.com/TheSamiCone
Follow me on Pinterest: http://www.pinterest.com/SamiCone
Read my book, Raising Uncommon Kids: http://RaisingUncommonKids.com
Share the book on social media: http://bit.ly/RUKShare
Focus on the Family interview: http://bit.ly/RUKfocus
Don't want to miss even one day of the Daily Dash? Catch up on all of my Daily Dash videos and subscribe to my YouTube channel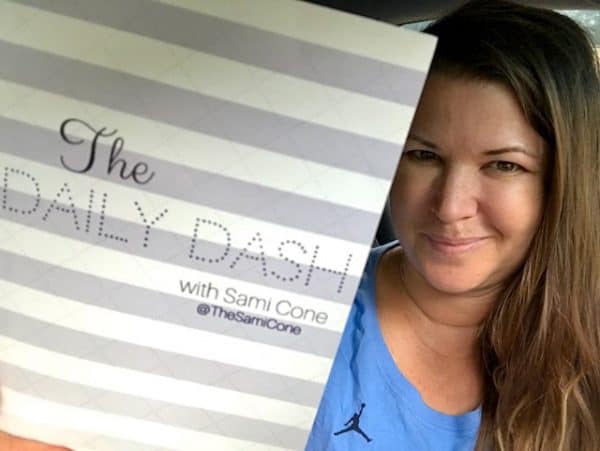 Hope you make it a great day!