Now you can read and study "Raising Uncommon Kids" on my favorite Bible App…
The Daily Dash: August 18, 2016 {#UncommonKids @YouVersion #BibleStudy #BibleApp}
IN THE NEWS:
* Wildfires now ravaging 25K acres
* Trump shakes up campaign with 3 new hires
* US Women sweep the 100M hurdles in Rio
IN THE WORD:
This Week's Verse: Ephesians 5:16
…and find out what pleases the Lord
The most important aspect of Chrtianity is not the work we do, but the relationship we maintain ~ Oswald Chambers
IN MY LIFE
* I'm back from Memphis and had a great time with the ladies of Central Church. Today, I'm focused on my classes for Lipscomb, which start next week!
At Noon CST today I'm co-hosting a Back to School Twitter Party with Savings.com & ValPak coupons. I hope you'll join us because you could win one of the giveaways totaling over $600 in prizes. All you have to do is RSVP. More info here: https://www.samicone.com/sdcbts-twitter-party-nearly-600-in-prizes/
Focus on the Family Interview
If you missed my Focus on the Family interview, you can listen online here: https://www.samicone.com/raising-uncommon-kids-focus-on-the-family-interview/
RAISING UNCOMMON KIDS
Remember, you can visit http://RaisingUncommonKids.com for links on where to purchase my new book
(And if you purchase the book and love it, it would mean the world to me if you would leave a review on those sites as well.)
Another way you can help is by helping to spread the word (by word of mouth and social media). I have several sample tweets, FB messages and images like the one below for you to share at http://bit.ly/RUKShare
Stay in the know on the go:
Subscribe to my YouTube Channel: http://bit.ly/1g5VA3T
Join in the conversation on Facebook: http://www.facebook.com/SamiCone
Tweet with me: http://www.twitter.com/TheSamiCone
Watch my story unfold on Instagram: http://instagram.com/TheSamiCone
Follow me on Pinterest:http://www.pinterest.com/SamiCone
Don't want to miss even one day of the Daily Dash? Catch up on all of my Daily Dash videos and subscribe to my YouTube channel…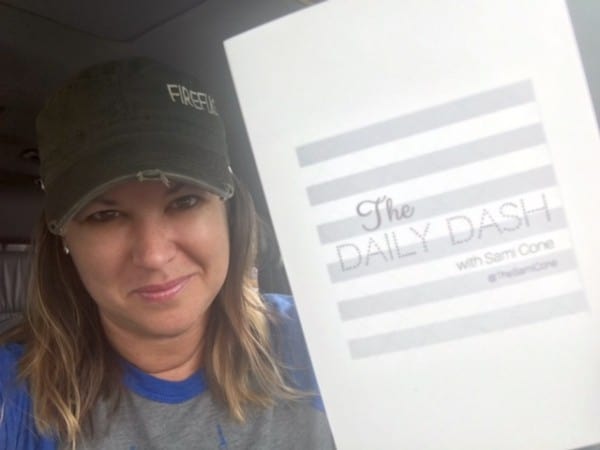 You'll also want to listen to my Family Money Minute radio posts to get any of the savings goodness you may have missed!
Hope you make it a great day!