We're visiting East TN today for a special reason…
The Daily Dash: December 2, 2016 {#DollywoodInsiders & My People Fund}
IN THE NEWS:
* Trump announces Sec. of Defense; Trump & Clinton campaign advisors face off
* NFL star killed in road rage incident
* President Obama lit the National Christmas Tree for the last time
* Niagra Falls gets multi-million dollar makeover
IN THE WORD:
This Week's Verse: Ephesians 5:31
For this reason a man will leave his father and mother and be united to his wife, and the two will become one flesh
Recognize your need, but stop longing and make it a matter of action ~ Oswald Chambers
IN MY LIFE
Today, my family will drive to an area of Tennessee where many people are fleeing from. No doubt you've heard about the devastating wildfires in East TN this week, but thankfully Dollywood opens today at 2pm and Dollywood's DreamMore Resort is open as well…and that's exactly where we'll be this afternoon.
I'm thrilled to finally announce that I've been chosen as one of the inaugural Dollywood Insiders! Many of you have trusted me to give you advice when it comes to vacationing at Dollywood and all of its properties, and now I'll be even better equipped to do so. We will spend the next two days at Dollywood and, of course, getting an update on how we can tangibly help that region.
I can tell you that one way you can help is through the "My People Fund". Dolly Parton announced a new effort by The Dollywood Company and The Dollywood Foundation to establish a fund to assist the victims of the Great Smoky Mountain wildfires in Tennessee. The new My People Fund will provide $1000 each month to Sevier County families who lost their homes.
"I've always believed charity begins at home and my home is some place special," Parton explained. "That's why I've asked my Dollywood Companies—including the Dollywood theme park, and DreamMore Resort; my dinner theater attractions including Dixie Stampede and Lumberjack Adventure; and my Dollywood Foundation—to help me establish the My People Fund.

"We want to provide a hand up to those families who have lost everything in the fires. I know it has been a trying time for my people and this assistance will help get them back on their feet."
Anyone who would like to contribute to the My People Fund may visit dollywoodfoundation.org.
If you missed me on TV, here is my post about DIY Mason Jar Gifts: https://www.samicone.com/diy-mason-jar-gifts-tv/
Focus on the Family Interview
If you missed my Focus on the Family interview, you can listen online here: https://www.samicone.com/raising-uncommon-kids-focus-on-the-family-interview/
RAISING UNCOMMON KIDS
Remember, you can visit http://RaisingUncommonKids.com for links on where to purchase my new book.  (And if you purchase the book and love it, it would mean the world to me if you would leave a review on those sites as well.)
Another way you can help is by helping to spread the word (by word of mouth and social media). I have several sample tweets, FB messages and images like the one below for you to share at http://bit.ly/RUKShare
Stay in the know on the go:
Subscribe to my YouTube Channel: http://bit.ly/1g5VA3T
Join in the conversation on Facebook: http://www.facebook.com/SamiCone
Tweet with me: http://www.twitter.com/TheSamiCone
Watch my story unfold on Instagram: http://instagram.com/TheSamiCone
Follow me on Pinterest: http://www.pinterest.com/SamiCone
Don't want to miss even one day of the Daily Dash? Catch up on all of my Daily Dash videos and subscribe to my YouTube channel…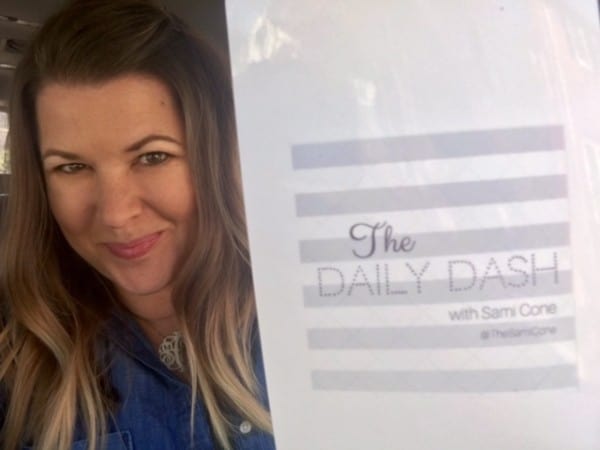 You'll also want to listen to my Family Money Minute radio posts to get any of the savings goodness you may have missed!
Hope you make it a great day!