One of your favorite foods can be free today…
The Daily Dash: July 10, 2018 {#CowAppreciationDay} @Chickfila #ChickfilaMoms
IN THE NEWS:
* Last of the Thai cave survivors rescued
* Today is court-ordered deadline to reunite youngest children with their parents at border
* Prince Louis christened
* Walt Disney World cast member killed in industrial accident
* National Kitten Day
IN THE WORD:
Allow the Potter to put you on His wheel and whirl you around as He desires ~ Oswald Chambers
IN MY LIFE:
Today is the day for Chick Fil A lovers to rejoice! That's right, it's Cow Appreciation Day at the popular restaurant. What exactly does that mean?
Simply show up in a cow costume (technically anything that looks like a cow – think white with black spots) and you will receive a free entree. Just make sure you show up before 7pm and keep in mind you must order in store (you cannot pre-order on their app). And if your child dresses like a cow too, they'll receive a free kids meal!
Keep in mind, EVERYONE knows about this promotion and marks their calendar each year, so expect long lines filled with fellow bovine-impersonators.
PRAYER FOCUS: Gracious
As you prepare to wait in those long lines, I pray each of you has a gracious spirit today.
MONTH OF 615
As a reminder, all month on The Daily Dash I'll be wearing tees from Project 615, who supports world-changing causes through their apparel. Today's pick is another one of Project 615's previous campaign tees, "Made to Change the World", to help the local nonprofit People Loving Nashville as they work to feed, clothe and serve the homeless in Nashville, Tennessee. While you can't buy the shirt any longer, you can learn more about the campaign here: https://www.project615.org/blog/2018/2/15/made-to-change-the-world-a-campaign-for-people-loving-nashville?rq=made%20to%20change%20the%20world.
Stay in the know on the go:
Subscribe to my YouTube Channel: http://bit.ly/1g5VA3T
Join in the conversation on Facebook: http://www.facebook.com/SamiCone
Tweet with me: http://www.twitter.com/TheSamiCone
Watch my story unfold on Instagram: http://instagram.com/TheSamiCone
Follow me on Pinterest: http://www.pinterest.com/SamiCone
Read my book, Raising Uncommon Kids: http://RaisingUncommonKids.com
Share the book on social media: http://bit.ly/RUKShare
Focus on the Family interview: http://bit.ly/RUKfocus
Don't want to miss even one day of the Daily Dash? Catch up on all of my Daily Dash videos and subscribe to my YouTube channel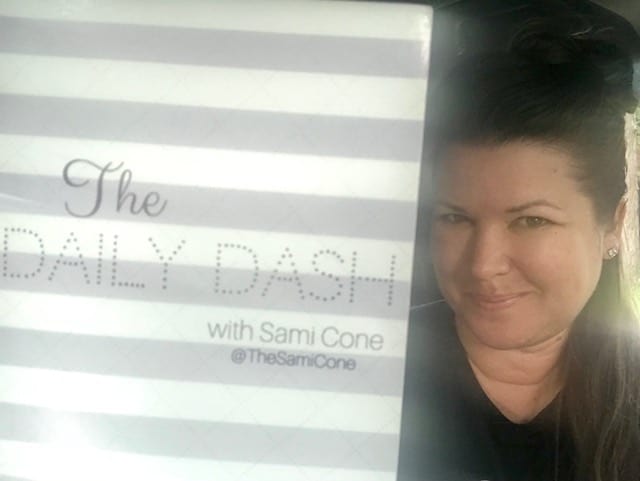 Hope you make it a great day!