The unthinkable has happened in our community…
The Daily Dash: May 24, 2018 {Hot Car Death} 
IN THE NEWS:
* President Trump has called off summit with North Korea
* Washington capitals win their conference finals; will face Las Vegas golden knights in Stanley Cup finals
* New NFL policy says players must stand for National Anthem
IN THE WORD:
Worrying means we do not believe that God can look after the practical details of our lives – Oswald Chambers
IN MY LIFE:
There is no easy way to say this: friends of ours lost their 1 yr old daughter in a hot car death yesterday. For anyone who is thinking (or has every thought), "this could never happen to me", just stop right there. This is the epitome of the word "tragedy".
There truly are no words; all we have to offer are prayers and practical support to help see them through the coming days that just don't make sense…and we covet those prayers more than ever on behalf of our friends.
PRAYER FOCUS: Focus & Reflection
In light of the tragic events, may we all take the time needed (that we may not have previously thought we had the time to take) to focus on what's really important and reflect on whatever that may be.
Stay in the know on the go:
Subscribe to my YouTube Channel: http://bit.ly/1g5VA3T
Join in the conversation on Facebook: http://www.facebook.com/SamiCone
Tweet with me: http://www.twitter.com/TheSamiCone
Watch my story unfold on Instagram: http://instagram.com/TheSamiCone
Follow me on Pinterest: http://www.pinterest.com/SamiCone
Read my book, Raising Uncommon Kids: http://RaisingUncommonKids.com
Share the book on social media: http://bit.ly/RUKShare
Focus on the Family interview: http://bit.ly/RUKfocus
Don't want to miss even one day of the Daily Dash? Catch up on all of my Daily Dash videos and subscribe to my YouTube channel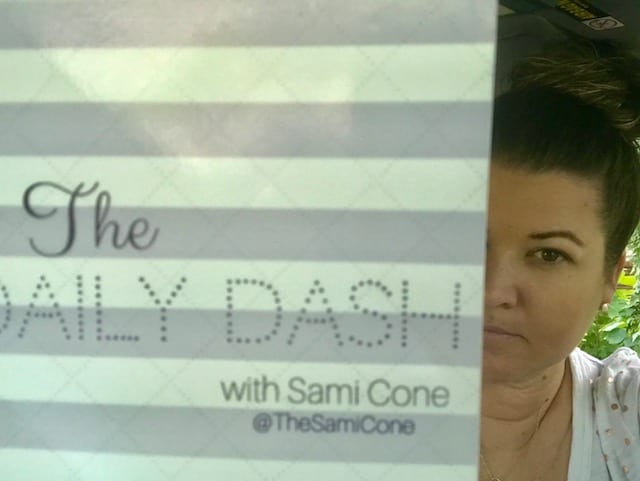 Hope you make it a great day!