This post may contain affiliate links, which means we may receive a small commission when you make a purchase at NO additional cost to you. Thank you for supporting our site in this way!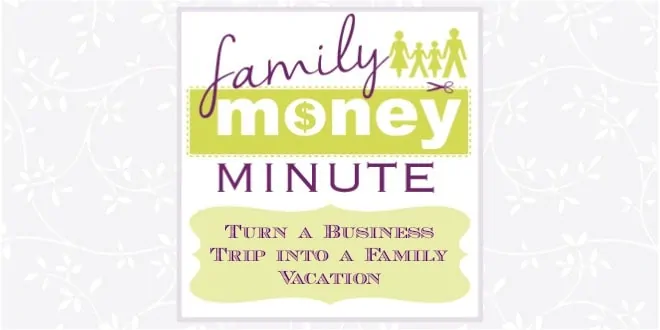 October 3, 2014: Turn a Business Trip into a Family Vacation
If you have to travel somewhere interesting for business, why not consider inviting the entire family with you?

A business trip itself may not be an exciting prospect for a family, but there's a very important point to consider that should get your family excited about them: Travel expenses are being taken care of by someone else!
If you think about it, many business trips are in desirable family locations like Florida or California. Take advantage of you or your spouse's flight and hotel being paid for and extend your stay after your business has concluded to spend time together as a family.
And don't forget to sign up for airline and hotel rewards points so you can even get your next trip for free!
***
The Family Money Minute is made possible by Operation Christmas Child, who reminds us that by saving money, we can make a bigger impact on the lives of needy children around the world.
If you'd like to hear the Family Money Minute on the radio in your area, leave the call letters of your favorite station and your hometown in the comments below!
Subscribe to the Family Money Minute Podcast NOW
Click for more information on the Family Money Minute Radio Program
Click for Family Money Minute Posts you may have missed!