This post may contain affiliate links, which means we may receive a small commission when you make a purchase at NO additional cost to you. Thank you for supporting our site in this way!
I asked and you answered! I took your survey answers to compile this list of 5 ways to make this Valentine's Day unique and affordable.
5 Ways to Make Valentine's Day Unique & Affordable
After combing through all the responses, I combined your most popular answers to come up with the following five Valentine's Day gift ideas:
Make it Practical
The number one thing you wanted for Valentine's Day was a practical gesture. Create a coupon for doing something your spouse doesn't like to do (redeemable whenever they choose). Your suggestions included unloading the dishwasher for a year or even blank coupons redeemable for whatever you want.
You can get free printable Valentine's Day coupons I created as well. Just click the link to go to that post and get the love coupons for free!
2. Plan an Experience
DO something instead of CONSUMING something or BUYING something. You'll save even more money by scheduling it on a day other than Valentine's Day.
A few ideas include:
Paint your own pottery or learn to paint class
wine tasting
Broadway touring show (like Broadway at TPAC)
Songwriter's Night
3. Serve Others
Several of the people I interviewed said they like to take the day to focus on others. We all remember Valentine's days when we didn't have someone to celebrate with (& the truth is many of us are still in this boat).
One of my favorite answers came from Julie. She anonymously sent boxes of chocolates to a women's shelter. Another idea was to send notes of encouragement to an assisted living facility. Still others of you thought to make and take a meal to a single mom.
4. Take a Trip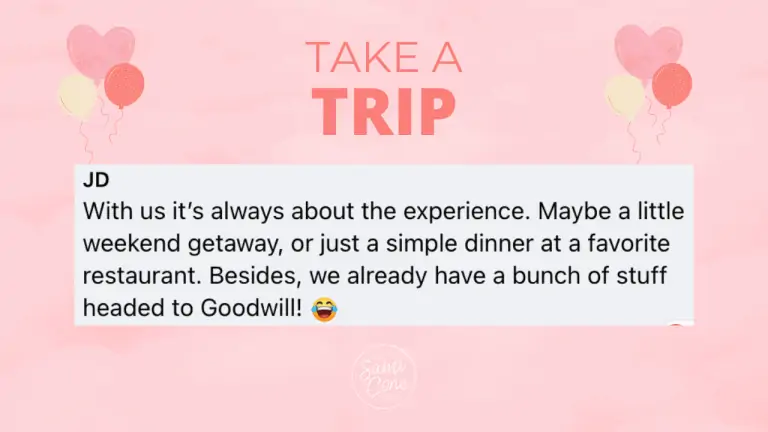 Take a day trip – or plan a trip for a later day – just do the reveal on Valentine's Day. A fun way to do this is to get a frame representing the place you want to visit and draw a picture to put in it. You could even get a postcard from the destination.
5. Bushes Instead of Bouquets
Many women said they'd rather receive a bush they could plant rather than an expensive bouquet will die in a week. I'm helping you create affordable bouquets on this month's show as well. But I loved Rose's response that the best gift she ever received was three rose bushes.
You could also get herb planters or a nice potted plant for inside their home.
Remember CPA Before Valentine's Day
No, I'm not telling you to talk to your CPA before Valentine's Day to see how much money you have. I want you to have a talk with the one you love about 3 things before you do any shopping or planning:
Communicate: Talk to your significant other to see what their expectations of the day are
Prioritize: Ask what is wanted vs. what is realistic. For example, is it more important to do something on the day or to have/do what you want?
Acknowledge: Even if you decide not to do something on the actual day, most people still appreciate some sort of an acknowledgement, whether it's a card, special breakfast or even a treat in the lunchbox.
You can watch my entire segment on the February edition of The Sami Cone Show.