This post may contain affiliate links, which means we may receive a small commission when you make a purchase at NO additional cost to you. Thank you for supporting our site in this way!
I'm giving you the inside scoop on the 2021 ABLE Warehouse Sale before you can shop it…
ABLE Warehouse Sale 2021
IN THE NEWS:
Lollapalooza will return at full capacity
20 companies produce a whopping half of the world's single-use plastic waste
The House passed a bill to establish a commission to probe the January 6 Capitol attack
National May Ray Day
IN THE WORD:
Where ever there is vision, there is also a life of honesty and integrity ~ Oswald Chambers
IN MY LIFE:
One of my favorite shops with a purpose in Nashville (or anywhere for that matter) is ABLE. Located in Nashville's trendy Nations neighborhood, their flagship store is a must-visit when friends come to town.
Not only do I love their hand-crafted products, especially their jewelry and leather goods, they have raised the bar when it comes to wage transparency and employing women.
This weekend, you'll find an incredible selection of their products up to 75% off at the 2021 ABLE Warehouse Sale. Anyone is welcome to shop, but they strongly recommend you click through the Eventbrite link below to reserve a time to shop.
Watch the video I filmed with my friend Marisa from ABLE to give you a sneak peek at what you'll find in the sale, including one-of-a-kind pieces and samples. (To give you fair warning, jewelry is not included in the sale because so much of it is made to order).
ABLE Warehouse Sale Details
UPDATE: Here are the details for the ABLE Warehouse Sale Fall 2021:
Date: October 2, 2021
Location: 5022 Centennial Blvd. Nashville, TN 37209
Time: 7AM – 5PM
ABLE Warehouse Sale Spring 2021 dates & details:
Fri, May 21, 2021, 11:00 AM – all time slots available in the ticket info section
Sat, May 22, 2021, 2:00 PM CDT – all time slots available in the ticket info section
– To attend normal hours, tickets can be purchased on this Eventbrite link here.
The 2021 ABLE Warehouse Sale will be held at OZARI Event Space (at L&L Market) 3816 Charlotte Avenue Nashville, TN 37209.
Learn more about ABLE and how they help create jobs and opportunities for women here.
PRAYER FOCUS: Humility
I pray humility of spirit over each of you as you interact with others today.
Stay in the know on the go:
Don't want to miss even one day of the Daily Dash? Catch up on all of my Daily Dash videos and subscribe to my YouTube channel.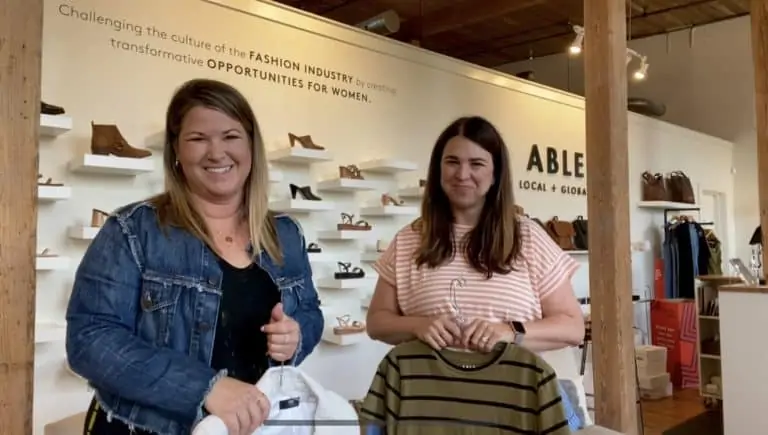 Hope you have a great day, make sure you make it great and don't forget to tell someone you love how you feel about them!