This post may contain affiliate links, which means we may receive a small commission when you make a purchase at NO additional cost to you. Thank you for supporting our site in this way!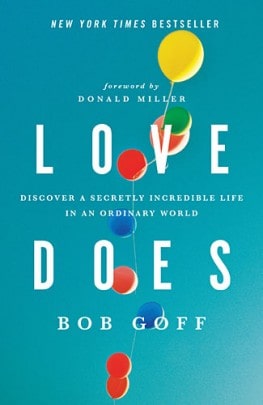 Part of me doesn't want to let you know that Bob Goff (author of the incredible, two-sitting book "Love Does") is going to be speaking in Nashville tonight because, selfishly, I'd love to be sitting front and center and pretend the two of us just happen to be chatting in a living room together.
But the passionate side of me wants to SHOUT IT FROM THE ROOFTOPS (or at least the blogging equivalent to a rooftop) that you can here Bob Goff share his incredible stories for FREE tonight at 7pm at Trevecca Nazarene University.
I had heard of Bob Goff and seen his "UP"-like inspired book cover of "Love Does", but didn't know what all the hoop-la was about until recently.
The last time I was at Thomas Nelson for a meeting with my Tommy Nelson blogger team, I picked up a copy of "Love Does". Last week during Spring Break, while one child was falling asleep on me, I plowed through half the book. First thing when I woke up, this time with a different child asleep on me, I ravenously finished the other half. (Hence the 'two-sitting book' description alluded to above…).
On one hand, I'm grateful to 'meet' someone that I can truly identify with – someone who's brain goes 100 miles an hour and loves to meet Jesus through 'ordinary' people and everyday life experiences.
But more simply put, I was utterly inspired by someone who doesn't just live life, but embraces every possible moment of it and sees every opportunity for what it is…an opportunity!
The difference between Bob Goff and most people is that he doesn't just take time to strategize and plan and consider what could be done…he does it.
So I don't care who you are or what you may be going through, I guarantee your life WILL be changed if you sit your rear end in one of those seats tonight at TNU (just don't sit too long, because love doesn't sit still very often 😉
And Bob, thank you for inspiring me, challenging me and, more importantly, returning my phone call. I promise we will have our trampoline adventure one day very soon…
I truly hope to see you there tonight. You can read more about my Tommy Nelson blog posts here.