This post may contain affiliate links, which means we may receive a small commission when you make a purchase at NO additional cost to you. Thank you for supporting our site in this way!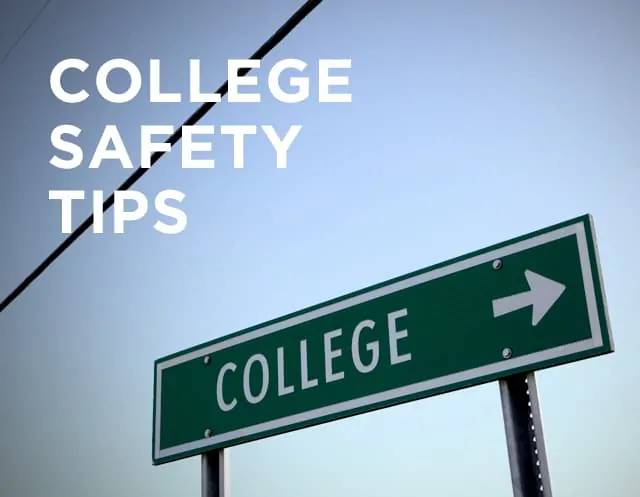 I have seen recent headlines from universities across the country and several incidents at local institutions in the last two weeks reveal some alarming trends on campuses.  Being on a college campus two days a week, this really hits home.  I want to make sure my students stay safe.
Everyone plays a role in creating a safe and secure environment. One of the most effective ways to achieve this is for individuals to be proactive in practicing personal safety and reducing the risk factors around them.
Regardless of whether you're in college, know someone in college or have kids/grandkids in college, everyone likely knows someone on or around a college campus. Here are a few reminders as you go about your daily routine that may help you reduce your risks.
College Safety Tips and Reminders
When jogging or walking, especially at night, please remember these tips:
• Travel in a group. The presence of a second person will increase your safety factor. Do not jog alone late at night.
• Travel well lit paths that you are familiar with. Do not take shortcuts that you are not overly familiar with, especially at night.
• Pay attention to your surroundings. It is best not to listen to headphones while running, but if you choose to do so, please keep the volume at such a level that you can still hear what is happening around you. Texting while walking is distracting and should be kept to an absolute minimum.
Whether parking on campus or elsewhere, the following tips can help reduce your risk:
• Never leave valuables visible inside your car. This includes cell phones, CDs, purses, bookbags, briefcases or any other item that a thief may consider to be of value. Remember, a thief does not know what is in a bag so even if there is nothing of value in it, it may attract a thief's attention. If your CD player has a detachable face, remove the face before exiting your vehicle. If you must bring valuable items to school, please lock them in your glove box or your trunk.
• Whenever possible, park in well lit, high traffic areas. Increased lighting, visibility, and traffic will increase the likelihood of someone being observed, which will reduce your risk.
• Have your keys out ready to enter your vehicle as you approach. This will prevent you from having to dig through your pockets or purse to locate them, thereby decreasing the amount of time you spend outside of your vehicle.
• Be alert as you walk to your vehicle. Observe who is around and what they are doing. If you feel uncomfortable, go back to the building and have someone escort you to your vehicle.
For dorm residents, here are some safety tips that might be helpful:
• Always lock your door when you leave the room. Even if you are going to the restroom, to the shower, down the hall to a friend's room, or to check your laundry, an open door allows anyone to enter your room. It only takes a few seconds for someone to steal your valuables from an unlocked room.
• Do not prop exterior dorm doors open. Propping doors open allows anyone to enter the building. By propping doors open, you may be responsible for allowing someone into your building that actually commits a crime against you or other residents.
• Report any suspicious activity immediately to your head resident or resident assistant of your building.
• Of particular note, no one should just walk into your room without knocking and you letting them in. If someone walks into your room and claims to have walked in by mistake looking for someone else, report that immediately. Other suspicious activities include someone checking your door handle to see if it is locked, or someone randomly knocking on doors claiming to be looking for someone. Report all such incidents immediately.
*Please make sure you are staying safe and using all the necessary precautions listed above to keep yourself protected from harm and remember SAFETY FIRST!
Special thanks to Patrick Cameron & the Lipscomb University Security & Safety Team for passing along these college safety tips.