This post may contain affiliate links, which means we may receive a small commission when you make a purchase at NO additional cost to you. Thank you for supporting our site in this way!
Over the years we've come up with some cute girls Halloween Costume Ideas that you all have seemed to take quite a liking to…
I don't know if it's because they're simply smashing, semi-clever,  or homemade and easy to make (because you know if I can make it, YOU can make it!).
Actually, the pirate costume was made by my mother who is quite skilled with the sewing machine (contrary to my rudimentary stitching and painting used to put the Agnes costume together. Truth be told, I actually had to pull out the instruction manual to figure out how to work the sewing machine before starting it…)
Girls Halloween Costume Ideas
This homemade girls indian costume has been one of my most popular pins on Pinterest. My husband created it for our daughter back in second grade when she had to dress like a Natchez Indian for a school project.
You really just need an oversized white t-shirt and some wooden beads (we bought both at Michaels with a coupon for under $5). Cut the end of the t-shirt to create fraying and then tie the beads on.
You'll also want to fringe the neckline and then add a big black belt and some girl's moccasin boots to complete the look. (Of course a cute braid doesn't hurt either!).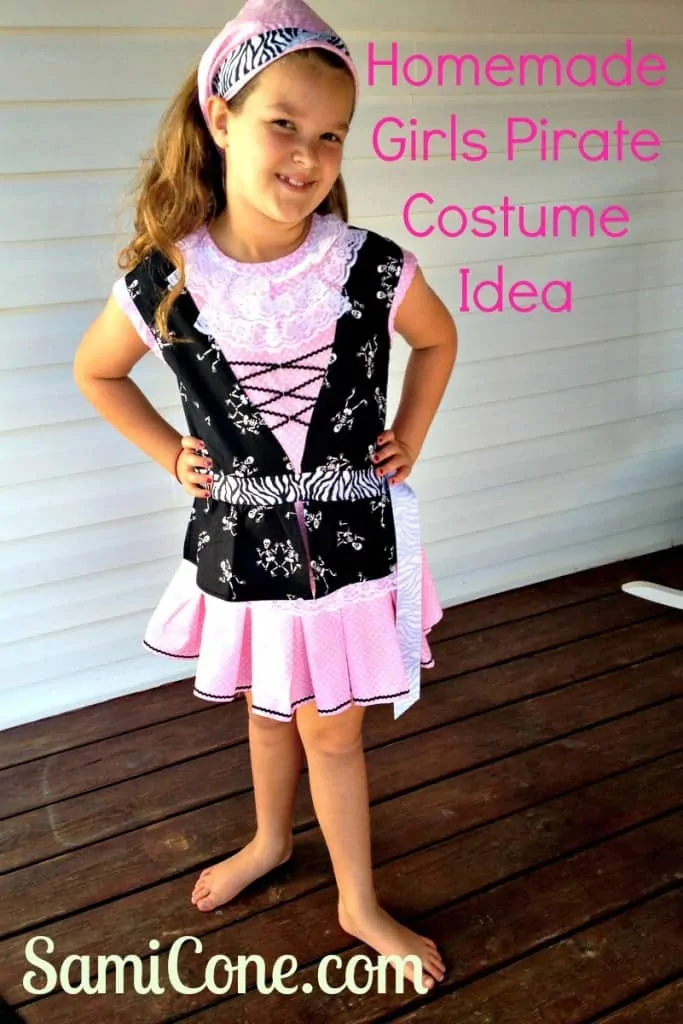 I have to confess, my mom made this from scratch and it involved a lot of sewing, but hopefully it will provide inspiration to you!
If you're looking for Despicable Me Costumes for the whole family, check out what our family did one Halloween after Despicable Me 2 came out!
Can you say, "LIPSTICK TASERRRRRRR"?
We found a lot of the above at Goodwill, including my son's overalls and shirt, my daughter's shirt (which I painted stripes on) and my Lucy jacket.
The Gru shirt and unicorn came from Universal Studios and we obviously used a lot of colored hairspray.
There is a limited window when your kids will want to dress up as a family for Halloween, so I say embrace it! Check out the other top Halloween costume ideas we've found.