This post may contain affiliate links, which means we may receive a small commission when you make a purchase at NO additional cost to you. Thank you for supporting our site in this way!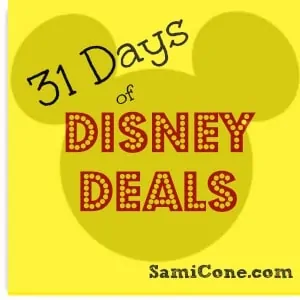 31 Days of Disney Deals is here!
So, I was having a little chat with my friend Annie tonight and she asked: "Do you have your '31 Days' posts done yet?"
"31 Days posts?"
I hadn't heard of the 31 Days posts until today after hearing bits about it on Twitter.
From what I could ascertain, The Nester encourages bloggers to pick a topic and blog about it for 31 days. Straight. In a row. Without skipping.
If you've ever met me or read this blog, you know there's one thing I'm not good at: consistency.
Transparency, yes. Consistency, no.
After all, I can't remember the last time I actually shared my weekly meal plan with you all 😉
But what I do know is that I spoke four times on four different topics last weekend at Lifeway Women's dotMom event and the most packed session was my Disney on a Dime session!
I mean, what goes together better than Disney and Jesus, right?
But seriously, it said one thing to me: you CRAVE to make amazing memories with your families…just like I do. And nothing makes me happier than to help you make your dreams come true for less money than you may think humanly possible…
So, for the next 31 days (God willing), I'll be sharing my 31 best tips to make your Disney dreams become a reality!
Check back here throughout the month for posts you may have missed:

…coming soon… 
Out of curiosity, what do you most want me to answer when it comes to Disney deals? 
Make sure to stop by my fellow Disney-loving friend Kat's blog to read her 31 Days of Disney posts too!
Want a daily dose of Disney in your Twitter feed? Follow the new @DailyDisneyTip on Twitter today!