This post may contain affiliate links, which means we may receive a small commission when you make a purchase at NO additional cost to you. Thank you for supporting our site in this way!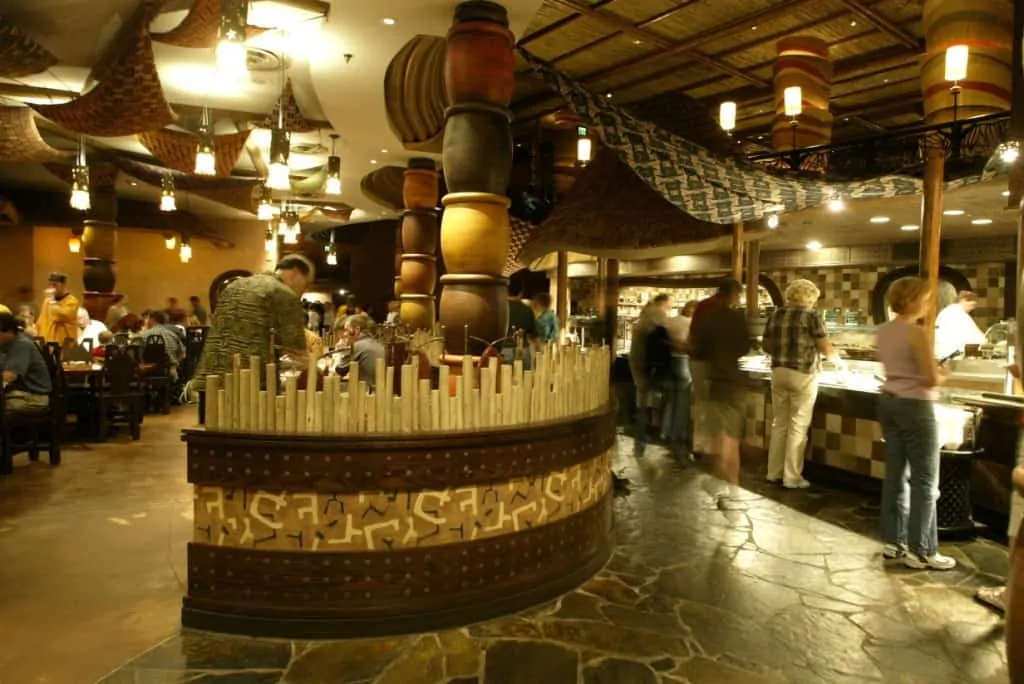 We've eaten ALL around Disney World, including it's parks and resorts, so we though it only fitting to provide these Disney Restaurant reviews for you all.
Stay tuned for more reviews from our family and friends!
Disney Restaurant Reviews
Disney World Restaurants
ANIMAL KINGDOM
*Donald's Breakfastosaurus: Now in what used to be the Tusker House, this breakfast buffet has flavors that are distinctly African and features, Mickey, Donald, Goofy & Daisy in their best Safari Gear. This is the only character dining experience in this park and is only available for breakfast. It's interesting to try once, but not one of our favorites.
*Yak & Yeti: There is both an outdoor quick*service counter and an indoor full*service sit down restaurant. Both just opened in 2008 in Asia and offers very good Asian food. We would recommend saving your money and opting for the outdoor quick service as it's the same food and cheaper prices.
*Pizzafari: This quick service restaurant sits right before entering Camp Minnie Mickey and is a good choice if you want some fast, reliable, kid*friendly food like Pizza, breadsticks & chicken tenders. They're also open for breakfast.
MAGIC KINGDOM
Main Street, U.S.A.
*Tony's Town Square Restaurant (L,D $$ * Pastas, Panini and salads)
Fashioned after the restaurant from Lady & the Tramp, this sit down restaurant is located just inside the main entrance of the park in the Town Square Exposition Hall. As Italian is not something we usually eat out, this one does not make it on our list.
*The Plaza Restaurant (L,D $$ * Sandwiches, burgers and sundaes)
Though my husband has fun pictures outside of this full service restaurant as a child, we feel there are better dining options in the magic kingdom for your time and money. This is, however, one of our favorite places to watch fireworks from, as Tinkerbell flies from the top of the castle onto the top of the Tomorrowland Terrace Noodle Station (and yes, it is a "real" Tinkerbell, so it's quite a site to see). It's also a lot less congested than crowding around the castle.
* Casey's Corner (L,D $ * Hot Dogs, French Fries)
A quick service counter restaurant just at the top of Main Street before turning towards Adventureland. It's reminiscent of the old*time ball parks, complete with hot dogs, chili and sauerkraut. They even have two sets of bleachers in front of a big screen playing classic, black & white Mickey Mouse cartoons which also doubles as a great escape from those mid*afternoon Florida showers!
*The Crystal Palace, A Buffet with Character (B,L,D $$)
Located just off of Main Street, this beautiful restaurant features Pooh & Friends (Pooh, Piglet, Eeyore & Tigger). They have a very interesting cold salad bar, including pickled ginger cucumber salad and peel & eat shrimp. This is a great place to schedule dinner about an hour and a half before fireworks because you'll have a prime view of the castle when you walk out! Even if you don't eat there, their front porch is also a lovely spot to watch the evening fireworks.
Adventureland
*El Pirata y El Perico Restaurant (L $ * Tacos & Taco Salads)
We've always wanted to eat here, but it's only open seasonally, and since we rarely travel to Disney in high season, it's always closed. However, I've heard from reliable sources that if you need your Mexican food fix while at the Magic Kingdom, this is a good place to stop (plus you might catch a glimpse of Peter Pan or Captain Hook while you're eating outside this quick*service restaurant).
Frontierland
*Pecos Bill Tall Tale Inn & Café (L,D $ * Burgers, Sandiwches & Salads)
Another of our favorite quick service stops in the MK, this restaurant sits at the base of Splash Mountain before turning into Adventureland. If you're going to get a burger in the MK, this is the place to do it. They boast a HUGE condiment bar, complete with a chef behind it constantly sautéing fresh mushrooms and onions (though my husband's favorite feature it the nacho cheese sauce for the fries!).
Liberty Square
*Liberty Tree Tavern (L,D $$ * American Cuisine)
This sit down restaurant located just across from the Liberty Square Riverboat used to be a character dining option, but now it just serves as a standard restaurant that features tradition, good*ole' American food, like meatloaf, chicken & mashed potatoes. The food's been good the times we've gone there, but I wouldn't go out of my way to eat there.
*Columbia Harbour House (L, D $ * Fish & Chicken Baskets, Chowder)
This is our other favorite quick*service restaurant in the MK. They offer a combination chicken & fish basket (think fish & chips) that is quite good if you're in the mood for something fried. My mom's British, so I can vouch for these! (Of course, if you really want some authentic fish & chips, head over to the UK in Epcot – they've got a booth that sells only that across from the Tea Shoppe!)
Fantasyland
*Cinderella's Royal Table (B,L,D $$$ * American Cuisine – Characters at B & L)
While I recommend everyone eating here at least once, that should be the only time, simply because it's SO expensive. Breakfast and lunch feature 4-5 princesses (you'll meet Cinderella and take a picture with her on the first floor – which is included in the price of the meal- before ascending to the second floor to eat your meal and meet the other princesses). If you choose to eat here on the Disney Dining Plan, you will use TWO of your Table Service Vouchers. (My advice if you just HAVE to meet Cinderella is to eat at 1900 Park Fare – it's a beautiful environment and is cheaper!)
This is one of the top 3 most popular dining options, so book early (requires a credit card guarantee)!
*Pinocchio Village Haus (L,D $ * Pizza, Chicken Baskets & Fries)
This is the little restaurant you see as you embark upon the "It's a Small World" ride. Another quick*service option, we've enjoyed splitting a pizza and a chicken Caesar or Mediterranean salad here.
Tomorrowland
*Cosmic Ray's Starlight Café (L,D $ * Burgers, ribs, rotisserie chicken, wraps)
You can stop at this quick*service restaurant as you're leaving Tomorrowland on your way into Fantasyland (though make sure not to eat right before getting on the Tea Cups!) We haven't eaten here in awhile, but it's traditionally good food with a variety for everyone. They also have an animatronic character in the seating area that provides amusement for the kids and makes you feel like you're dining in an intergalactic lounge.
*Tomorrowland Terrace Noodle Station (L,D $ * Orange Chicken, beef & broccoli, chicken baskets, noodle bowls – open seasonally)
This is another quick*service restaurant we've always wanted to try (since we love Asian food!), but is never open when we go during low season. As I mentioned earlier, just outside this restaurant and before you get to The Plaza Restaurant is a great viewing area for the nightly fireworks – you get a great view of Tinkerbell flying off the castle and it's not too crowded.
DINING LEGEND:
$ = $14.99 and under
$$ = $15*$35.99
$$$ = $36*$59.99
B = Breakfast
L = Lunch
D = Dinner
S = Snack