This post may contain affiliate links, which means we may receive a small commission when you make a purchase at NO additional cost to you. Thank you for supporting our site in this way!
Have you heard of Dolly's Butterfly Garden? It's a new interactive pop-up experience at the 2022 Dollywood Flower & Food Festival.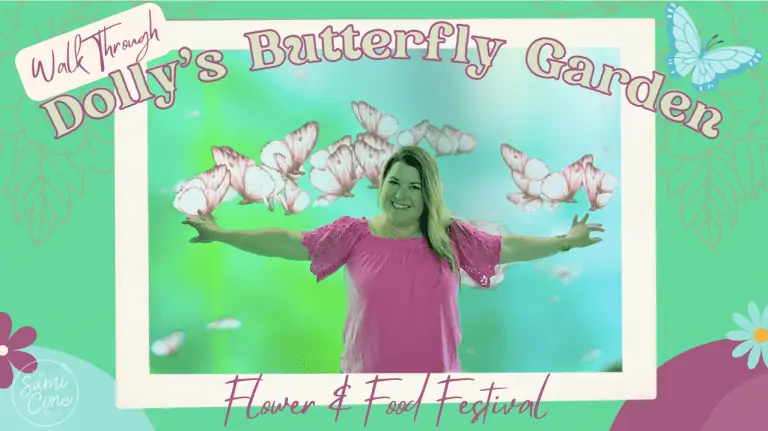 Dolly's Butterfly Garden
The butterfly garden is deceptive in some ways in that it's not an actual garden. Dolly's butterfly garden is located inside of Chasing Rainbows. Yes, it's inside because the butterflies are animated on screens.
Dolly Parton Loves Butterflies
If you know Dolly Parton, you know butterflies are very important to her. You'll see butterflies on everything from her signature to logos throughout her brands.
Walk Through Dolly's Butterfly Garden
As soon as you walk in "Chasing Rainbows" you form a line. They let 16 people at a time into a room at a time. You'll watch a video of two young girls in fields and on a mountain picking flowers and playing with butterflies while Dolly sings.
The video ends with an explanation of why butterflies are important to Dolly, along with instructions for what's next. You then proceed to a room with two interactive walls.
When you touch the walls, butterflies come to you and land on your arm. I expected there to be more to do and more to walk through. That being said, we didn't feel rushed and I was able to have that Instagram-worthy moment.
Get to Dollywood Early
My tip: if you want to experience the butterfly garden without much of a wait, head there first when the park opens. Then catch "Bloom!" just outside of the theater.
I was told season ticket holders can take advantage of early park hours on Saturday mornings, so that would be the perfect opportunity to head to Dollywood early and experience Dolly's Butterfly Garden before anyone else.
Dolly's Butterfly Garden Review
Think of Dolly's Butterfly Garden like a ride: you'll likely wait in line for 15-20 minutes for a 3-minute experience.
I don't think this is an experience I would repeat, but I'm glad we got to partake in it. Because of the screens, it can be hard to capture the perfect lighting for a picture. However, if I had been prepared for what the "butterfly garden" entailed, I may have planned out my pictures and videos better.
That being said, I'm glad I wore a solid pink shirt!
If you want a unique memory from your Dollywood trip or you just love learning more about Dolly, this pop-up event is for you. However, if you're expecting a serene outdoor garden where you can sit and relax, you're in the wrong line.
Dollywood's Food & Flower Festival 2022
You can enjoy Dollywood's 2022 Flower & Food Festival from April 22 – June 5.