This post may contain affiliate links, which means we may receive a small commission when you make a purchase at NO additional cost to you. Thank you for supporting our site in this way!
Today I'm highlighting the Dollywood Flower & Food Festival 2022 menu and giving you my dining pass review. To maximize your time and money at the festival, I'll walk you through all the food and drinks on the 2022 dining day pass. Plus, I talk about what I'd eat again and what I'd pass on (hint, it's the drinks).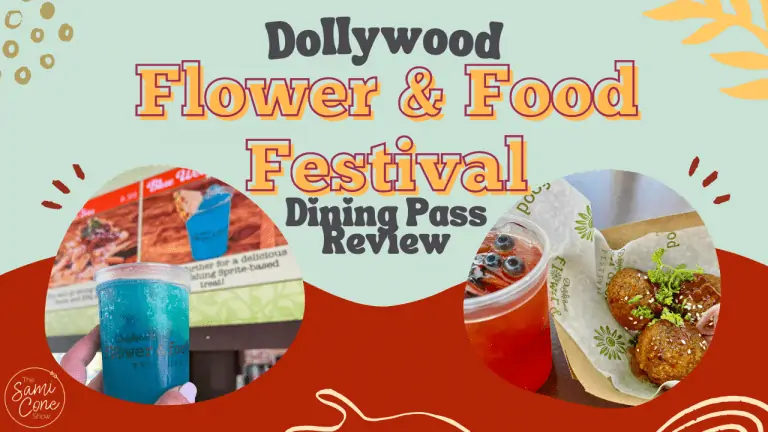 Dollywood Flower & Food Festival 2022 Menu
The Dollywood Flower & Food Festival Menu can be divided into three categories:
Beverages
Savory Bites
Sweets
You can watch my Dollywood dining pass review video below for details and images of what we sampled, but here is the complete 2022 menu with some thoughts:
Beverages
As I mentioned at the top, the specialty festival drinks do not warrant the $4.99 price. They are not that big to begin with and once the cup is filled with ice, you only end up with about 4-5 sips.
I bought the first three drinks listed and provided comments on those below. There are 3 others I did not try, two of which are lemonade-based. All the drinks below are non-alcoholic and family-friendly.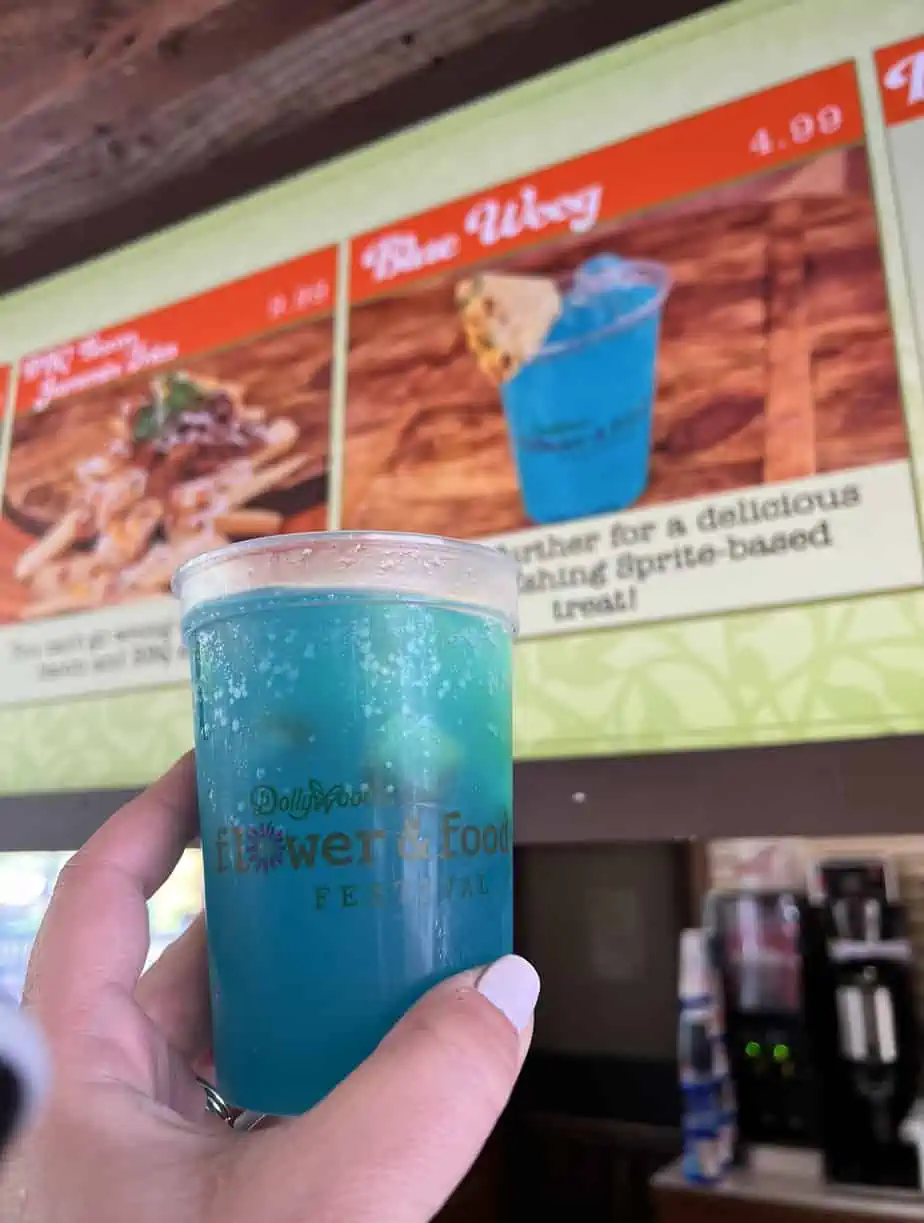 Blue Woog: This drink came highly recommended and was tasty, but for the size, I would not buy again. It's a combination of pineapple juice and non-alcoholic blue curacao finished off with a splash of Sprite and a pineapple wedge.
Raspberry Boba Tea: I was so excited to see boba tea on the festival drink menu…and in my favorite flavor! But it tasted more like regular raspberry iced tea than traditional Thai fruit tea. Also, the boba weren't the chewy tapioca boba balls, but rather more like popping boba. It did however come with the correct, thick Boba straw (and you can't find straws at Dollywood otherwise).
Fanta Floats: This is exactly what it seems: vanilla soft serve and orange Fanta. If you're a fan of creamsicles, you'll love it. The float cost $5.99 and was bigger than the other drinks. The festival website says it's made with Strawberry Fanta, but we only saw Orange Fanta.
Cranberry Watermelon Cooler: this seemed to be cranberry juice flavored with watermelon and finished with a splash of Sprite.
Feisty Lemonade: This is essentially lemonade with passion fruit flavoring and, like the others, finished with a splash of Sprite, as well as a lime wedge and cherry.
Strawberry Lemonade: The name says it all.  
Festival Tasting Pass
The Festival Tasting pass costs $34.99 plus tax for non-passholders. This comes out to about $38. The Dining Pass allows you to taste up to 5 festival food items.
I thought we'd receive tasting portions, but we seemed to get the same size portion as someone without the pass.
My Favorite Food Festival Items
What would I go back and eat again? I'm glad you asked!
Berry & Lavender Mini Funnel Cake
Bacon Jammin' Fries
I haven't had a funnel cake in 20 years, but the Berry & Lavender Mini Funnel Cake was by far the best thing I ate at the Flower & Food Festival. It wasn't too sweet, but the honey added another level of flavor. The fresh whip cream and berries on top could have been a dessert by themselves, but they added a beautiful balance of flavor and texture.
We also loved the BBQ Bacon Jammin' Fries. The flat french fries were the same as the ones served with the fish & chips. But these were topped with cheese sauce, bacon, bbq drizzle and green onions. Bite for bite, these were delicious.
Food Fest Menu Prices
Most of the food fest menu prices seemed to range between $7.99 – $12.99 for the savory items. The festival drinks are about $4.99.
To get the most of your festival dining pass, it's wise to use it on the savory bites. If I had used my pass on a drink, I actually would have lost money.
Dollywood Dining Day Pass
One other misnomer: some call this the "Dining Day Pass". However, you don't have to use all the scans in the same day. You have the entire length of the festival to eat your 5 items.
Dollywood provided tickets for me to visit the park for the opening of the festival, but I paid for all my own food and the dining pass.