This post may contain affiliate links, which means we may receive a small commission when you make a purchase at NO additional cost to you. Thank you for supporting our site in this way!
With temperatures dropping, everyone is turning to comfort food. But why stick to old standards when you can add a simple twist to dress it up?
I turned to Chef & Partner of The Mockingbird right here in Nashville to teach us one of their most popular dishes: Don't Worry Brie Happy.
Don't Worry Brie Happy Recipe
This adult version of a grilled cheese is perfect for a cozy night in or entertaining during the holiday season.
Ingredients
1 baguette

8 oz. brie, at room temperature

4 oz. cream cheese, at room temperature

½ cup pepper jelly

½ cup chimichurri

6 TBL butter, melted
Instructions
1. Slice the baguette into ½" thin slices, you should have about 30-35 pieces, lie them out on a sheet tray and set aside, removing any that have exaggerated air pockets, these can be a nice snack for the cook.
2. Remove the rind from the brie and place the cheese and the cream cheese in the bowl of a stand mixer fitted with a paddle.
3. Whip together until airy and homogeneous.
4. Spread both sides of the baguette slices with the brie, then place a stripe of
pepper jelly down the center, fold up sandwiches, and reserve.
5. Preheat a nonstick sauté pan over medium heat.
6. Brush both sides of the sandwich with butter, and sauté in batches until golden brown, about 1-2 minutes per side.
7.Set on a serving platter tented with foil. When all of the grilled cheese are finished, dollop 1 tsp of chimichurri over the top of each grilled cheese, and
serve right away.
Notes
See post for Chimichurri recipe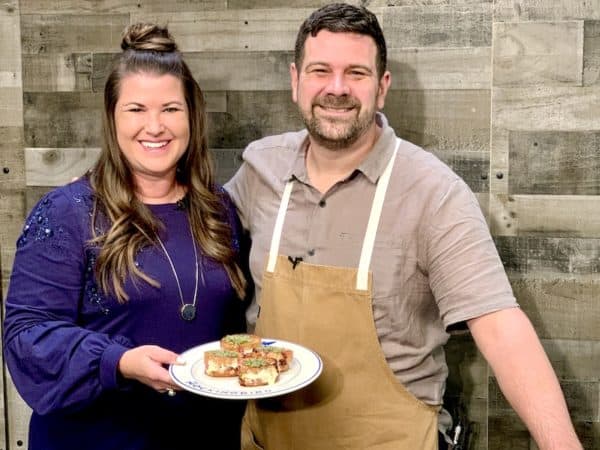 Chimichurri Recipe
Sure, you could buy Chimichurri at the store, but it's SO easy to make at home and you'll appreciate the freshness of it.
Chimichurri Ingredients:
1 cup red wine vinegar
1 tsp salt
5 garlic cloves, minced
2 shallots, finely chopped
1 tsp chili flake
1 jalapeno, finely chopped
½ cup cilantro, minced
½ cup parsley, minced
2 tsp fresh oregano, chopped
½ cup extra virgin olive oil
How to Make the Chimichurri
Combine vinegar, 1 tsp. salt, garlic, shallot, and chili in a medium bowl and let stand for 10 minutes.
Stir in cilantro, parsley, and oregano.
Whisk in oil.
Cover and chill for at least 3 hours or overnight.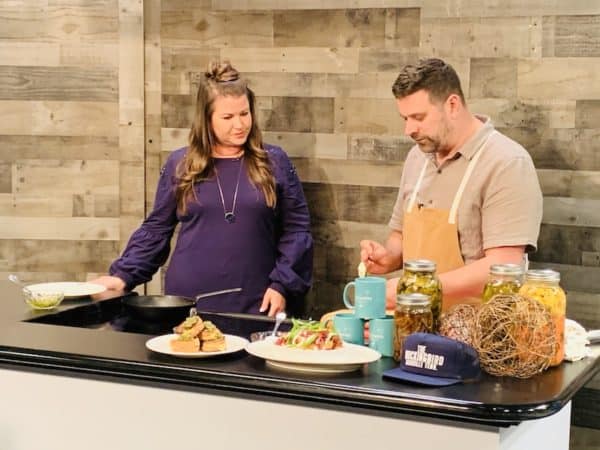 Everything You Want to Know About Making Don't Worry Brie Happy
I asked Chef Brian several questions on-air that I knew each of you might ask me. I knew you'd have some thoughts about making the iconic Don't Worry Brie Happy grilled cheese and substitutions that can be made at home.
He said to whip the heck out of the brie or opt for a soft, spreadable cheese (like "Alouette"). I also appreciated how he added the butter to the pan first instead of trying to spread it on each slice of the baguette.
While he did recommend making the Chimichurri at home, he said it's likely easier to find the red pepper jelly in the store, especially since there are so many great versions you can find locally.
Catch up on all the segments from Episode 3 of The Sami Cone Show