This post may contain affiliate links, which means we may receive a small commission when you make a purchase at NO additional cost to you. Thank you for supporting our site in this way!
Just because you're on a budget doesn't mean you have to sacrifice eating out at some of the best restaurants here in Nashville. Follow these simple tips and you'll be able to, literally, have your cake and eat it too!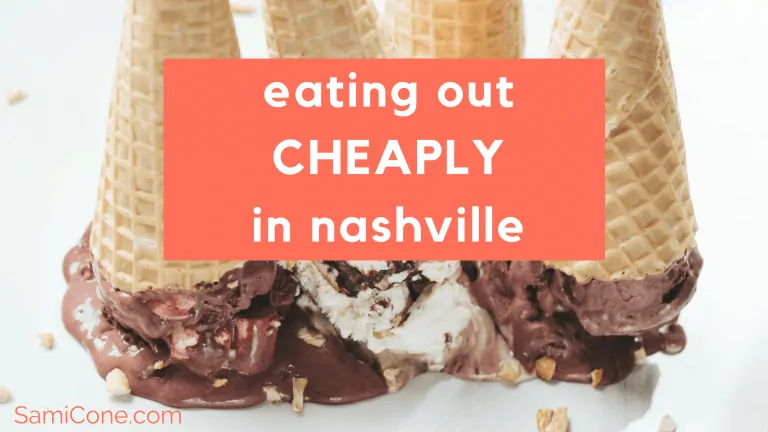 Eating Out Cheaply in Nashville
Do Your Research Before Leaving the House:
Follow your favorite restaurants on social media
– Places like Baja Burrito will occasionally give out a code for a free combo upgrade on Instagram and The Cupcake Collection is always sharing deal codes and giveaway opportunities
Sign up for your favorite restaurant's email list
– There's almost always a perk (like 10% off or free appetizer) for initially signing up for an email list, but once you're on, you'll regularly get coupons and specials emailed directly to you. That way, you can plan your dining experience around their specials.
Sign up for Dining Rewards programs
– Many restaurants offer ongoing rewards programs that track when you eat there and allow you to accumulate points for free food in the future. Moe's & Blaze Pizza have great apps for this and the Dine Rewards program encompasses Carrabba's, Outback, Fleming's & Bonefish.
Take advantage of local coupon books like CitySaver that are FILLED with BOGO free offers for restaurants (& more!)
Speaking of Apps, a few offer convenience and the opportunity for free food:
Yelp not only gives you great reviews from users, but you can get $5 off your order when you share Yelp with friends and they order. You'll also want to check in with Yelp to see if there are any special offers just for checking in.
Uber Eats is from, yes, Uber. They will bring food right to your door from any number of restaurants around our city. Not only do they offer a similar $5 off your order if your friends use the app (they get $10 off their first order – my code is eats-samic577ue), but the first time I used the app, I got a free pizza because they were running a special on National Pizza Day! You can also use FOODLOVEBQ to take $12 off your $20 order for a limited time.
Don't Forget Common Sense:
Lunch is almost always cheaper than dinner when it comes to eating out. We recently ate at a Japanese Steakhouse for the hibachi table. The exact same portion was $10 cheaper at lunch than it is at dinner.
Don't be afraid to split a dish. Keep in mind, a standard portion of chicken is one breast, yet many restaurants will serve two breasts on an entree. Considering an entree will typically also come with a salad and a side dish or vegetable, this is plenty to share (and then you won't feel as guilty if you indulge in dessert!)
Let the server know if you're new to the area or if it's your first time. Often times, especially in Nashville, servers will bring you some samples to try or even a free appetizer.
Come back to watch my segment from Talk of the Town.