This post may contain affiliate links, which means we may receive a small commission when you make a purchase at NO additional cost to you. Thank you for supporting our site in this way!
If you searched for "Free Bloomin Onion Outback Bowl" like I did, you're not alone. Thanks to the Outback Bowl in Tampa, everyone used to get a free Outback appetizer after the game. Whether you got a free Bloomin Onion or free coconut shrimp depends on who wins the Outback Bowl…
Get a Free Bloomin Onion on January 31
Even though the Outback Bowl no longer exists, you can still get a free Bloomin Onion on January 31.
In fact, you can get a free appetizer OR dessert at Outback Steakhouse! All you have do to is say "NO RULES DAY" to your server and order any adult entree.
Then, the choice is yours! Will it be a free Outback appetizer or free Outback dessert?
Keep in mind, the free Outback treat is for dine-in orders only.
Free Bloomin Onion for Outback Bowl?
On Saturday, January 2, the Mississippi State Bulldogs played the Illinois Fighting Illini in Tampa, Florida. As much as I like football, I would watch this College Bowl Game to see what free appetizer from Outback I could get.
The big question on everyone's mind always was, "Will I get a free Bloomin' Onion of free Coconut Shrimp?" Now, there's a bigger question…
Outback Bowl is now the Reliaquest Bowl
It seems we may no longer get to enjoy a free Outback appetizer after a Bowl game. I just learned the Outback Bowl is now known as the Reliaquest Bowl.
Outback Steakhouse sponsored the bowl game from 1995-2022. Reliaquest signed a four-year sponsorship agreement on June 9, 2022. Starting in 2023, the Tampa Bay Bowl game will now be known as the Reliaquest Bowl.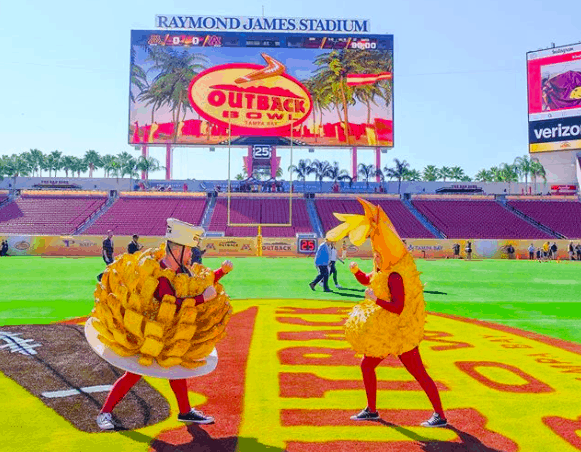 2022 Outback Bowl Free Appetizer
Arkansas defeated Penn State 24-10. Usually, that means you could visit your local Outback Steakhouse on January 3, 2022 and say "Outback Bowl" to your server to receive a FREE APPETIZER with any purchase.
Unfortunately, I haven't seen any mention of a free Bloomin Onion this year. If anything changes, you know I'll let you know here.
2021 Outback Bowl Free Bloomin Onion
Last year, the Ole Miss Rebels (SEC team) won, so we all got a FREE Bloomin' Onion® on 1/3/21. Say "Outback Bowl" to your server to receive the offer.
2020 Outback Bowl Free Appetizer: Coconut Shrimp
If Auburn University won, we'd all get an Outback Steakhouse Free Bloomin Onion on January 2, 2020. But since the University of Minnesota won, we got a FREE Coconut Shrimp Aussie-Tizer.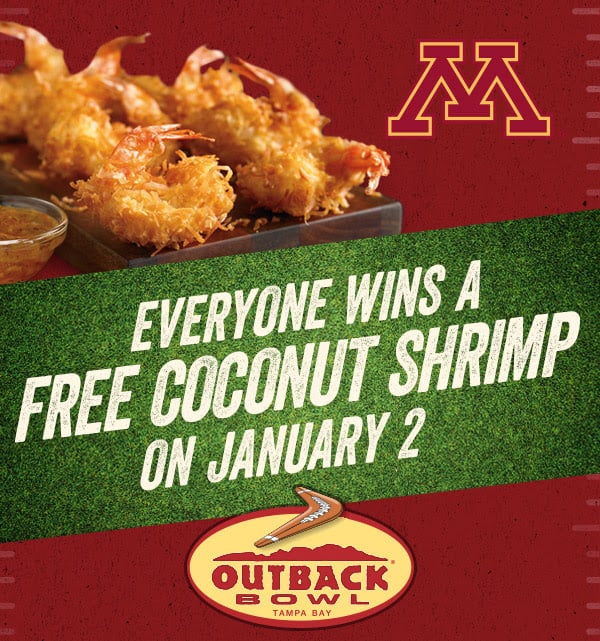 Where food is concerned, everyone is a winner at the Outback Bowl. But since Minnesota won in 2020, anyone got a free Coconut Shrimp from Outback.
Keep in mind, this free appetizer offer is limited to one per table per visit. The other important distinction is that you cannot combine it with any other coupon or discount. So just make sure the value of the coconut shrimp is larger than whatever coupon you may have.
Free Coconut Shrimp from 2019 Outback Bowl
In the 2019 Outback Bowl, a victory by the Iowa Hawkeyes secured free coconut shrimp for everyone.
Free Blooming Onion from Outback Bowl 2018
In celebration of the South Carolina Gamecocks winning the 2018 Outback Bowl, everyone got a free Bloomin Onion.
Free Bloomin Onion: Kevin Harvick Racing
Y'all have heard me promoting free Bloomin' Onions a TON thanks to Kevin Harvick Racing. Every weekend Kevin places in the top 10, the next day you can head to Outback for a free Bloomin Onion thanks to their Bloomin Mondays.
Get a Free Bloomin Onion with Online Order
While I'm glad football is back on TV, I don't want to have to wait for the Outback Bowl to get a free Bloomin Onion.
Through September 4, anyone (regardless of your favorite team!) can receive a free Bloomin Onion when you order Outback online and use the coupon code BLOOMONLINE2. (Valid for one use only).
More Outback Coupons on Social Media
Looking for more Outback coupons and freebies? I heard if you follow @Outback on social media (specifically Instagram & Twitter), you may get some other Outback free appetizer coupons as well.